As a result of the survey that men spend more time in the bathroom than women, why are men staying in the bathroom for a long time?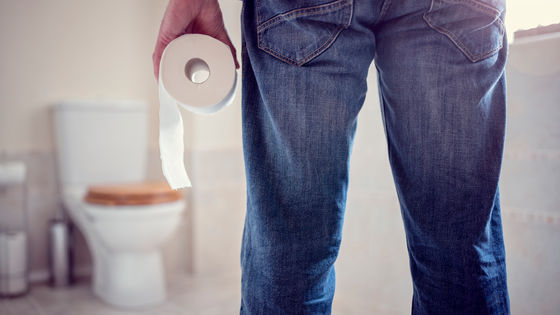 When going out with a woman from a family or acquaintance, there are many men who find it difficult to get back to their seat because of a toilet. However, a study of British people found that men spend far more time in the bathroom than women. So, science journalist Benji Plackett considered why men's toilets last longer.

Why do some men take so long to poop? | Live Science

https://www.livescience.com/why-men-take-longer-to-poop.html
Past
studies
focusing on the relationship between bowel movements and gender differences have confirmed that women have a longer period of protracted symptoms such as constipation than men. For this reason, it seems more natural for women to spend more time in the bathroom.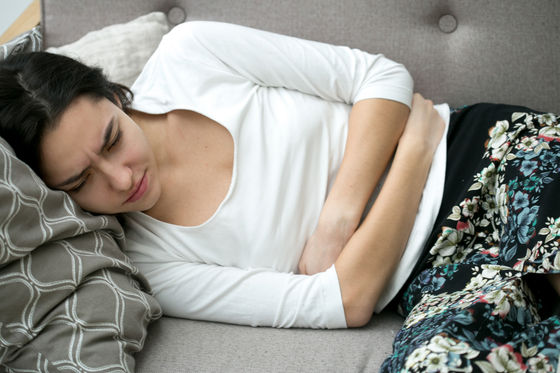 However, the United Kingdom of toilet sales company UKBathrooms is the toilet of actual usage survey result was, while the women time to spend in the toilet was the average weekly 55 minutes, men minute weekly average 1 hour and 35, is the man overwhelmed It turned out that it was long.

In addition, the percentage of those who answered that they are 'reading in the toilet' was 27% for females and 86% for males. The following is a table of male and female 'books read in the toilet' created by the UK daily newspaper Daily Mail based on the results of the UK Bathrooms survey. According to this table, the books most often read in the bathroom were 'adult magazines' for men (left) and 'interior magazines' for women (right).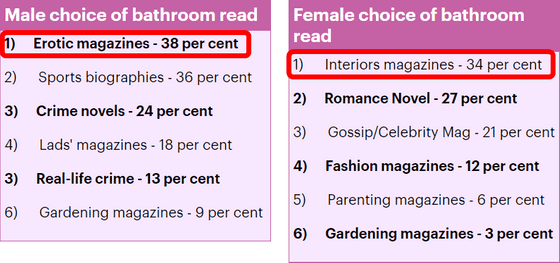 ``Maybe it's the reason men spend more time in the bathroom,'' said Jonathan Alpert, a New York-based psychotherapist, about the findings that men spend more time in the bathroom than women. Maybe it's because they're finding the comfort of home life. In short, the toilet could be a 'sanctuary' where they can be alone.'

According to Mr. Alpert, some of the clients who come to consult with him confess that they are pretending that it takes time to defecate as a way to escape from child rearing. This tendency is especially noticeable for fathers with young children.

The main reason the toilet functions as a "sanctuary" for men is that it cannot be undone for a long time and that privacy is ensured. However, staying in the toilet for too long not only causes problems for the family but also for the individual. For example, if you sit down on a toilet seat and continue to apply force for a long time, the pressure on your anus may cause hemorrhoids .

Alpert said, 'Long toilets may be a more unhealthy problem in some cases. Especially if you have a smartphone and stay in the toilet, if you are sending mail to girlfriends, It's possible to watch pornography or swear by dating apps.'



On the other hand, Mr. Alpert said, 'Everyone should have the privacy to go to the toilet, and some people will use the toilet a little longer than they should to do what they like.' He said that he provided some understanding of the use of toilets, which tend to be protracted.

Based on the expert's opinion, Mr. Prackett said, 'Don't rush to the conclusion that even if a man close to you feels the toilet is long, maybe he just wants the time to be alone for a few minutes. Maybe'.

in Note, Posted by log1l_ks