Announced that Wimbledon, which was canceled due to the influence of the new corona, will distribute a total of 1,350 million yen to the players who were scheduled to participate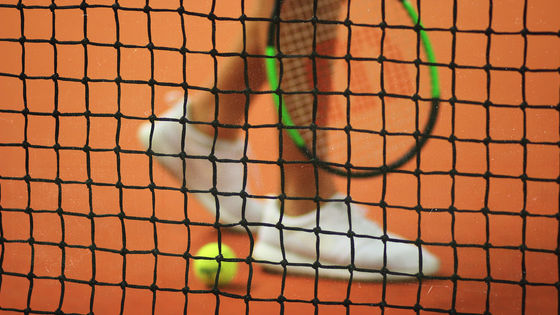 Wimbledon (UK Open), one of the four major international tennis tournaments held in Wimbledon, London, England, has been canceled due to the new coronavirus infection (COVID-19) in 2020. Following the discontinuation, the organizer, All England Lawn Tennis and Cloquet Club (AELTC) said, ``620 players who were planning to participate in a total of £10 million in tournament prize money. Will be distributed to

AELTC Announces Prize Money in Lieu of Championships 2020 Alongside Initial Decisions for The Championships 2021-The Championships, Wimbledon 2020-Official Site by IBM
https://www.wimbledon.com/en_GB/news/articles/2020-07-10/aeltc_announces_prize_money_in_lieu_of_championships_2020_alongside_initial_decisions_for_the_championships_2021.html

AELTC announced that it will stop holding the 2020 Wimbledon Championship due to the spread of COVID-19 infection in April 2020. Approximately three months later, on July 10, 2020, AELTC announced a new initiative to support people and communities affected by the COVID-19 pandemic. AELTC has established a £1.2 million fund to support charities working on the reconstruction of areas severely damaged by COVID-19, and distributes food to local communities for free. We are going to provide support such as. In addition, it announced that it will make a donation to the Tennis Player Relief Program and Wheelchair Tennis Fund, led by tennis governing bodies around the world.

In addition, AELTC has announced that it will evenly distribute a total of £10 million in prize money to the 620 athletes who were expected to compete in the 2020 Wimbledon Championship.

The AELTC are pleased to announce that we are in a position to allocate prize money to the 620 players whose world ranking would have enabled them to gain entry into The Championships 2020 by direct acceptance into the Main Draw or Qualifying event. #Wimbledon pic.twitter .com/s8GpF6ueEv

— Wimbledon (@Wimbledon) July 10, 2020


The prize money is distributed based on the world tennis rankings, and £12,500 (about 1.7 million yen) is distributed to 224 players who may have participated in the Wimbledon Championship qualifying. Each of the 256 players who would have participated in the singles main tournament was £25,000 each, and the 120 players who would have participated in the doubles main tournament were £6250 each. Will be distributed. In addition, 6,000 pounds (about 800,000 yen) will be distributed to each of the 16 athletes who planned to participate in the wheelchair tennis tournament, and 5,000 pounds (about 70 yen) to each of the four athletes who planned to participate in quad class wheelchair tennis. 10,000 yen) will be distributed.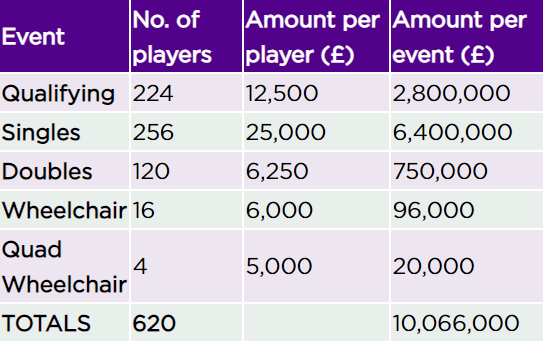 'The uncertainties over the last few months have caused many tennis players, including players, to become anxious,' said Richard Lewis, CEO of AELTC. Many of the players have been affected by the new coronavirus pandemic. Due to the challenges, some players should have been aiming to win a Wimbledon prize based on their world rankings. We are now able to pay the prize money from the tournament in return for. The players who will be paid the prize money are those who were supposed to participate in the Wimbledon Championships.'

In addition, AELTC has announced that it will also pay compensation to the British Tennis Association (LTA) staff, who were scheduled to work for the 2020 Wimbledon Championship, and to international referees.

The AELTC recognizes the impact of The Championships' cancellation on the officiating community.

We Have Worked With We Attothe_LTA To Provide A Payment To The LTA Licensed Officials Who Would Have Worked At The Championships This Year, And Also A Number Of International Officials. Pic.Twitter.Com/mEeVNgKLwR

— Wimbledon (@Wimbledon) July 10, 2020


In response to the AELTC decision, former former world ranking No. 1 player Kim Clijsters said on his Twitter, 'Great news! I have always acted as a tennis leader with a great response. Good Wimbledon! Can't wait!'

Amazing news — always a class act and leader of our sport !! Well done @Wimbledon-can't wait to be back next year !???????? https://t.co/BFok5ZSDQI

— Kim Clijsters (@Clijsterskim) July 10, 2020
in Note, Posted by logu_ii