The outbreak of the new coronavirus infection has caused a situation where sales of `` tops only '' of clothes are selling well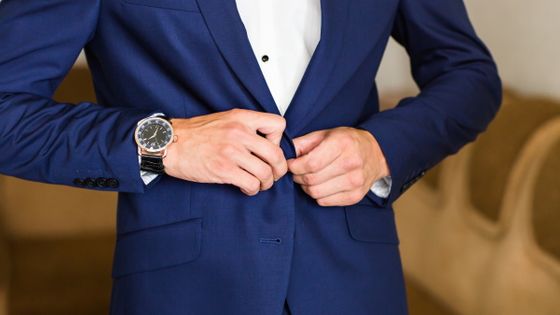 In
order to prevent the spread of the
new coronavirus infection (COVID-19)
, many companies are allowing employees to work remotely or work from home worldwide. Meanwhile, major retailers and apparel shops reported that the phenomenon of "only clothes tops sell well" has occurred.
Amid coronavirus, Walmart says it's seeing increased sales of tops — but not bottoms
https://finance.yahoo.com/news/amid-coronavirus-walmart-says-its-seeing-increased-sales-of-tops-but-not-bottoms-202959379.html
As population works from home, Walmart reports increased sales for increased sales but not pants-CBS News
https://www.cbsnews.com/news/coronavirus-social-distancing-work-from-home-walmart-tops-pants-sales/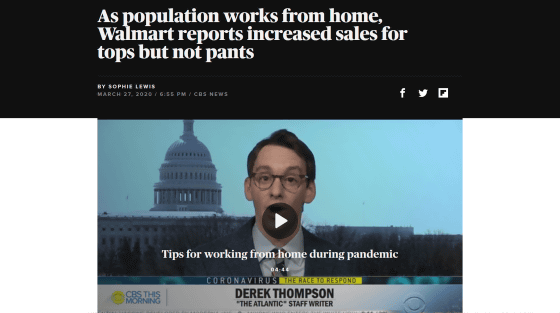 Many companies in the United States recommend employees to work remotely or work from home because people do not create an environment where the new coronavirus can easily spread. Apple, known for imposing strict confidentiality agreements on employees, has also requested employees to work remotely while permitting some employees to take out products under development. The epidemic of the new coronavirus is changing the culture of companies, as
reported
.
Until now, many workers who worked in regular offices worked in clothing such as suits and business casual clothes. However, it is said that people are starting to work in comfortable clothes such as pajamas and sweatshirts because permission to work at home has eliminated the need to worry about the eyes and dress code of other workers .
On the other hand, even when you work from home, you often meet face-to-face with other employees, such as video conferencing or online video calls. In this case, it is impossible to reflect on the camera with pajamas, so there are more people who wear formal clothes only for the upper body and choose loose clothes for the lower body.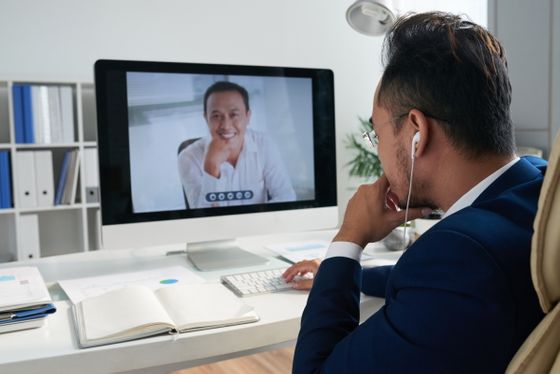 'We are seeing tops sales growth, but bottoms sales are not increasing, so people are clearly seeing it,' said
Dan Bartlett
, vice president of business at
Walmart
, the world's largest supermarket chain. We focus on the upper body. ' In addition, it seems that there is a tendency for online sales to increase. Bartlett believes this trend will continue until people adapt to the new lifestyle where online conferencing tools such as
Zoom
have become popular.
Although many retail stores and restaurants are closed in the United States, Walmart, which also sells groceries and pharmaceuticals, continues to operate both in stores and online. Walmart has taken measures to prevent the transmission of the new coronavirus in stores, such as thoroughly disinfecting the cash register and keeping the distance between shoppers at the cash register at least 6 feet (about 1.8 meters).
While the effects of the new coronavirus are severely damaging to the economy, Wal-Mart rewards employees for 'hard work and dedication' who continue to work despite the threat of the new coronavirus, bringing the total to 500 million
Announced
a bonus of $ 50 million (about 59 billion yen). According to the company, 150,000 new workers will be hired at stores and online mail distribution centers by the end of May 2020.

by Mike Mozart

GAP , a leading garment chain operator, also reports strong tops sales across its affiliated brands, including Athleta and Old Navy . On the other hand, the popularity of loose clothing such as jogging wear, leggings, sweatshirts and pajamas is also increasing rapidly, and people who buy bottoms are more likely not to buy slacks .

Other fashion brands are also paying attention to changes in the trend in line with the trend of remote work, and men's fashion brand Suitsupply posted photos of Instagram in formal upper body and rougher lower body, and said, `` Working from home That doesn't mean compromising on attire, at least your upper body should look professional. '

in Note, Posted by log1h_ik