President Trump announces `` suspension of travel from Europe for 30 days '' to combat new coronavirus, stock price drops sharply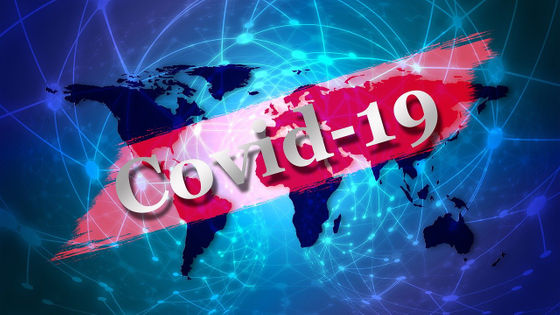 U.S. President Donald Trump said in a public address on Thursday, March 12, 2020, `` Suspension from European countries except the UK will be suspended for 30 days from March 13 (Friday). '' Announced. This has created a great deal of confusion in the stock market.

Trump says US to suspend travel from Europe in coronavirus speech – live | US news | The Guardian

https://www.theguardian.com/us-news/live/2020/mar/11/joe-biden-bernie-sanders-democratic-primaries-michigan-live-coverage
President Trump announces landmark restrictions to stop the spread of coronavirus-CBS News
https://www.cbsnews.com/news/trump-makes-statement-on-coronavirus-wednesday-evening-watch-live-stream-today-2020-03-11/
Coronavirus: Trump suspends all travel from Europe for 30 days
https://www.cnbc.com/2020/03/11/coronavirus-trump-suspends-all-travel-from-europe.html
Trump suspends travel from Europe over coronavirus fears
https://nypost.com/2020/03/11/trump-suspends-travel-from-europe-over-coronavirus-fears/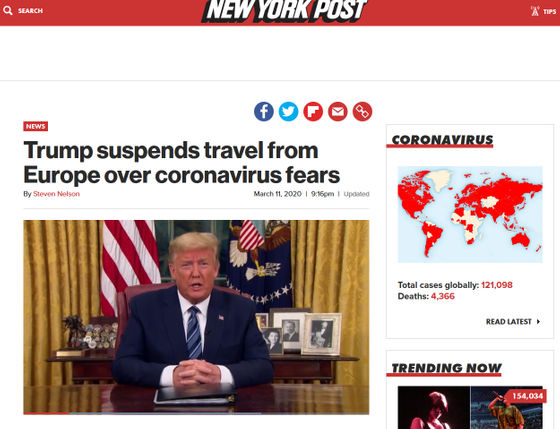 World Health Organization (WHO) Secretary-General Tedros Adanom identified a new pandemic coronavirus infection as a 'pandemic' on March 11th. WHO is said to be the first to have a pandemic in 11 years since the 2009 pandemic pandemic.


WHO recognizes new coronavirus infection as a pandemic, the first time in 11 years since the new influenza in 2009-GIGAZINE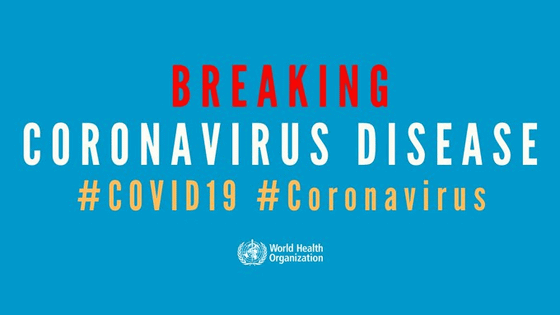 In response to the growing threat of these new coronaviruses, President Trump said in a statement released on March 11, 21:00 ET (Japan time, 10:00 am, 10:00 JST), `` The EU will respond quickly to viruses from overseas. And did not restrict travel from
hotspots
such as China. ' 'The infected clusters in California, Florida, New York, Washington, and elsewhere are caused by viruses spread among travelers from Europe.'
On the other hand, with regard to the United States' response, he said that `` we saved people's lives by acting early on China '', keeping in mind that we restricted travel from China in late January. Has announced that it will take measures for travelers from Europe.
The suspension of travel from Europe to the United States will take place for 30 days from March 13 (Fri). It does not apply to the UK. President Trump said that the United States will monitor the situation and determine whether travel can be resumed early.
The exception to travel restrictions is that 'Americans who have been properly screened will be exempted, and the restrictions will not apply to bulk shipments.' On the other hand, he said, 'If approved, there could be some action on everything coming to the United States from Europe,' he said.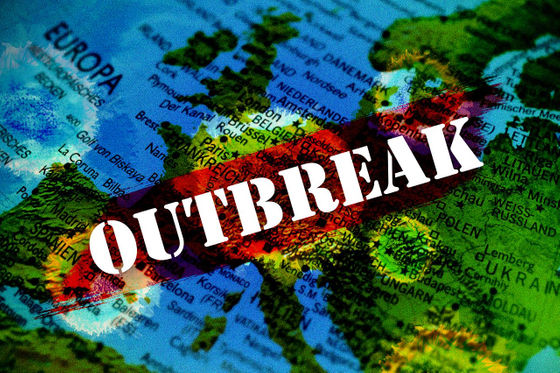 President Trump has also announced that he has instructed relevant agencies to take 'emergency support measures for those who have been infected and quarantined by the new coronavirus, or for those who are nursing them.' It also says that it is requesting Congress to finance 50 billion dollars (about 5.2 trillion yen) in order to provide low-interest loans to SMEs affected by the new coronavirus . He also stated that businesses are seeking immediate reductions in payroll taxes paid to employees.

On the other hand, responding to the concerns of the recession caused by the new coronavirus , `` This is not a financial crisis, but a temporary one that we will overcome nationally and globally, '' He pointed out that he would stay temporary.

Despite President Trump's desire for a calm response from financial stakeholders, the stock market has responded sensitively. The Dow Jones average share price has dropped 1,464.94 points following a statement from President Trump, according to a report by the American news broadcaster CNBC. Stock indexes such as the S & P 500 and the Nasdaq 100 Index have also dropped significantly. In addition, the Nikkei Stock Average in Japan ended the morning trading at 18,412 yen, down 1003 yen from the previous day's closing price.

President Trump said in a statement that 'we are at a critical time in the fight against the new coronavirus' and called for united and calm responses to Americans. He also emphasized the government's responsiveness by posting on Twitter after the announcement, 'I'm ready to use the full power of the federal government to meet the challenges of the new coronavirus!'

I am fully prepared to use the full power of the Federal Government to deal with our current challenge of the CoronaVirus!

— Donald J. Trump (@realDonaldTrump) March 11, 2020
in Note, Posted by log1l_ks