`` Theatrical version Pokemon Coco '' preview video release, drawing the bond between Pokemon and a boy raised by Pokemon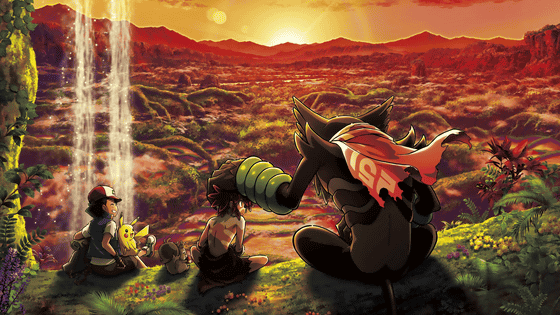 Poster visuals and preview images of the latest movie ' Pocket Monster Coco ' from the anime 'Pocket Monster' have been released. At the time of the title announcement, it was unknown what the subtitle 'Koko' was pointing to, but the latest video revealed that the name of the boy raised by Pokemon was 'Koko'.

Pokemon Movie Official Site 'Pokemon Coco The Movie'

https://www.pokemon-movie.jp/
The trailer looks like this. The baby and Coco picked up in the forest have been raised by Pokemon and have grown brilliantly, the phantom Pokemon Sarud rushing to the crisis of Coco, and the pink Celebi that seems to live in the forest are appearing.
[Official] 'Theater version Pokemon Coco' notice 1-YouTube
The poster visual looks something like this, giving a feeling of the bond between Koko and Zard. Even in this visual, the celebrity is secretly drawn on the tree.


The stage of the work is Okoya Forest, a Pokemon paradise protected by strict rules that do not allow outsiders to enter. By chance, Satoshi and Pikachu who came to the forest met Coco and began to feel that Coco, who believed that she was a Pokemon, was 'Are they really Pokemon?' Meanwhile, a crisis approaches the forest, and Coco, who was helping Pokémon around himself, is now in danger.

Until now, Pokemon movies have described the bond between the trainer and Pokemon, but in this work, a new form of bond called 'Pokemon nurtures humans' will be drawn.

'Theatrical version Pokemon Coco' will be released on Friday, July 10, 2020.

The Zarud appears to appear in the latest Pokémon Sword Shield series. The date of appearance is not disclosed, but the figure of Zarud is released on the official Pokemon YouTube channel.

[Official] 'Pokemon Sword Shield' NEWS # 09 Phantom Pokemon Sarud-YouTube


◆ 'Pokemon the Movie Coco' Movie Information
·cast
Satoshi: Rika Matsumoto
Pikachu: Ikue Otani
Musashi: Megumi Hayashibara
Kojirou: Shinichiro Miki
Meowth: Inuyama Dog
Narration: Ken Horiuchi
Other

·staff
Original draft: Satoshi Tajiri
Director: Tetsuo Yajima
Screenplay: Atsuhiro Tomioka, Tetsuo Yajima
Animation producer: Hiroyuki Kato
Character design: Hiroki Maruto
Total drawing director: Hiroki Maruto, Yasushi Nishitani
Acoustic director: Masafumi Mima
Animation Production: OLM
Production: Pikachu Project
Distribution: Toho
© Nintendo / Creatures / GAME FREAK / TV Tokyo / ShoPro / JR Kikaku
© Pokémon © 2020 Pikachu Project