Why did the number of new coronavirus case reports increase by nearly 15,000 overnight?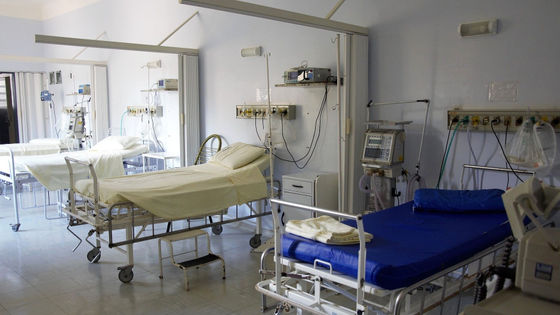 A total of 14,840 cases of the new coronavirus '
Covid-19
' were reported overnight, bringing the total number to 60,000. Hubei, China, which reported 13,332 new cases, explains that 'the number of cases has been calculated with the new definition.'
20200213-sitrep-24-covid-19.pdf
(PDF file) https://www.who.int/docs/default-source/coronaviruse/situation-reports/20200213-sitrep-24-covid-19.pdf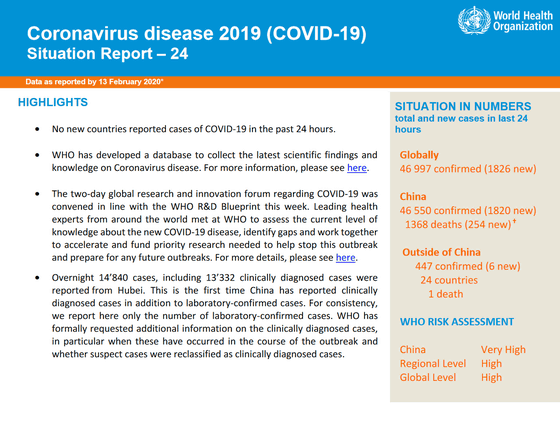 Coronavirus outbreak hits 60,000 cases after reporting change | Ars Technica

https://arstechnica.com/science/2020/02/coronavirus-outbreak-hits-60000-cases-after-reporting-change/
Hubei, China, where Wuhan, the epidemic of the new coronavirus is located, will report not only cases confirmed at the institute but also `` clinically diagnosed '' cases from February 13, 2020 The policy was changed to In the past, it was necessary to wait for laboratory results to be recognized as a new type of coronavirus infection, but this shift in policy has enabled the new type of coronavirus to be used only in the clinical diagnosis of trained specialists based on chest CT scans. Recognized as a viral infection.
As a result of the above revisions, Hubei Province reported on February 13, 2020, a new number of 13,332 infected people. The number of infected people was the result of newly counting cases that had been found so far but were not counted as cases, and said that '13,332 people were infected with the new coronavirus overnight.' It does not mean. `` Importantly, most of these cases were days or weeks ago, and importantly, as Dr. Michael Ryan, Executive Director of the World Health Organization (WHO) Retrospective Means that it has been reported. In other words, the large number of clinical cases reported on February 13 are actually cases that have accumulated since December 2019. '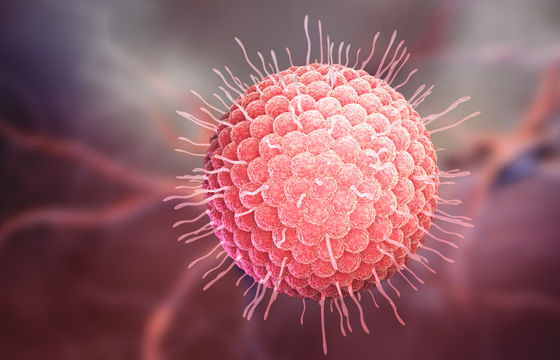 Dr. Ryan commented that the shift has enabled faster case reporting, faster case reporting, treatment and public health measures. WHO experts are working with Chinese authorities to determine how the spread of the new coronavirus has spread by examining the date and time of onset of reported cases. With a large number of new cases reported this time, Dr. Ryan states that there is no significant discrepancy in previous findings regarding the route of transmission.

With the conventional counting method, the number of new coronavirus cases reported by February 13, 2020 was approximately 47,000 worldwide and 46,550 cases in China, from February 12 to February Approximately 1800 cases were reported over the 13 days. 'In areas outside Hubei Province, it is still required to report only laboratory confirmed cases,' said Ryan.

In Japan, reports of the number of people infected with the new type of coronavirus are increasing daily, and on February 13, 2020, the first death in Japan was confirmed.

New virus The first dead person in Japan Kanagawa woman and three others confirmed infection | NHK News
https://www3.nhk.or.jp/news/html/20200213/k10012284621000.html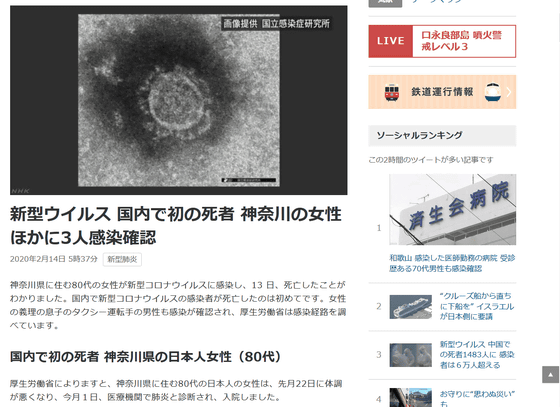 in Note, Posted by log1k_iy