'I want to eat it once' Wonton noodles restaurant 'Yakumo' supervised 200 yen cup noodles, what is the taste of the restaurant on the Michelin guide?


The popular
Yakumo
restaurant in Ikebukuro Ohashi, Tokyo, which was selected as the
Bib Gourmand
by Michelin Guide Tokyo 2020, has appeared on Acecock's "Taste of a restaurant you want to eat once" series from February 3, 2020 (Monday). I heard that the soup and wonton flavored with light
white soy sauce
had become a preeminent flavor, and I actually tried to see what kind of taste it was finished with.
Famous Wonton Noodle Stores First Appeared in the "One Time You Want to Eat" Series! A cup of crisp wonton that goes well with soups that combine seafood and chicken flavor with white soup
(PDF file) https://www.acecook.co.jp/news/pdf/2001_TLASY.pdf
One cup of superb Yakumo supervision Wonton noodle white soy sauce taste that you want to eat at least once | Product Information | Acecock Corporation
https://www.acecook.co.jp/products/detail.php?id=1071
'One cup of superb Yakumo's Wonton noodle white soy sauce taste' (220 yen excluding tax) is a vertically long package.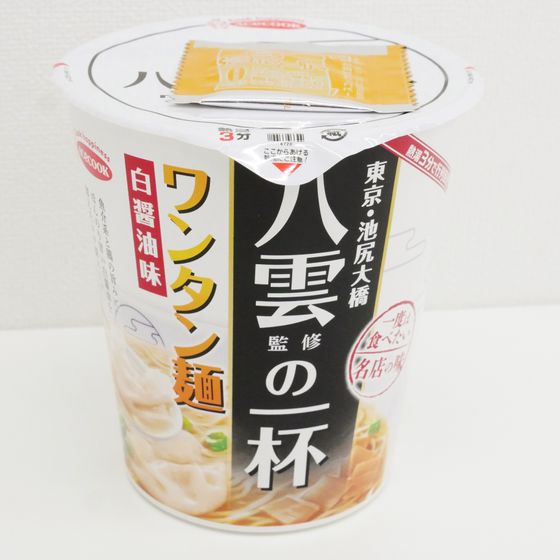 'Wonton Noodle White Dashi' is the signboard menu of 'Yakumo' since its establishment in 1999.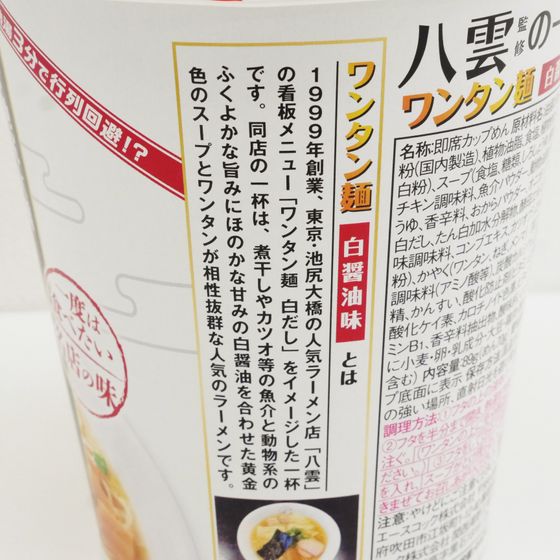 Looking at the raw material names, ingredients such as "Shiro Shoyu", "Chicken Seasoning", "Seafood Powder", "White Dashi", "Katsuo Flavor Seasoning", "Kombu Extract" and "Katsuobushi Extract" are lined up in the soup. You can see that the soup is made with white soup on the base and umami of seafood. Also, there are three types of 'wonton', 'green onion' and 'menma'.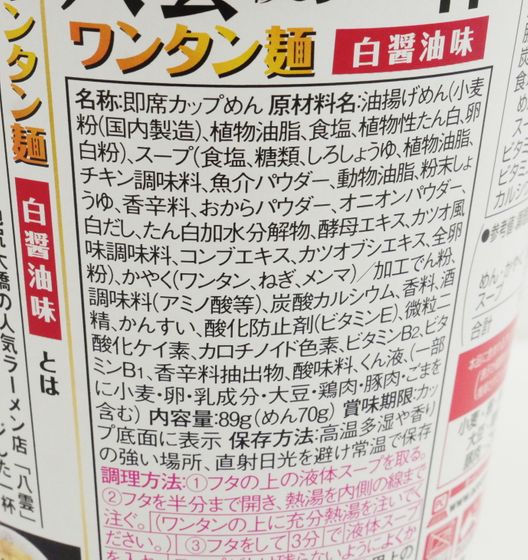 The calorie per 89g per meal is 374kcal.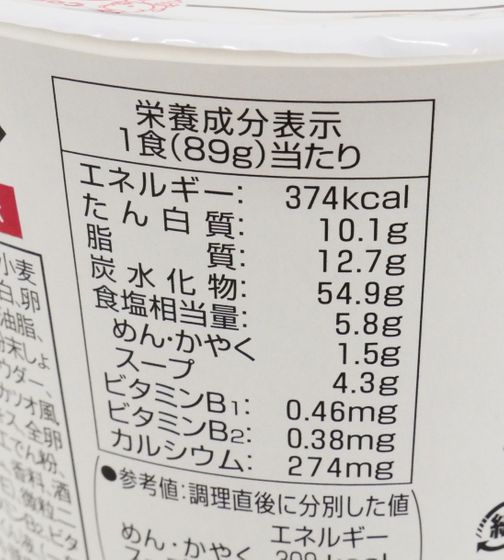 An attached liquid soup was stuck on the top.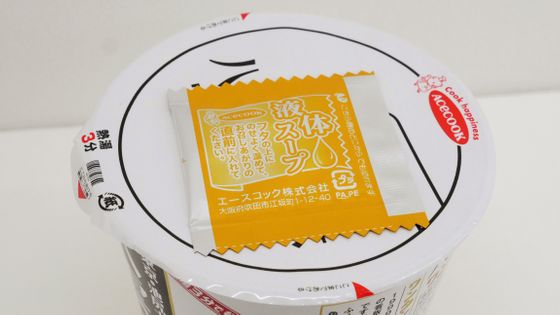 Take the liquid soup and open the lid, you will find that there is a powdered soup inside, such as wonton or menma.



Immediately pour boiling water into the cup and wait 3 minutes while warming the liquid soup on the lid.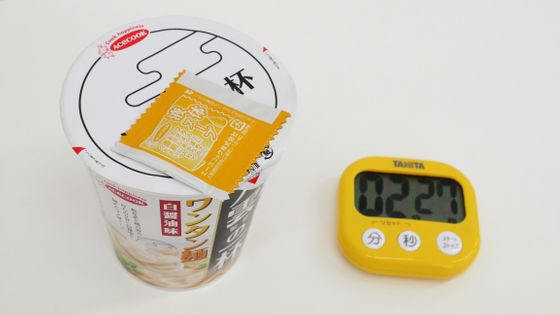 After 3 minutes, add the liquid soup ...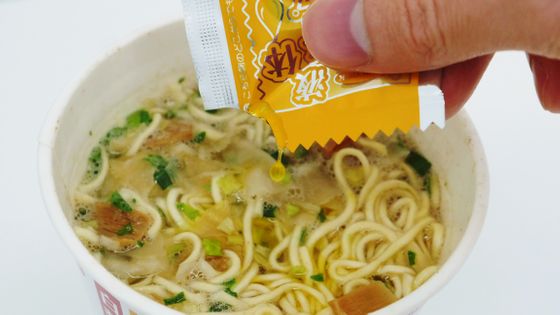 Stir well so that the soup does not melt away and it is complete.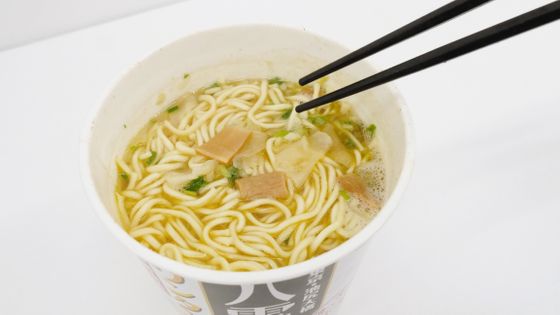 When you scoop the soup, you'll notice that it has a clear, light amber color. If you drink a little, it has a gentle taste that combines the umami of chicken and the flavor of seafood in your mouth.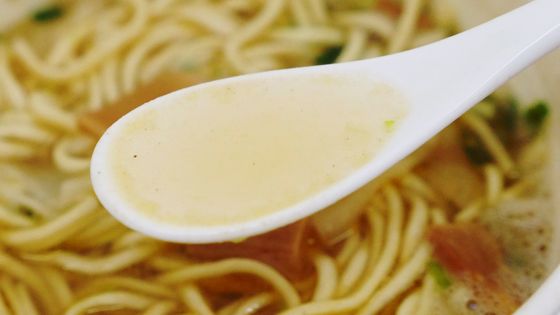 Wonton with a smooth and crisp texture is a bit thin, sometimes because of cup noodles, but it is perfect for a gentle soup with a seafood flavor.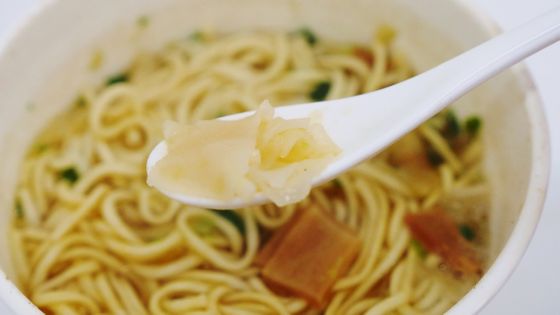 The texture of the crunchy menma was also a good accent.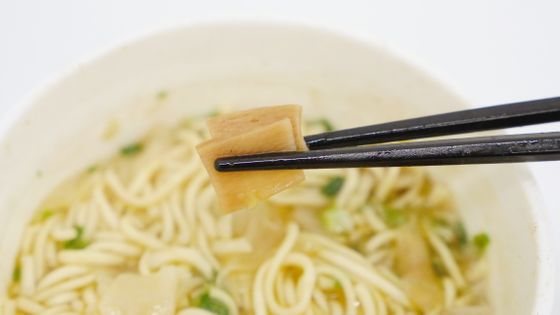 Round blade noodles have a smooth texture, so you can feel the umami of the soup firmly. It is different from cup noodles that are satisfied with the spiciness and richness that has been increasing in recent years, but the soup that combines the flavor of seafood and white soy sauce with chicken has a depth, making it a cup noodle with a finish that does not get tired Was.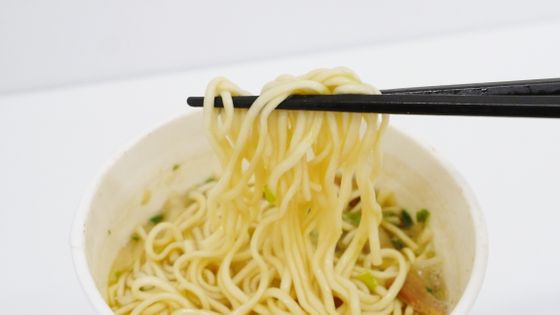 The recommended retail price of Yakumo supervised by one of the best restaurants you want to eat once is Wonton Noodle White Soy Sauce. The suggested retail price is 220 yen (excl. It can also be purchased at Amazon.co.jp, and the price at the time of article creation is 2687 yen including tax (224 yen per tax per one).

Acecock: A taste of a restaurant you want to eat at least once A cup of Yakumo supervision Wonton noodles White soy sauce 89g × 12 pieces | Acecock | Ramen Online Shopping