Possibility that PS4's remote play function will allow you to play Preste's game on Nintendo Switch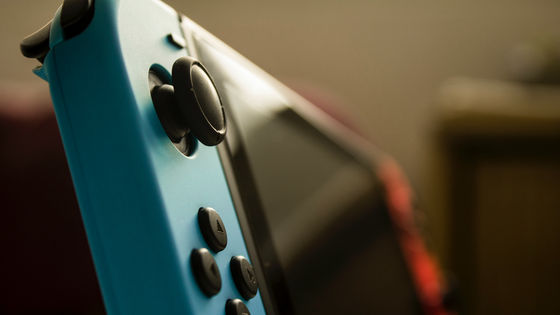 by
Enrique Vidal Flores
PlayStation 4 (PS4) is provided with a '
remote play
' function that allows you to play PS4 games from a remote location using a terminal such as a PC, smartphone, or PS Vita. To play PS4 from a remote location, a special application is required, but it is reported that this application may be provided for Nintendo Switch.
PlayStation survey hints that Remote Play could soon come to Switch-Polygon
https://www.polygon.com/2020/1/31/21117435/ps4-survey-remote-play-xbox-switch
PS4 offers a function called 'Remote Play' that allows you to play PS4 games from
PS Vita
,
PC
, and smartphones with simple settings. The following article should show you how you can play games using remote play.
Preset's official application `` PS4 Remote Play '' that allows you to play PS4 on the go with iPhone is easy and convenient to set & play-GIGAZINE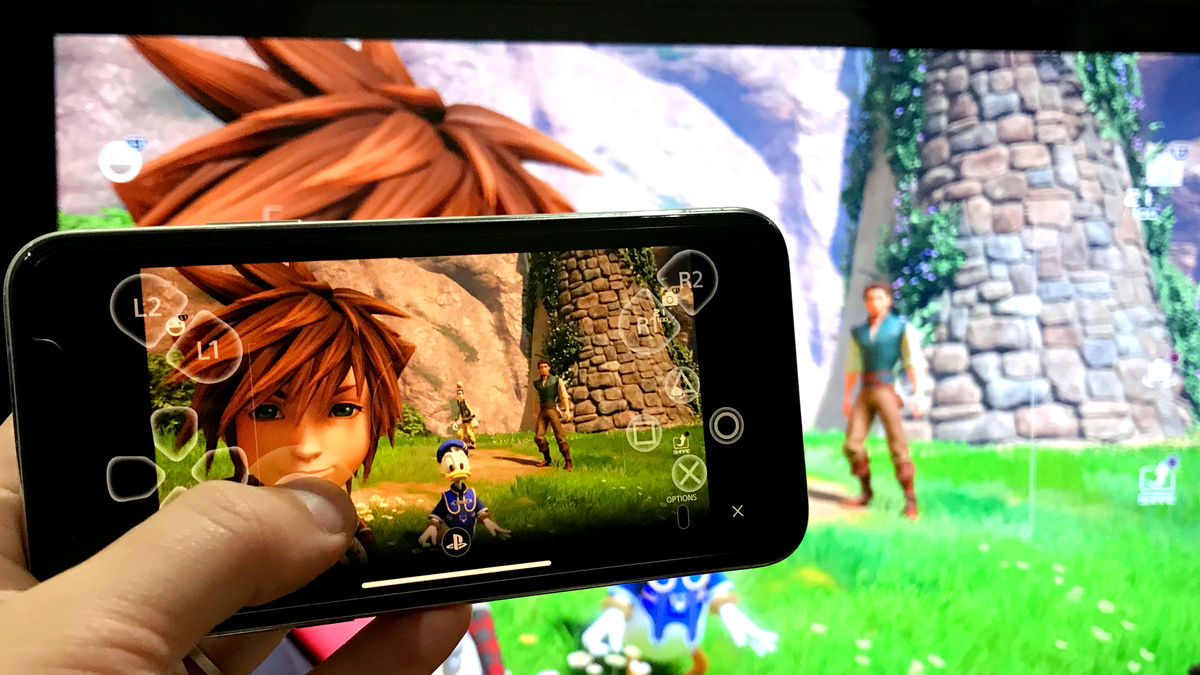 Polygon of overseas game media reports that this remote play application may be provided for Nintendo Switch, a competitive platform of PS4.
The source of the information is a testimony from a person who appeared on Reddit, 'I was surveyed on PlayStation remote play.'
Remote Play survey leads to possible upcoming features: PS4
https://www.reddit.com/r/PS4/comments/ewg2zu/remote_play_survey_leads_to_possible_upcoming/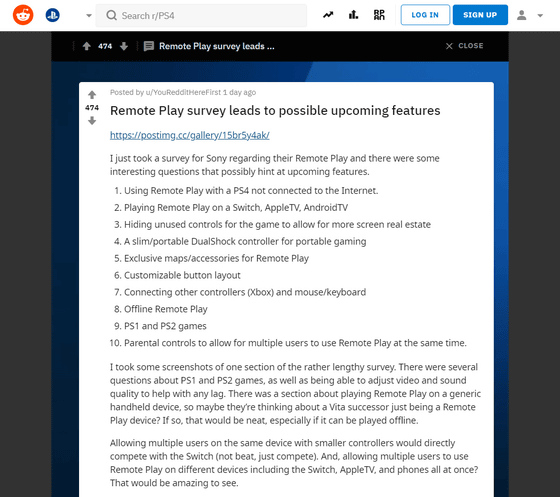 In the post on Reddit, the following 10 questions were listed as 'particularly interesting questions'. Contributors have taken screenshots of surveys conducted on the Internet and posted
them
on
Postimage.org
.
◆ 1:
About remote play on PS4 not connected to the Internet
◆ 2:
Remote play on Nintendo Switch, Apple TV, Android TV
◆ 3:
About securing more screen area by hiding controller elements not used in the game
◆ 4:
About Slim DualShock controller for portable use
◆ 5:
About maps and accessories dedicated to remote play
◆ 6:
Customizable button layout
◆ 7:
About connecting other (Xbox) controller, mouse and keyboard
◆ 8:
Offline remote play
◆ 9:
PlayStation and PlayStation 2 games
◆ 10:
Parental control function that allows multiple users to play remotely at the same time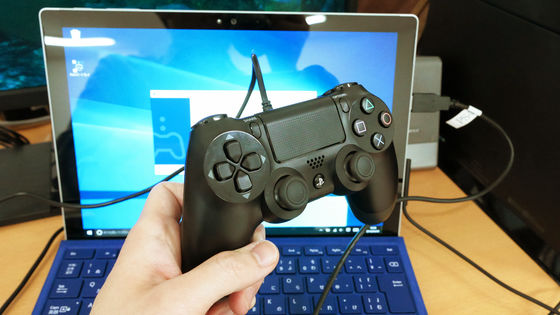 The survey mainly focuses on remote play of PS4, providing remote play apps for platforms such as Nintendo Switch, which should be a competitive platform, and Apple TV and Android TV which are not game consoles. A questionnaire survey has been conducted to determine whether or not they feel attractive.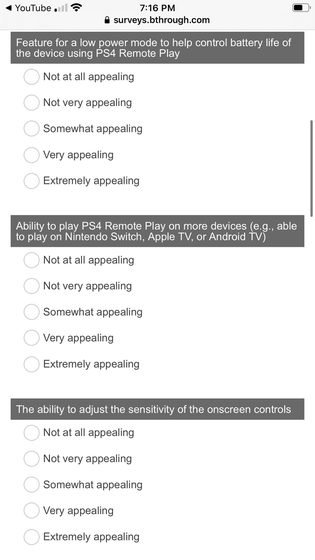 Also, in the questionnaire, if the first PlayStation or PlayStation 2 game can be played by remote play, the delay is adjusted by adjusting whether or not it feels attractive and the sound and video quality of the remote play. Questions have been asked about features that can be reduced.

In addition, to secure the `` screen display area '' which is a problem when playing remotely on a terminal with a small screen such as a smartphone, adjust the size of the virtual controller and adjust the button arrangement PlayStation seems to be considering a function to turn off unused buttons.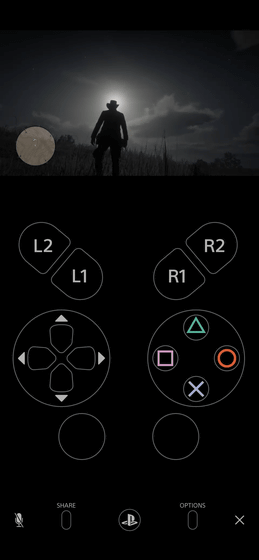 In addition, Polygon states, 'It is only a hypothetical idea mentioned in the survey, and the survey is to explore the features that players are interested in, so all the features that appeared in the survey will appear in the future There is a possibility, but we do not guarantee it. '