Interview with Nobuyuki Fukumoto, the original and scriptwriter of 'Kaiji Final Game', and a story technician who continues to make stories at a pace higher than weekly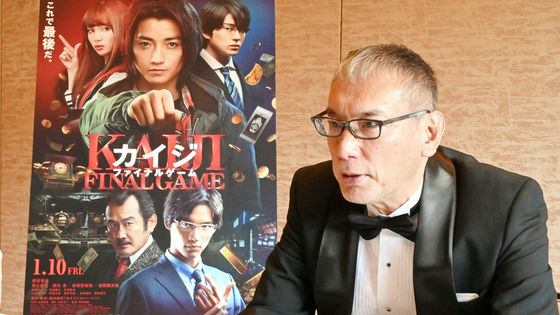 Based on the popular manga 'Kaiji' serialized in Weekly Young Magazine, the final chapter of the live-action movie series ' Kaiji Final Game ' played by
Tatsuya Fujiwara
, which is highly evaluated by Kaiji, has been released on Friday, January 10, 2020. The previous two works were based on the original story, but this work is a completely original story by the original author, Nobuyuki Fukumoto, and Kaiji fights with 'Japanese dispatch king' Yohishiro Kurosaki and others in four original games. The figure is drawn.
Mr. Fukumoto has heard various stories about how this final chapter was created, including about creations other than movies.
Movie 'Kaiji Final Game' official website
https://kaiji-final-game.jp/
A battle between Kurosaki, played by Kotaro Yoshida, and Kaiji, played by Tatsuya Fujiwara.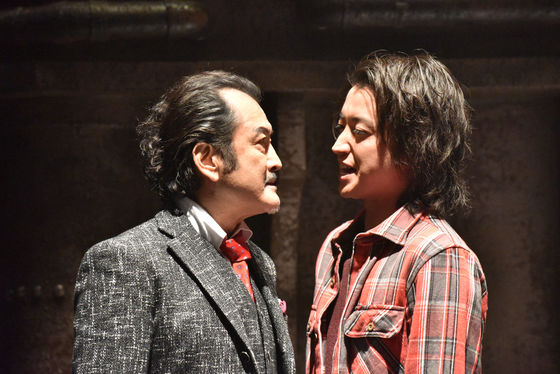 GIGAZINE (G):
When Mr. Fukumoto
appeared
in the
program 'Catalydas ~ MAKE IT GREAT ~' in
2010, he gave a presentation that manga would be interesting if 'emotion' and 'material' were emphasized. Was this work also created as a movie by combining 'emotion' and 'material'?
Nobuyuki Fukumoto (Fukumoto):
This time, since the movie is the third movie, I thought about making it something that even people who saw the first and second movies could feel, 'Yes,' Kaiji 'was such a movie.' In movies, there are things that make you feel impressed, but as a result, you are impressed, and it is strange to say 'make an impression'. Therefore, let's firmly understand Kaiji's world view, including 'materials', and try to draw Kaiji's thoughts and feelings.
G:
In this work, there are four original games, 'Tower of Babel', 'The Last Judgment-Human Scale-', 'Dream Jump', and 'Gold Rock-paper-scissors'. In what order did you come up with this?
Fukumoto:
I wonder if 'Tower of Babel' and 'Last Judgment-Human Scale-' were at the same time. 'Tower of Babel' is really an entrance game, and I thought it would not be possible to make a story around it. On the other hand, 'The Last Judgment-Human Scale-' is a game that converts everything that makes you think 'What is the last human being?' Into money, but it is not gambling (laugh)


G:
(Lol)

Fukumoto:
However, this is difficult, but I thought it would be interesting if it could be expressed well.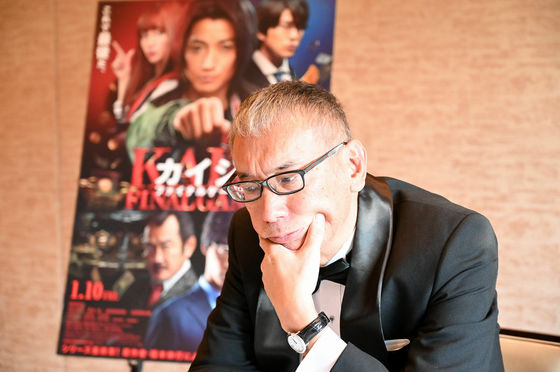 G:
When I first saw the stage of the game, I thought that 'Dream Jump' and 'Gold Rock-paper-scissors' were like arrangements of 'Steel Frame Crossing' and 'Limited Rock-paper-scissors' that appeared in the past. The contents were completely different.

Fukumoto:
At first, I was thinking of naming 'Dream Jump' as 'Death Bungee'. It's a bungee jump as it is.

G:
Certainly (laughs)

Fukumoto:
It's a kind of relief, isn't it? You can gather people who are willing to die, and if you win, you can make a lot of money and survive. From the perspective of the Tei Ai Group, the idea is that 'it would be better to die in vain.' That kind of world view is really like 'Kaiji', and how to get through it is the 'news' part, but I didn't want to say 'I was lucky and survived.'

G:
So that's it. In 'Catalydas ~ MAKE IT GREAT ~', when asked about the choice of words, there was a story that he was drawing a line to the cool lines and phrases of the novel.

Fukumoto:
You were pulling. I read Shugoro Yamamoto a lot, and there are some lines that I would say when the main character is involved. If it's Akagi Shigeru, there should be a line that seems to be Akagi, and if it's Kaiji, there should be a different line from Akagi, and I thought that was good. I'm not Shugoro Yamamoto, but I think it's nice to say, 'Now, it's the beginning of the party!' When the thugs start fighting, and I think it's totally surprising. It's also good to say that you're getting a surprise even though you're saying it.

G:
In this work, Mr. Fukumoto and Mr. Yuichi Tokunaga are credited as the script. How much was Mr. Fukumoto in charge of?

Fukumoto:
About 90% or 90% of the basic ideas are given, and I do most of the dialogue and story composition. I think I did the work of sending what I wrote in writing and fixing what came in about eight times.

G:
8 times! It's quite difficult ...

Fukumoto:
Mr. Tokunaga is a professional screenwriter and a talented person, but there is an actor who plays differently from manga, and the situation changes in various ways, so I can not mess with the story itself, but I can change the details. had.

G:
So that's it. Do you consult with Mr. Tokunaga when fixing it? Or did you proceed in consultation with Director Sato ?

Fukumoto:
I think the director probably didn't get in the way. When I fix it, I say, 'Then, let's change the lines here and here' for the returned one, and take it and have a meeting with Mr. Tokunaga and the producer. It was repeated.

G:
So it took a lot of time to create it.

Fukumoto:
It's hanging ~. It's not worth it anymore (laughs). In the case of a movie, there is a convenience of 'shaku', but at first I put out all of it, make something that is obese without considering the number of pages and time, and shape it up steadily. It was how to make it.

G:
How much time did you spend working?

Fukumoto:
How much will it be? There is a gap on the way, and I basically draw manga, so I don't think there are many. It's a waste of time when the things that come back are stopped at my hand, so I tried to check and have a meeting as soon as possible ... The pace is at most twice a month. I did it. It took a long time to release because it stopped just before the completion, and it started to move again as a quiet person, so the amount of work in the second half is about 1 when the first half is 4.

G:
It was said that it was a waste of time to stop the script check at hand, so I checked it early, but during that time I continued to draw manga. How do you usually meet the deadline?

Fukumoto:
I'm basically the type that precedes. I'm drawing and collecting in advance. As for the pace, I used to draw 6 books a month, and I have a lot of drawings so I can't be pushed by the deadline.

G:
Oh.

Fukumoto:
Recently, when work was a little delayed, I was forced to meet the deadline after a long time, and I thought, 'This is bad for my health, I can't do it.'

G:
Bad for the body (laughs)

Fukumoto:
It's bad for you and you shouldn't do that. I feel sick as a human being. After all I have to go ahead. I think editing is a manga artist and I think 'I can do it in a week, right?'

(Everyone laughs)

G:

In an interview
in
2009
about how to make 'Kaiji',
he said
that
he
would first decide on gambling ideas and stories, and then decide what kind of people would be involved in order to be effective. Do you make it this way?
In this work as well, various people will be involved in the battle of Kaiji.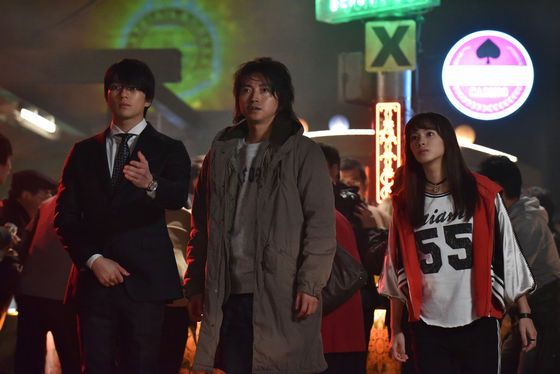 Fukumoto:
Well, first of all, how to win is important. The reason for winning is that if it's not interesting, it's useless. The drama is that there is a game on top of that, friends join, and sometimes betrayed. We'll think about how we can make it more interesting and how we can do some nifty tricks. For example, it would be more numb to have 100 lives to choose Kaiji than to have one Kaiji.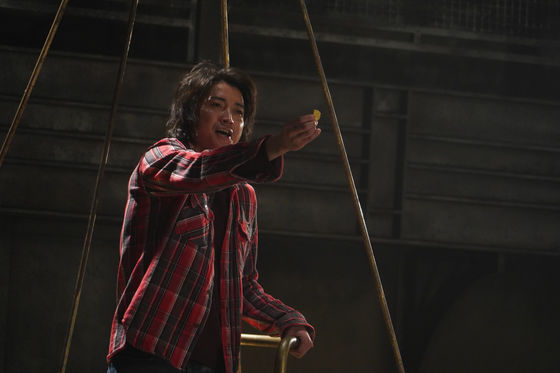 G:
Certainly (laughs). How did you come up with that idea? Are you thinking in front of your desk, moving around, or are you always thinking about it?

Fukumoto:
It's basically a desk, but there are times when fundamentally interesting ideas come up. However, at the time of the idea, it was too aggressive and had to be boiled down in order to be incorporated into the manga, which is difficult. I think there are two types of 'thinking ideas'.

G:
Are there two types?

Fukumoto:
One is the part that came up with the idea, 'Oh, this is interesting.' The other is the part where the 'interesting' is boiled down for the work. I think there are both.

G:
There are various big games in 'Kaiji', but for Mr. Fukumoto, I think whether or not 'Kaiji' can be serialized was also a 'game of life'. In the editorial roundtable discussion of the special exhibition held in 2016, 'I was praying that other cartoonists would not draw limited rock-paper-scissors.' 'I was thinking that I would definitely succeed. So to speak, in my life It's a fork in the game that you have to win. When the serialization of 'Kaiji' started, I was 37 years old. In that sense, it took a long time to sell as a cartoonist. ' As a person who has actually experienced the 'game of life', what do you think is necessary to win the game?

Fukumoto:
It's often said that ... maybe I had won before I did it. Before this, I was drawing ' Gin to Kin ' and ' Akagi ', so in terms of boxers, I was already in a state of training. Of course, I thought, 'I absolutely have to win, I want to serialize', but I don't feel like I'm forced to do it. .. So, at this point, I wondered if the results had already come out because the ability to be used in Yanmaga was at this point.

G:
Oh ... I see.

Fukumoto:
There is also the fact that there was no material called 'limited rock-paper-scissors' in the world. New things are interesting. Being able to take on the new challenge made me happy as a writer.

G:
According to an interview when 'Kaiji Gaiden' was published in the 12th issue of Young Magazine special edition Aka BUTA in 1997, it was said that 'Kaiji' was originally planned for about two episodes before and after. What kind of story was planned?

Fukumoto:
Originally, it wasn't about drawing 'Kaiji,' but rather 'I want you to draw a gambling manga.' At that time, I was already drawing 'silver and gold', so it was a story of having a manga artist who has a lot of interest draw it in the front and back. However, when I talked about it, it became too much to fit in the front and back parts, and it became a story that about 5 episodes were necessary, and from a certain stage it became a nuance to start as a normal serialization. ..

G:
So how did the work become 'Kaiji'?

Fukumoto:
As a project, I didn't even have the name of the main character (laughs). I named it 'Kaiji' because I didn't want it to be so cool. There is a refreshing image of 'Shun' or 'Ryosuke'. However, in 'Taro', 'Mamoru', and 'Shigeru' ... Oh, this is 'Akagi'.

(Everyone laughs)

Fukumoto:
However, 'Akagi Shigeru' is cool because 'Akagi' + 'Shigeru' makes him a great person with 'Yoshida' + 'Shigeru'.

(Everyone laughs)

Fukumoto:
That's why I chose 'Kaiji' because I wanted to give it a crappy name if possible. It feels a bit stubborn. I think 'Akagi' is cool.

G:
I see, that's why it's Kaiji. It's a little off the beaten track, but if you look at Mr. Fukumoto's career, you'll find that he bought 'The Rose of Versailles ' in his junior high school days in the ' Nobuyuki Fukumoto ' section of Wikipedia. I couldn't find any other sauce, why 'The Rose of Versailles'?

Fukumoto:
Oh, I've never bought it.

G:
Oops, excuse me. After graduating from high school, I got a job at a construction company and supervised the site, and I heard that I aimed to become a cartoonist trying to hit something, but even if I 'hit one shot', why? Did you choose a cartoonist?

Fukumoto:
When I was 18 years old, I saw amateurs appearing on TV, just as Tsutomu Sekine and others appeared on the program ' Ginza NOW! '. There were also singer-songwriters and novelists. Among them, I thought that it was a manga artist who was suitable for some reason.

G:
Did you read the manga quite a bit?

Fukumoto:
No, not at all. Everything is mediocre. That's why I was able to study in elementary school and junior high school as it was, but when I was in high school I stopped studying and I could not understand it, I watch movies like people but I like people, I read novels but I like people ……. The picture isn't good either, but I wonder what it is. That's why the first work I brought in was posted at the end of the book ' Crocodile's First Love ', but an acquaintance said, 'I often aimed to become a cartoonist, I wouldn't aim for it.' Certainly '(laughs). I didn't even know the existence of screen tones, so I painted it in light ink.



G:
Amazing ...

Fukumoto:
I often think that this is exactly what makes me a manga artist. But it's also a strength. After quitting the construction company in three months, I joined Eiji Kazama 's assistant, but I always thought, 'I don't have the ability to draw, so I have no choice but to make a story.' Since then, until I'm over 60, I've been thinking about it at a weekly pace or more. There is a story about 'Arabian Nights', one thousand nights and one night.

G:
Yes.

Fukumoto:
Even if I make one episode a week, I can do it for about 2,000 nights, so I will definitely survive.

(Everyone laughs)

G:
It's a ridiculous number to count like that. By the way, is it true that Mr. Fukumoto started drawing gambling manga in this way because it was 'easy to get a job'?

Fukumoto:
this is true. In the 1980s, I couldn't get a job in major magazines, so I started drawing mahjong and pachinko manga. While there are many magazines, I was very useful because I could make a story by myself. First of all, I was an assistant at Mr. Kazama, and thanks to watching good paintings for a year and a half, it was very big that I had a lot of accumulation.

G:
It was a solid foundation for my assistant days.

Fukumoto:
Even if it wasn't serialized, it was good that I could get a job so that I wouldn't die. I was drawing only one-shot, so I had the power to draw one-shot. I think that there are some parts that are more difficult than the serialization because it is completed in one episode after reading it completely, but I think that the story making has been considerably trained by continuing to make it.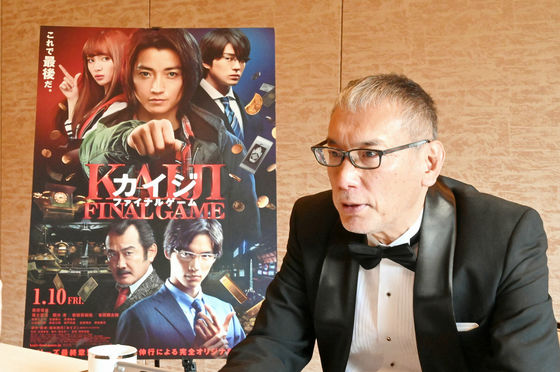 G:
It is said that the script of 'Kaiji Final Game' containing four original games was also created by the trained power. Thank you for today.

The final chapter of the movie 'Kaiji' series 'Kaiji Final Game' is on sale from January 10, 2020 (Friday). As well as a lot of gambling, there will be rice that looks like a devilish horse, so please enjoy it.

Movie 'Kaiji Final Game' Notice-YouTube


In addition, since the video that you can understand what kind of work 'Kaiji' is in 3 minutes is also released, it is safe for people who have not seen the original manga, animation, and movies so far.

Don't be spoiled! !! The world is not your mother! !! But this time, I will teach you specially to enjoy the final game Kaiji to understand in 3 minutes --YouTube