Russia blocks a photo material site with a picture of a dog's poop with a Russian flag on it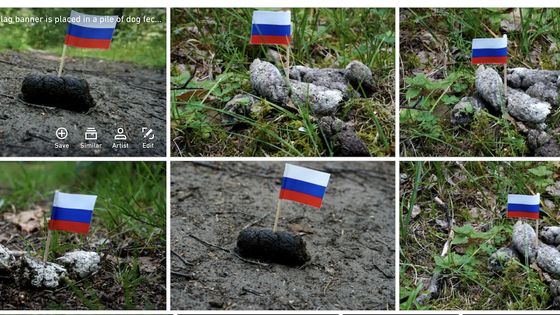 Russian news site MBK Media, Russian communication regulator,
Communication, Information Technology and Media Supervisory Agency (Roskomnadzor)
added ``
Shutterstock
'', a major photo material site, to the black list on November 13, 2019 , Reports that it has decided to block access from within Russia. At the time of writing the article, Shutterstock is no longer accessible from Russia, and it is explained that the cause of this block was a '
photo with a Russian flag on the foot of a dog
'.
Роскомнадзор заблокировал домен фотобанка Shutterstock из-за изображения с российским флагом – МБХ медиа
https://mbk-news.appspot.com/news/zablokiroval-domen-fotobanka/
Russia bans Shutterstock domain because of photo showing the national flag planted in poop — Meduza
https://meduza.io/en/news/2019/12/02/russia-bans-shutterstock-domain-because-of-photo-showing-the-national-flag-planted-in-poop
Russia Blocks Shutterstock Website Over Photos of Russian Flag in Dogshit
https://gizmodo.com/russia-blocks-shutterstock-website-over-photo-of-russia-1840165983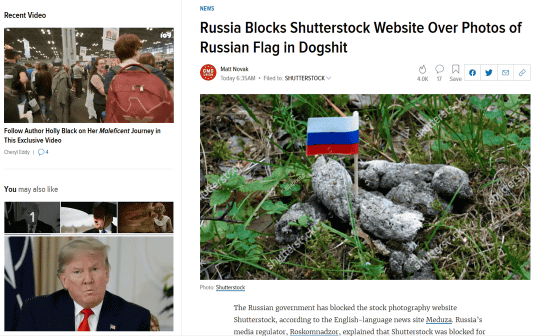 The reason why Shutterstock was blocked was a "photo with a small Russian flag on a moldy dog" posted by a user named aijaphoto in Latvia. The description attached to the photo by aijaphoto states that 'the Russian flag is placed on the dog's foot. This symbolizes protests against Russian politics.' It was posted with the intention of criticizing.

The image that has already become a problem has been deleted, but you can see thumbnails of the reprinted photos. There are not only one type of dog puffed with a small Russian flag, but a variety of blackish ones that have become moldy and white. Also, even if the national flag is stabbed in the same way, photos are taken with multiple compositions.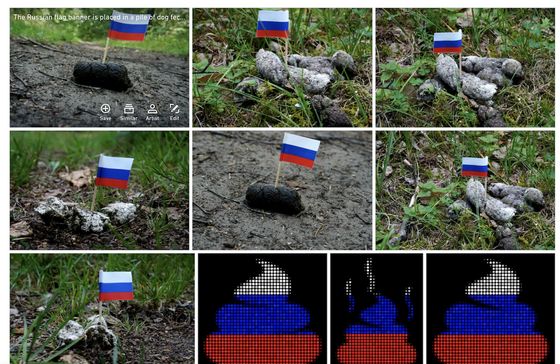 In Russia in March 2019, the federal house (the Senate) passed a law that imposes severe penalties on citizens who disseminated information that the authorities consider to be false, or that showed `` obvious insult '' to the state online. President Putin also signed. This law imposes a fine of up to 100,000 rubles (approx. 170,000 yen) on individuals who have shown `` obvious insults '' online regarding the state, authorities, citizens, Russian flag, and constitution, It can be sentenced to a fine of twice the first time or imprisonment for up to 15 days.

Putin signs legislation prohibiting state insults and false information on the net-Reuters
https://jp.reuters.com/article/putin-internet-policy-idJPKCN1R00GT



As the Russian government tightened online regulations, regulator Roskomnadzor determined that the image in question was 'insulting Russia' and added Shutterstock to the blacklist to block access from within Russia. Roskomsvoboda , an online advocacy group based in Moscow that is campaigning against Internet regulations, has reported that Shutterstock's domain has been blocked since November 28, 2019, making it inaccessible from Russia.

Shutterstock is also aware of the problem of blocked access from Russia and is dealing with it so that access can be restored. "The problematic content has already been removed, and Shutterstock continues to remove image thumbnails from the site," Shutterstock commented.

Online signature collection services in response to this single item Change.org in, by a man named Yulia Raketic Mr. German resident, '' Shutterstock is the aijaphoto who posted the photos you want to insult the Russian BAN petition that we should be 'is started It is. At the time of writing, signatures from 269 people who agreed to this petition were gathered.

Campaign · Portfolio Blocking Requirement aijaphot on shutterstock · Change.org