[Espionage] Ms. Inoue Makio, a voice actor known for the role of 'Lupine the Third' Ishikawa Gomon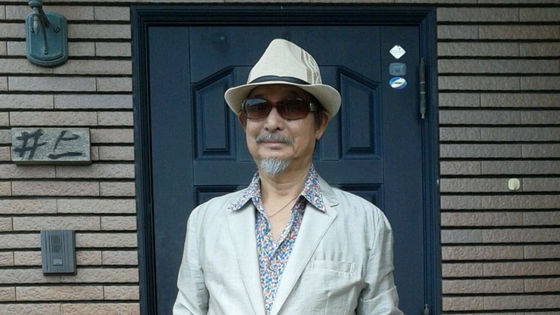 Makio Inoue,
a voice actor known for having been in charge of the role of Gomon Ishikawa for more than 30 years since `` Lupin the Third PART 2 '' broadcasted in 1977, Friday, November 29, 2019 due to worsening angina Affiliated office, Aoji Production announced that he died. I was 80 years old.
Makio Inoue Official WEB |
https://officespro.wixsite.com/spro/inouemaquio
Aoni Production-Voice actor, narration, voiceover management and promotion
https://www.aoni.co.jp/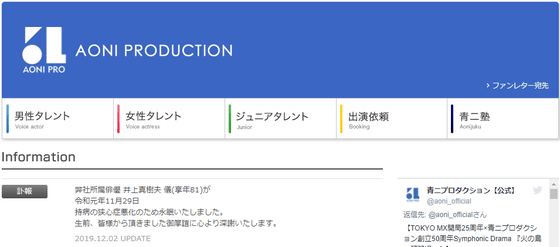 Makio Inoue is passing away ...
The first time I met was when I was part-time at a pub in Shinjuku 3-chome. He came to the store as a customer and sang "Sakura no Sakura". There was no karaoke at that time, and I accompanied the song with a gut guitar ... Makio Inoue pic.twitter.com/RYyaZvOY2P in the image [Legend Interview with Toshio Furukawa and Fumi Hirano]

— Voice actor Toshio Furukawa (Affiliation: Aoni Production) (@TOSHIO_FURUKAWA) December 2, 2019
Voice actor / actor Makio Inoue @InoueMaquio ( Kyotoshi 81), who served as an official supporter, went to sleep for a long time because of the deteriorating angina pectoris.

Information will be sent to staff account @maquiostuff .
So that it can reach as many fans as possible alone.pic.twitter.com/blRYUnJpTn

— Sui-sei (S'cLean) (@ScLean_suisei) December 2, 2019


Inoue was born on November 30, 1938 in Yamanashi Prefecture. Aspiring to play at a young age, he formed an underground theater with friends and worked as a stage actor.
The voice work started after dubbing the overseas drama " Dobby's Youth " broadcasted in 1960. At that time, there was no professional voice actor yet, and Mr. Inoue himself was part-time job like a stage actor.

Eventually, I began to work on animation at `` Astro Boy '', `` Tetsujin 28 '', 1964 `` Big X '', 1965 `` Jungle Emperor '' started broadcasting in 1963, broadcasting from 1968 `` Giant '' Nohoshi is in charge of Mitsuru Hanagata, the rival to the main character, Yuma Hoshihi.

[Official] Giant's Star Episode 2 'Devil's Gibbs' 'THE STAR OF THE GIANTS' EP02 (1968)-YouTube


In the "Lupin III" series, Ishikawa Goemon, who was in charge of No. 1 Otsuka in the first series, has been in charge for more than 30 years since the PART2 broadcast in 1977 and changed to Daisuke Namikawa in 2011 with a cast change. .

[Official] Lupine The 3rd PART2 Episode 1 'Lupin The 3rd Appearance' 'LUPIN THE 3RD' PART2 EP01 (1977)-YouTube


In addition, he played an active role in the role of 'Men Ahou Koshien' Fujimura Koshien, 'Space Pirate Captain Harlock' Harlock, and 'Mobile Suit Gundam' theatrical version of Slegger Law. He also appeared in dramas such as " Ando Lloyd-AI knows LOVE? " And " Family Hunting " after making a voice appearance in the theater version of SPEC.

Starting in 2017, Twitter started sending out various information.

Going out (in front of home entrance) pic.twitter.com/kwl6KwTQqP

— Makio Inoue Maquio Inoue = Emaqui Inou Official Inoue (@InoueMaquio) August 28, 2018


In addition, from October 2019, an official channel was opened on YouTube to distribute WEB radio.

Mackey and Sui-sei's Dagger! 1st `` Blindfold Demon ''-YouTube


On the occasion of the intelligence, comments from Lupine III's official Twitter are played by Lupine, Kanichi Kurita, Dimension, Kiyoshi Kobayashi, and Daisuke Namikawa, who took over the role of Goemon.

When I was greeted by the Lupine family,
Among me, Mr. Naya is my father and Mr. Kobayashi is my uncle. Mr. Inoue is my youngest uncle,
I felt very safe and secure.

It was always a wonderful senior who always made me happy.
We pray for the souls.
Kenichi Kuritapic.twitter.com/gC4YjLKpdJ

— Anime "Lupin the Third" Official (@lupin_anime) December 2, 2019
Goemon, you too!
All that was left was Fujiko-chan, my dimension and two.
Zantetsu sword is also crying.

Kobayashi Kiyoshi pic.twitter.com/3JQXtKkax3

— Anime "Lupin the Third" Official (@lupin_anime) December 2, 2019
Gosuke Ishikawa Daisuke Namikawa pic.twitter.com/yajDp5rVPz

— Anime "Lupin the Third" Official (@lupin_anime) December 2, 2019


Koji Mori reveals that Mr. Mori was the name of Mr. Inoue in the credits, although Mr. Inoue was the voice of 'Uriken Ken Polymer' William.

Sad news is that senior Makio Inoue passed away.
Actually, yesterday, I went to karaoke at a second party off-line and watched a video of singing Captain Harlock's song.
Is it news of insects? Happiness. #Makio Inoue # Captain Harlock # Koji Mori

— Isao Mori (@katsuji_mori) December 2, 2019
I was planning to appear in Furauchiken polymer before, but I was admitted immediately after being hit by Tomei Expressway, so Mr. Maki was substituted for me. However, the correction of the performer telop was not in time, and the voice was Mr. Makio.
Also, when I was doing a part-time job for selling sweet potatoes at the station, he came to buy as a customer (;;)

— Isao Mori (@katsuji_mori) December 2, 2019
in Note, Posted by logc_nt