The Scottish municipality is looking for information about the "witch's bone" that was missing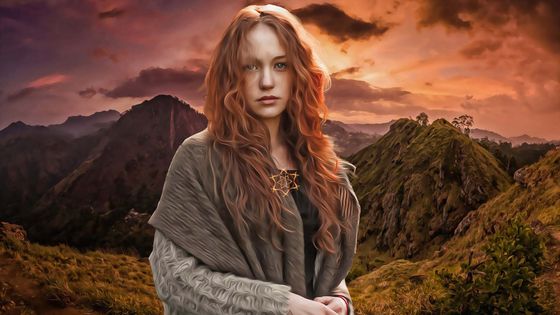 by
darksouls1
The Scottish authorities are calling for information as the remains of the woman, who was identified as a "witch" in the official record of Scotland, are missing.
Wreath-laying in memory of the Torryburn 'Witch'.
https://www.fifedirect.org.uk/news/index.cfm?fuseaction=news.display&objectid=166C9C0E-C2F5-9888-310A3ADFD0A0BB15
Bid to return skull taken from Scotland's only witch grave launched-The Scotsman
https://www.scotsman.com/news/people/bid-to-return-skull-taken-from-scotland-s-only-witch-grave-launched-1-4991682
The bones of an 18th century 'witch' vanished decades ago. Now Scottish officials are hunting for them.- The Washington Post
https://www.washingtonpost.com/nation/2019/09/03/lilias-adie-th-century-witch-remains/
How to bury a witch-BBC News
https://www.bbc.com/news/uk-scotland-29689688
Scotland
Fife
in some old harbor town
tree burn
in the August 31, 2019, memorial service of Lillias Adey is a 18th-century woman who was buried as a witch has been undertaken.
`` She was a victim of a prejudice era, '' said Julie Ford of Fife, who attended a memorial ceremony commemorating the 315th anniversary of the death of Lilias Addie, commenting that many innocent people were witches. I looked back on the history of Scotland where I was executed.
Ford members are wreathing garlands at Addie 's Memorial.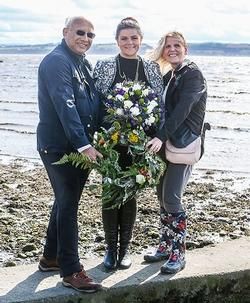 Lilias Addie is a woman whose name has been left in the official record of Scotland, and is the only example of a corpse confirmed among those who were buried as witches in Scotland.

It was in 1704 that Addie was tried as a witch. One evening in late August, a woman who had hallucinations while drinking had accused the woman who lived next door as a witch, thinking that it must be the work of Satan who was summoned by someone nearby. This woman is Lilias Addie. At that time, Addie, who was brought up in front of the Toryburn priest, was charged with the crime of working with the devil and fornication in trial.

At first, Addy denied the charges, but confessed and confessed after about a month of torture. According to court records at that time, Addie met a demon with a cow-like hooves in a corn field and was forced to give up Christian faith. And, as accused, he went into sexual acts with the devil and danced with the devil with other witches.

Acknowledging that she was a witch, Addie was sentenced to fire, but was buried on the coast of Triburn because he died in prison without waiting for his execution. One theory also points out that they may have committed suicide.

According to local archaeologist Douglas Spears, in Europe in the 18th century, it was believed that if a sinner died before the sin was purified by execution, the devil would rise like a zombie. People at that time feared the dead that the devil had revived called ' Revenants ', and they were supposed to be buried under heavy stone plates during the burial.

The following image is a picture of a stone plate discovered by Spears on the beach where Addie was buried in 2014.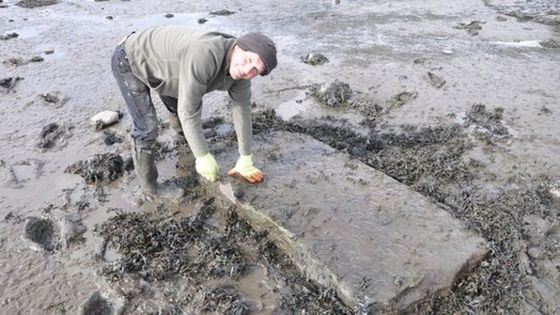 Addy's grave was uncovered by a thief long before the slab was discovered, and in 1852 there was a record that an antique dealer named Joseph Neil Patong bought a skull that was attributed to Addy from the tomb vandalism It is. Patong then handed over Addie's skull to St. Andrews University in Scotland, but after the 1904 record, Addie's remains were missing.

The following image is a picture of Addie's skull taken in 1904.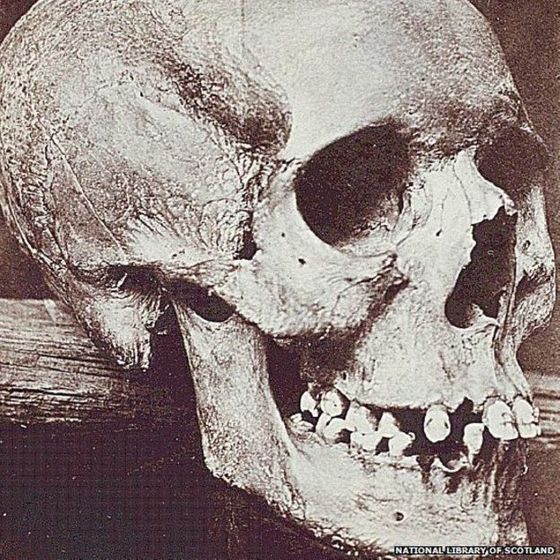 In addition, in 2017, the British public broadcaster BBC released the face of Addie that was restored based on a picture of the skull.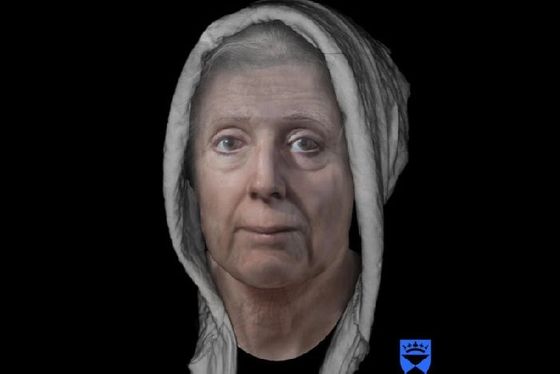 At the request of the BBC, Dr. Christopher Lynn, a forensic scientist at Dundee University who restored the face of Addie, 'Today it is clear that Addie is not a witch and nothing but a victim of a terrible calamity. 'I decided to make Addie not a mean expression, but a gentle expression.'

Historian Louise Yeoman also pointed out that when Addie was asked about other witches in the witch trial, he only gave the name of a person who had already been executed as a witch. I think she was a wise woman. "

In Scotland, there are records that hundreds or thousands of men and women were executed as witches in addition to Addie, but other than Addie, they were burned, and no tombs or bones remained. For this reason, Ford and colleagues decided to ask for information on whereabouts of Addie's remains.

'I don't want the victim to have been killed inadvertently. A monument not only for Addie but for all the people who have been accused of witches and died,' said Kate Stewart, who attended Addie's memorial service with Ford. I want to build it, 'he said, and expressed his thought to take over the memories of the absurd witch trial to future generations.

in Note, Posted by log1l_ks