MSI Deploys Comparative Ads That Dissume Apple's Over 100,000 Yen Monitor Stand 'Too High'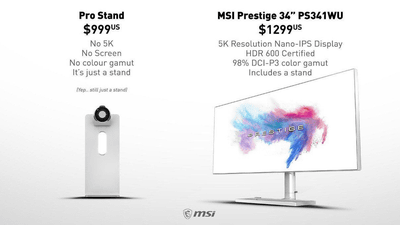 At the ' WWDC2019 ' held on June 4, 2019, Apple introduced the 6K Display ' Pro Display XDR ' along with the new ' Mac Pro '. An advertisement that makes this 'too high' is a hot topic that is developed by the PC parts maker MSI.

Display maker MSI mocks Apple's $ 999 Pro display stand-9to5Mac
https://9to5mac.com/20019/06/06/msi-mocks-apple-pro-display/

The Pro Display XDR, with a 32-inch 6K LCD display, is a top-of-the-line model that Apple speaks of as 'the world's finest professional display.' The price is $ 4,999 for one monitor body ($ 550,000), $ 999 ($ 110,000) for Pro Stand, which is a dedicated stand, and $ 199 for VESA mount for fixing to monitor arm etc. It is a price setting of 22,000 yen and quite bullish.

And below is what MSI Australia tweeted. 'I am a Mac. This is a PC' is the original TV commercial campaign ' Get a Mac ' that Apple used to develop. Apple's Pro Stand says 'not 5K, no screen, no color gamut, just a stand, yes ... only a stand still', for $ 999 (about 110,000 yen), '5K resolution Nano IPS panel adopted, compatible with DisplayHDR 600.
Achieves 98% DCI-P3 coverage. The 34-inch Prestige (PS341WU) marked 'With stand' is $ 1299 (approx. 140,000 yen), and the display of MSI is with a stand, and it is appealing that it can be purchased in the same price range as Apple's Pro Stand.

I'm a Mac, and this is a PC. ?????? pic.twitter.com/NpjiJm6C7T

— MSI Australia (@AustraliaMSI) June 5, 2019


MSI's 34-inch Prestige is on sale in 2020, but of course the performance is quite different from Apple's 6K resolution, 32-inch Pro Display XDR. For example, David Bernard, founder of application development company Contrast, rated that '34-inch Presitge of MSI might be Ali as an alternative to Pro Display XDR, but it was not.' The

Giant bezels, cheap plastic everywhere, no cable management, etc. Their marketing shot is so misleading. (I was genuinely from the I've heard, the Pro Display XDR is even more beautiful.) thinking it might be a decent alternative ... ????) https://t.co/WxOsWaVJ6j pic.twitter.com/WBSNRornxE

— David Barnard (@drbarnard) June 6, 2019


According to 9to5 Mac, although 34 inch Prestige display sings 5K resolution (5120 pixels x 2880 pixels), in fact it is not true 5K resolution because the height is narrowed slightly to 5120 pixels x 2160 pixels about. Also, the 34-inch Prestige display uses USB Type-C instead of Thunderbolt 3 and seems to be made of plastic rather than aluminum.

Still, 9to5Mac speculates that MSI advertising may stick to a layer that says 'I want to use a display that is cheaper than Pro Display XDR and that has higher performance than general models.' 'Apple would have been able to avoid this backlash if it announced it for $ 6000, including the stand in the Pro Display XDR.'