Children who play the initial skin with the basic play free Fort Knight are bullied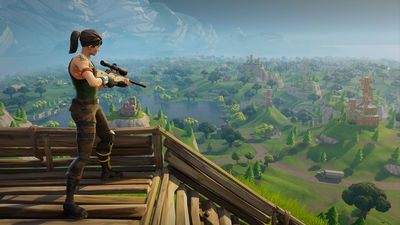 Boasting explosive popularity worldwide with a unique combination of architecture × battle royal, "
Fort Knight
" is a basic play free game, but it changes the appearance of characters, "costumes" and "emotes" to reproduce specific movements Etc are sold for a fee. Although different from the so-called '
Pay to Win
', Overseas Game Media's Polygon reports that the presence of billing services is having a negative impact on children who enjoy games for free.
Fortnite is free, but kids get bullied into spending money for skins-Polygon
https://www.polygon.com/2019/5/7/18534431/fortnite-rare-default-skins-bullying-harassment
Even in the United States, in high-school private schools, parents are given "too much money to spend comfortably" such as students wearing branded clothes and shoes. Such differences exist in the real world in the United States and in Japan, but similar financial disparities are flowing into the world of Fort Knight, which is in vogue worldwide, making unexpected changes It seems to be accomplished.
According to Paul Tauler, a junior high school English teacher, children used costumes that can be used in Fort Knight as their own status symbol, and began to leave unpaid students who did not change costumes. One of the students in the class that Mr. Tauler was in charge said, 'Because it was still a basic costume, no one stopped playing with me and asked my parents to buy a paid costume.' Such a move is not limited to Fort Knight, but Mr. Tauler said, 'It's a vicious thing to bring up another way for children to bully anyone.' It is a misery for children that no one can play while playing Fort Knight.


Not only is Fort Knight free for basic play, it also features PC / PlayStation 4 / Xbox One / Nintendo Switch / iOS / Android and a wide range of devices. It says that 100 people go down to one island at the same time and keep fighting until the last one, but some friends say
that Fort Knight plays an important role as a communication tool, not just a game
. It's also a great game that accelerates communication. In addition to the Battle Royal Mode, with the advent of a creative mode that creates buildings and stages, Fort Knight in 2019 is becoming more than just a shooting game.
Since the basics of Fort Knight are 100 battle royals at the same time, there is only one game winner, and inevitably many people can not win in gameplay. Because it is difficult to shine in play, many players differentiate themselves from other players by changing the appearance (costume) of the character they manipulate and using emotes. However, basically, changing the character's costume has no effect on gameplay.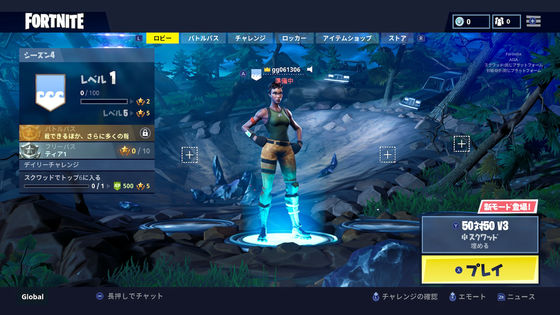 There are various ways to get the costume sold in the game, and there are some that can be purchased for up to about 2000 yen per one, by unlocking the reward each time you buy and play a
battle
pass. There is also a costume you can get. Some costumes can be obtained with
Twitch Prime
's membership benefits. In most cases, players buy and play costumes they like.
Therefore, the player who is playing with the initial costume is soon to be distracted from the community, so Polygon describes the initial costume and 'sign showing that it is a player who is inferior in some way' You In fact, Mr. Tauler "I have heard that children call each other" the default (initial costume). From one point in time, the students are the same as common secrets inside and outside the classroom. 'I came to use the word' default '.'
High school student Libby also told Polygon that there is a culture in his school called 'Default'. He also said that many of the bullying players are playing the mobile version of Fort Knight. Also, on Twitter, 'our 9-year-old children don't call each other a loser, they say, 'The guy is the default!' It's a term that insults players, 'says the user.
They say "He's a default." It's a term for Fortnite players who haven't earned better skins yet. Gaming equivalent of the old Twitter eggs. The nine year old boys at my house don't call each other losers.

— Downtown Josh Brown (@ReformedBroker) February 15, 2019


Travis Manley, another parent of the child, also commented, 'My 10-year-old child is crazy about buying Fort Knight costumes,' Manley said, 'Costumes change the look Even if it is described as 'only thing', it seems that it does not stop to believe that the costume affects the game play. There are many other parents who can give advice on Polygon Night costumes.

As the idea that "use cool costumes is a good player" is pervasive to many players as well as children, it is often the case to play Fort Knight as an initial costume. In fact, more than 450,000 YouTubers uploading a movie saying 'You were bullied because it was the initial costume', and it was confirmed that it was deceived that it was the initial costume in the in-game voice chat. I can do it.

I Got Bullied For Being A Default In Playground Fill, Then DESTROYED Them (Fortnite)-YouTube


In addition, movies that summarize funny and bullying behavior of beginners who play in the initial costume are also popular contents on YouTube, and such movies have led to bullying the initial costume user clear.

Bullying default skins ... (Playgrounds Edition)-YouTube


Bullying is a major concern for parents who charge Fort Knight for their children. When Twitter user Monkenstien asked, 'Why do you want your son to use skin at Fort Knight?', Some people simply bully players who don't have costumes, which causes mental pain. That's right, 'he says, and it is clear that there are users who actually charge for costumes to avoid bullying.

I asked my son why he keeps wanting skins etc in fortnite, simply put there is a bullying regime where players mock others for not having them, this fuels that and causes emotional distress.

— Monkenstien (@ 3_monk) January 29, 2019


Even in the movie below, you can hear the boy's confession that he was bullied by his classmates because he does not have a skin at Fort Knight. Upon hearing the boy's complaint, YouTuber's The Dragod finally gave the boy a costume, and the movie summarizing the appearance has been played about 4 million times.

Kid Gets Bullied At School For Having No Skins, So I Did This ... (Fortnite)-YouTube


More children than the ones mentioned here have similar experiences, and Twitter is full of children's complaints for costumes. If this is simply 'I want to play with a more cool look,' it is still hard to say that the motivation from the downside of wanting a costume because I want to stop bullying.

Thanks to developer Epic Games, Fort Knight costumes are very unique and exceptional in the industry. It is clear that the unique costumes give liveliness to the game, such as pink bears and half fishes that look like special forces, and even the Avengers collaboration. 'What kind of child can do it?' In such an attractive and unique costume, Polygon.



According to Polygon, parents tried to play Fort Knight in their initial costume and tried to listen to the bullied children, but many children told their parents that they did not want to let them know that they were being bullied, It is said that he did not get permission from and could not post detailed conversation content. Many children are embarrassed or ashamed of being harassed because of the initial costume, and some children have decided to get used to the game of bullied things.

According to statistics at the Cyberbullying Research Center , one in four people out of approximately 20,000 middle and high school students have experienced bullying. Also, according to a Pew Research Center survey , among teenagers, children raised in poor families are more likely to experience bullying. In fact, among teenagers, the percentage of children who grew up at a household with a household income of less than 30,000 yen a year experienced bullying was 24%, whereas the household income was an annual The percentage of people who experienced bullying at over $ 75,000 (about 8 million yen) was 12%.

In the past, there was a layer that hated users who played Fort Knight on their mobile devices without being able to purchase a PC or console, but at the time of writing, the object of that aversion was shifting to the initial costume player. Sameer Hinduja, director of the Cyberbullying Research Center, says, 'If personal identity is not rooted, we tend to try to find their value on the surface,' and analyze why costume bullying occurs doing.