Extremely rare 'first generation iPod' will be on eBay, can be purchased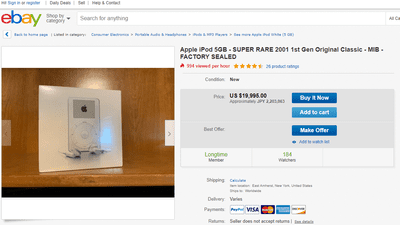 The first
iPod,
which became a huge hit as soon as it was released, was sold out in January 2001, the year after Steve Jobs's reappointment as Apple's CEO, in January 2001. It has been exhibited on
eBay
.
Very Rare Original iPod in Factory Sealed Box Hits eBay for $ 19,995-MacRumors
https://www.macrumors.com/2019/05/09/rare-original-ipod-ebay-auction/
Many Apple fans have ever traded rare items on eBay, and in the past, the 4th generation iPod (20GB) was engraved with the sign of the member of the rock band 'U2' 'iPod U2 Special Edition' The unopened item of has been sold at a price of $ 90,000 (approximately 11 million yen).
Various iPod rare models that are traded at high price, such as iPod over 10 million yen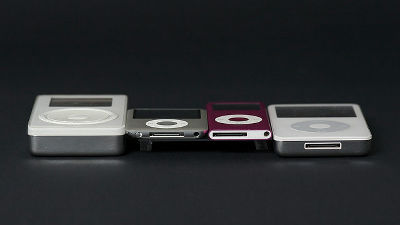 Under such circumstances, this 'Apple iPod 5GB' was exhibited on eBay this time. The first-generation iPod released in 2001, with a price of $ 19,995. The column describing the condition of the product is 'New (new)', and the factory-packaged film remains as it is.
Apple iPod 5GB-SUPER RARE 2001 1st Gen Original Classic-MIBs-FACTORY SEALED 718908458976 | eBay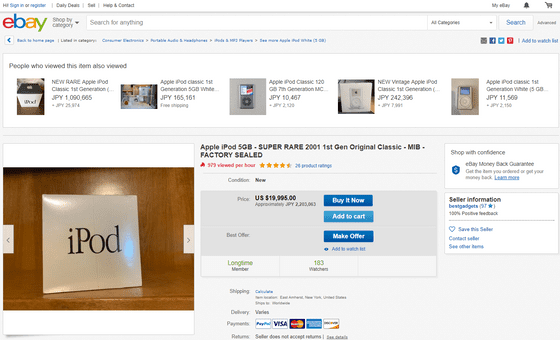 This is the picture taken by the seller. The package is a simple design with only the picture of the body equipped with the scroll wheel which can be said to be an iPod feature. The first iPod had a 2GB monochrome LCD display, a built-in 5GB HDD capable of storing MP3 encoded 1000 songs, and a battery that could play music for up to 10 hours. The initial price is $ 399, and it is approximately 45,785 yen when converted to Japanese yen at the exchange rate as of January 2001.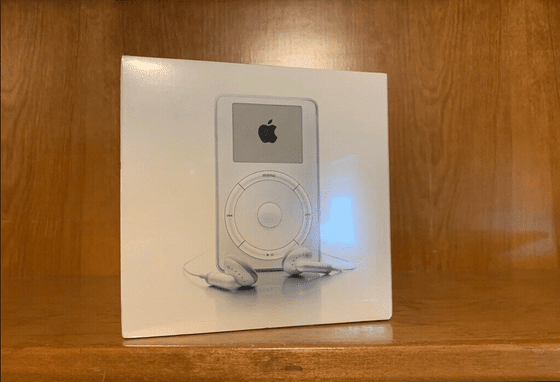 Another aspect of the package is the design of the iPod seen from the side. The thin smartphone looks a bit thicker when viewed by people who are familiar with it, but the 0.78 inch (about 2 cm) body was revolutionary and slim and compact at that time.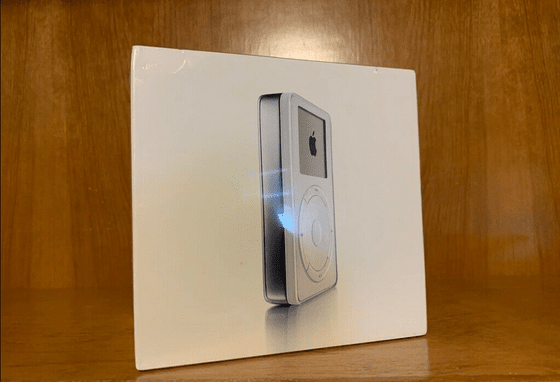 The package also shows the specifications of the original iPod, and you can see that it supports MP3 files as well as WAV files and Apple's proprietary AIFF, and that it can be connected via FireWire .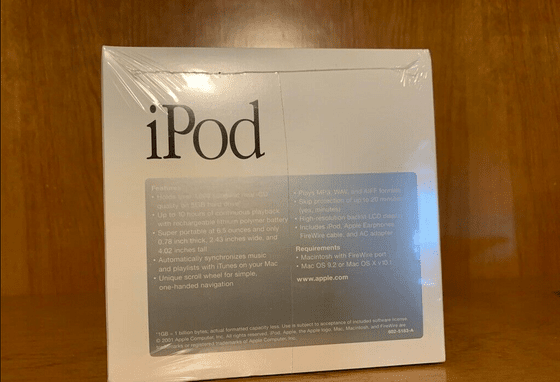 The top is decorated with the Apple logo.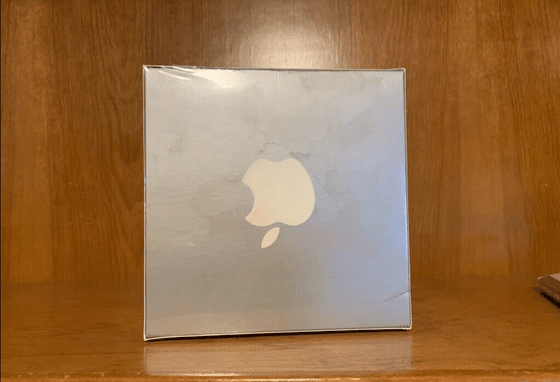 A label with a serial number was attached to the bottom.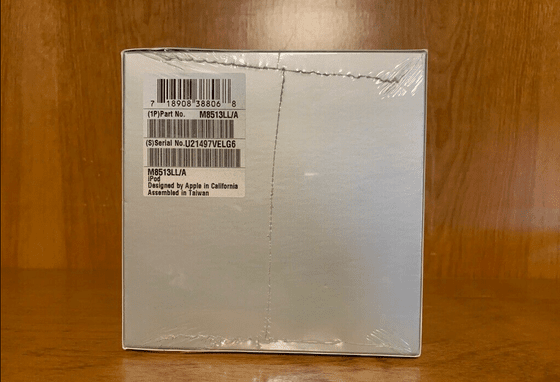 This is not the first time that the first iPod has appeared on eBay, and in 2014 the same 5GB model of the first iPod was sold for $ 20,000 (about 2.2 million yen), and the price for this exhibition is also the same as this It seems to be a setting.

Vintage Apple iPod Classic 1st Generation 5GB First iPod Ever 718908458976 | eBay



The original iPod is still on display as of May 10, 2019, and can be checked from the eBay listing page .