Screenwriter / Hideo Hideaki released 'Furikuri Altana' 'Furikuri Progres' Screenplay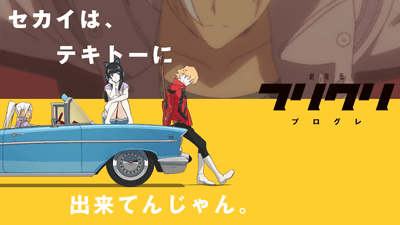 Hideo Masaru Iwai who wrote the script for the animated film ' Furikuri Altana ' and ' Furikuri Progress ' which was released in theaters in 2018 began publishing on their own note.

About FRIRIKI Screenplay Release | Iwai Hideto | note
https://note.mu/iwaihideto/n/nccfca29b3c1b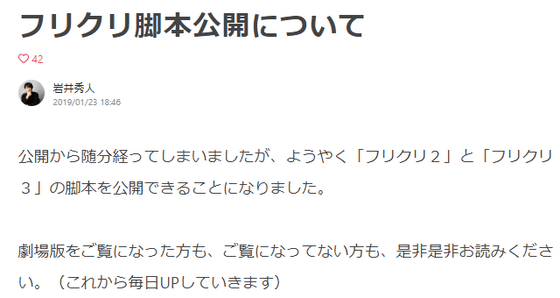 "Furikuri Altana" "Furikuri Progres" is a sequel to OVA "Furikuri" which was released in all 6 volumes from 2000 to 2001 and boasts high popularity overseas. Mr. Kazuya Tsurumaki, who served as the director in the previous work, was in charge of the supervisor and was produced in a form of general manager Katsuyuki Homihiro who is known for "PSYCHO - PASS Psychopath" and "Odoru Daisousasu Shakedown Line".

"Furikuri" theatrical version is released in September 2018 in two pieces of "Furikuri Altana" & "Furikuri Progres" Continuous release - GIGAZINE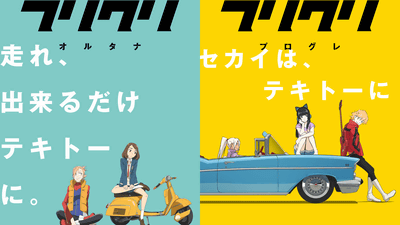 Mr. Iwai was in charge of the script for both "Altana" and "Progress" works.

The reason why the script was published in the note is that "Fricri" is "a very special work" that "everyone interprets them and each has a flyer that becomes true", "" 2 "" 3 " From the thought that there is truth both in the director and in the scriptwriter, as well as the truth exists in each of us, "I thought that I wanted to enjoy things in the screenplay stage as an independent work, and" It seems to be said that "I hope to enjoy the culture" of enjoying it.

In addition, in accordance with this script release, ANIME Bros # 3 released on Wednesday, January 23 (Wednesday, January 23) contains a sixth episode script with illustrations drawn by Yoshinari Steel and an interview with Mr. Iwai.