President Card Emergency Warning Message 'Presidential Alert' was sent to the smuggle of all the people of the United States and noisy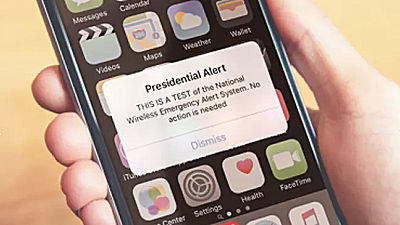 Presidential emergency alert message "Presidential alert" was sent to over 200 million people in the US mobile phone users on October 3, Wednesday, October 3, 2018 (local time) . Presidential alert that confusion was confirmed as "Is the message sent from the president to his terminal?", But the transmission seems to be completed successfully.

The IPAWS National Test | FEMA.gov
https://www.fema.gov/emergency-alert-test

'What the hell is this': Americans stunned and annoyed after Trump sends out nationwide presidential alert
https://www.rawstory.com/2018/10/trump-texted-everyone-america-people-not/

The first FEMA Presidential Alert just hit phones across the US - The Verge
https://www.theverge.com/2018/10/3/17931750/fema-presidential-alert-test-reminder-trump-public-alert-warning-system

Presidential alert: Twitter reacts to Donald Trump, FEMA test alert
https://www.usatoday.com/story/news/politics/onpolitics/2018/10/03/twitter-reacts-donald-trump-fema-test-presidential-alert/al513317002/

The test transmission of presidential alert was planned to be carried out in September 2018 originally was postponed to October 3. A notification stating "Presidential Alert" (Presidential Alert) in the subject reaches the user, the terminal gets bigger and special vibration is generated. It was reported in the news that presidential alerts will be sent ahead of actual test transmission.

This is the actual content of the presidential emergency alert test sent. According to the schedule, in the message sent at 14:18, "This is a test of the National Radio Emergency Alert System, there is no need to respond."

Hey @ real DonaldTrump
Do not text my phone ever AGAIN.

I do not wanna say it no mo !!!
#PresidentialAlert pic.twitter.com/yuZUE5CX5k

- Bishop Talbert Swan (@ TalbertSwan) October 3, 2018

It seems that an alarm has also arrived at Apple Watch.

I do not like this Donald Trump.
I do not like him on my phone.
I do not like his little clone.
I do not have him here or there.
I do not like him anywhere. #PresidentialAlert pic.twitter.com/cEbc5V7amL

- Molly Jong ☠️ Fast (@ Molly Jong Fast) October 3, 2018

The Presidential Alert was not sent by President Trumpe personally from the terminal, but was sent by the Federal Emergency Management Agency of the United States (FEMA) , and the system of the National Radio Emergency Warning System telling the weather and natural disasters was used It was. Alerts to inform weather and natural disasters were sent only to local residents, whereas presidential alerts are not limited to the area and are transmitted to almost all terminals in the USA It is a difference. However, there are terminals that do not notify test alarms for some reason.

However, when sending the Presidential Alert, some people thought that "President Trump is controlling telephones in the U.S.!", Confusion was seen.

TRUMP ALERT

President Trump now control all phones in the US!

- Comfortably Smug (@ ComfortablySmug) October 3, 2018

Some people think that "Presidents can take personal contacts to themselves", such as "deleting me from your contact book. President alerts are the worst".

Fucktard Hey AttorealDonaldTrump Take Me Off Your Contact List. #PresidentialAlert Is Bullshit. Pic.Twitter.Com/9fnWscjP7N

- Edwin Pinto (@ EdwinPi 51459669) October 3, 2018

In addition, "I can not agree with this, people who object to the mechanism that action is necessary" ... ...

I disagree. Action is needed. #PresidentialAlert pic.twitter.com/ABXy3Iqkrr

- Jennifer Novak (@ jnovakfl) October 3, 2018

"What happens if someone hacks and uses Presidential Alert as a weapon, some people point out that the wrong information spreads and the whole country will panic."

Imagine if someone hacks and weaponizes the # PresidentialAlert . Nationwide panic, misinformation.

- Wajahat Ali (@ WajahatAli) October 3, 2018

On the other hand, in Twitter Data, a mysterious phenomenon that the spike of the graph showing the timing of the tag "# PresidenstialAlart" at the timing is maximized at around 15:18 after 1 hour from the message transmission We are reporting.

Think you can tell when everyone got the presidential alert on their phones today? Pic.twitter.com/fRKBSI 4 IAL

- Twitter Data (@ TwitterData) October 3, 2018
in Note, Posted by logq_fa