Android fork '/ e /' will be released to greatly delete Google dependencies from Android to improve privacy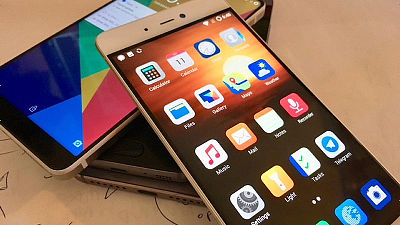 A fork (branch) from the smartphone OS " Android ", beta ROM of "Google free" OS " / e / " separated from Google service was released. / e / is an OS that has created a high level of privacy by excluding Google applications that collect location information and mail data.

Leaving Apple & Google: / e / first beta is here! - Hacker Noon
https://hackernoon.com/leaving-apple-google-e-first-beta-is-here-89e39f492c6f

Open-source alt-droid wants to know if it still still learning data to Google • The Register
https://www.theregister.co.uk/2018/09/24/grab_your_degoogled_open_source_altandroid_now/

/ e / is an OS derived from Lineage OS which is the successor to CyanogenMod forked from Android. Since it is based on already proven Open Source OS, many terminals support it, and it is confirmed to work on 30 terminals of manufacturers such as Samsung, OnePlus, Xiaomi etc. at the time of publication.

The home screen looks something like this, supporting a widget with a new UI "Bliss Launcher". By the way, the OS which was called "eelo" at the development stage was renamed to "/ e /", the character correction AutoCorrect function tried to convert "eelo" to "eels (eel)" It seems to be caused by that.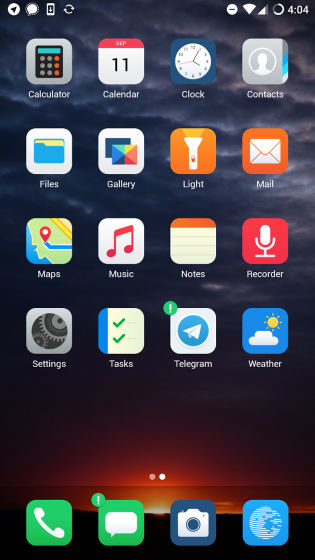 It can be said that the true bone of / e / is not its appearance but its contents. In Android terminal, Google's location information service is forcibly selected, / e / uses Mozilla Location Service , and for mail client, it is a fork of K - 9 Mail , SMS client is Signal It is said that the fork of the is adopted.

/ Beta / beta release / e / will stop using Google's DNS service in the future, move to another service, will support LineageOS 15. In addition, Gael Duval, leader of / e / project, said he plans to offer an app stores specialized for / e /. Mr. Duval also has a policy of researching whether there is a system or default app that continues to send data to Google by introducing a monitoring system for general users.

/ e / can be installed from the following site.

Devices list · Wiki · e / wiki / en · GitLab
https://gitlab.e.foundation/e/wiki/en/wikis/devices-list

Also, the terminals that have confirmed the operation at the time of article creation are as follows.

Essential Phone
Mata

Fairphone
· FP2

Google
· Nexus 4 "mako"
· Nexus 5 "hammerhead"

HTC
· One (M8)

Huawei
· Honor 5X "kiwi"

LeEco
Le 2

LG
· G 5 (International) "h 850"

Motorola
· Moto E "condor"
· Moto G "falcon"
· Moto G 2014 "titan"
· Moto G 2015 "osprey"
· Moto G 4 G "peregrine"
· Moto G 4 "athene"

OnePlus
· OnePlus 2 "oneplus 2"
· OnePlus 3 / 3T "one plus 3"
· OnePlus 5 "cheeseburger"
· OnePlus One "bacon"
· OnePlus X "onyx"

Samsung
· Galaxy A 5 (2017) "a 5 y 17 lte"
· Galaxy Note 2 (LTE) "t0lte"
· Galaxy s 4 "jfltexx"
· Galaxy s6 "zerofltexx"
· Galaxy s 7 "herolte"
· Galaxy S III (International) "i9300"

Wingtech
Redmi 2 "wt 88047"

Xiaomi
· Mi 5s "capricorn"
· Mi 5s Plus "natrium"
· Redmi 3S / 3X "land"
· Redmi Note 3 "kenzo"
· Redmi Note 4 "mido"