Bert and Arnie of Sesame Street are gay 'a good couple' and a screenwriter, but official denies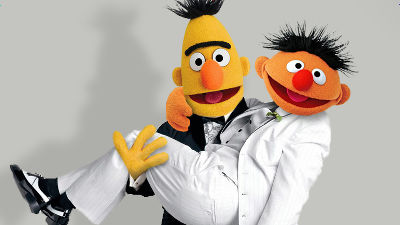 by vipez

The scriptwriter stated that Bart and Arnie are 'a good couple', a room-sharing character in ' Sesame Street '. It has been rumored that "Bart and Arnie are couples?" For many years, and in 2011 there were also signatures signed with a petition seeking two weddings.

EXCLUSIVE: Are Bert & Ernie a couple? We finally have an answer ... / Queerty
https://www.queerty.com/exclusive-bert-ernie-couple-finally-answer-20180916

Sesame Street Responds to Claims That Bert and Ernie Are Gay | Time
http://time.com/5399940/sesame-street-bert-ernie-gay/

Sesame Street writer confirms that Bert and Ernie are a gay couple
https://mashable.com/article/sesame-street-bert-ernie-gay

Bert and Arnie of Sesame Street are characters who are sharing rooms in the same apartment room during the work, and interactions that frequent misleading Ernie is awkward but disgusting at the end is frequently drawn. Are not these two gay people? The rumor that existed for a while existed.

As of September 16, 2018, Queerty of the internet media released an interview article with Mark Saltzman, Sesame Street's screenwriter. Saltzman was a scripter of Sesame Street from 1981 to 1990 and spent 20 years until the death of movie editor Arnold Glassman and Glassman in 2003.

In the article, the interviewer asked Saltzman, "When you are writing a script, have you thought that Bart and Ernie are gay couples, have you had any doubts about that?" Saltzman, on the other hand, says, "When I write Bert and Ernie, I do not have a big agenda, but I always felt that their relationship was like that." "To apply them to other contexts I can not do it. "" I do not want to know how to write them in a way other than a "matefully couple", "he said, and said that the relationship between Bart and Ernie reflects her relationship with Mr. Glassman .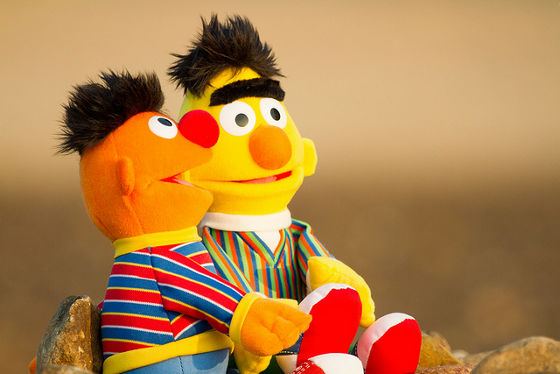 by See-ming Lee

Furthermore, when asked "Is there a similar relationship between Bart and Ernie to your relationship in many ways?", "Yes, in my life there was a relationship between Bart and Ernie Is there something that it does not penetrate? "" To the head writer, I have not told you "This is writing about my partner", but these two characters are gay audiences We are appealing against it. "

Deborah Temkin, who studies about the development of children, posted on this news that "Burt and Ernie are based on the actual couple's life, they became a smile, in fact."

The fact that it's confirmed that Bert and Ernie in in fact based on a real life couple just makes me smile from ear to ear https://t.co/0nvMmoJzvH # lgbtq

- Deborah Temkin, Ph.D (@ DrDebTemkin) September 18, 2018

Some people also say that this news is "a big cultural event in this era".

Bert and Ernie were just confetted depressed gay how was this # 1 trending news story today this is the most important cultural event of our time https://t.co/flzSjEjb2e

- Klaudia Amenábar // gay depressed Snuffy is my kin (@ kaludiasays) September 18, 2018

Meanwhile, film director Frank Oz says, "It is not a problem for Saltzman to feel Bert and Ernie as gay, but it does not matter why, why do you need such a question? Why is it important to have a drawing with gay or not? There are diversity for people who are gay or straight, "he said.

It seems Mr. Mark Saltzman was asked if Bert & Ernie are gay. It's fine that he feels they are. But why that question? Does it really matter? Why the need to define people as only gay There's much more to a human being than just straightness or gayness.

- Frank Oz (@ TheFrankOzJam) September 18, 2018

However, when Saltzman's interview article is talked about, official Twitter of NPO corporation Sesame Workshop which provides Sesame Street is "Bart and Ernie are best friends" "We are pre-school children" It was made to teach that "It is a puppet and has no sexual orientation". I emphasized that what Saltzman said is not an official view.

Please see our statement below About Bert and Ernie. Pic.twitter.com/6r2j0XrKYu

- Sesame Workshop (@ SesameWorkshop) September 18, 2018
in Anime, Posted by darkhorse_log