Disney's acquisition of 21st Century Fox breaks Comcast, the largest cable TV division

byBatranu

Comcast, America 's biggest cable television operator, revealed that it is considering acquiring business of 21st Century Fox. Since 21st Century Fox was preparing for the acquisition by Walt Disney, Comcast is divided between the two companies.

Comcast Considering Superior All-Cash Offer to Acquire Twenty-First Century Fox After Spinoff of "New Fox" | Comcast Corporation
https://www.cmcsa.com/news-releases/news-release-details/comcast-considering-superior-all-cash-offer-acquire-twenty-first

Comcast confirms plan to buy 21st Century Fox and control of Hulu | Ars Technica
https://arstechnica.com/tech-policy/2018/05/comcast-confirms-plan-to-buy-21st-century-fox-and-control-of-hulu/



In the 21st century Fox agreed to sell movies, dramas, local broadcasting stations, etc. to Walt Disney at 52.4 billion dollars (about 5.7 trillion yen) in December 2017, but from the past "Comcast We are preparing $ 60 billion (about 6.6 trillion yen) for dividing into acquisitions "It was rumored. And on May 23, 2018, Comicast officially announced that it is considering acquisition. Comcast said "It is under consideration and it is in the developmental stage of preparation," Comcast said that the shareholders of the 21st Century Fox are preparing a general shareholders meeting to reconsider the acquisition with Disney Thing. The acquisition proposed by Disney is a share exchange system, but Comcast is cash in full and has a price that exceeds Disney's offer.

Included in this acquisition are films and television studios of 21st Century Fox, cable television network, FOX sports net,Star · India,Sky39% ownership etc.Fox News Channel,Fox Business,Fox BroadcastingEtc are not included.

It is drawing attention that 21st Century Fox is a video distribution serviceHuluYou own 30% of the shares. Since Comcast already owns 30% Hulu shares, Comcast can be controlled by Hulu if acquisition is made.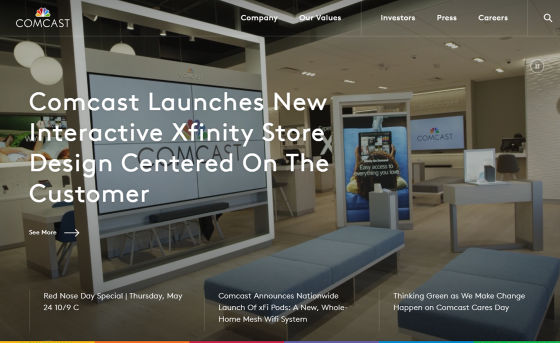 According to Comcast, the final decision has not yet been made.

In 2017 telecom company AT & T was a comprehensive media companyTime · WarnerThe acquisition was blocked from the viewpoint of antitrust by the Antitrust Bureau of the Department of Justice of the US Department of Justice. The Justice Department has filed a lawsuit to prevent the acquisition, and it is expected that a ruling will be issued by June 12, 2017. Like the acquisition of AT & amp; T, Comcast and 21st Century Fox are also expected to be tough from the Justice Department.
in Movie, Posted by darkhorse_log