Four-core single-board computer with built-in Wi-Fi at fingertips "Neutis N5"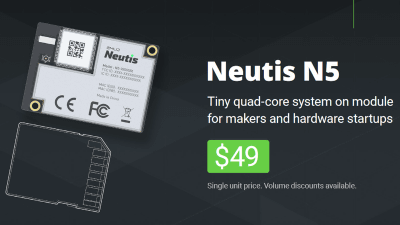 Neutis N 5Is a single board computer with 64 bit 4 core CPU and can be used as a system on module (SOM). The fingertip size body has a built-in wireless communication function such as Wi-Fi and can be used for creating IoT terminals.

Emlid Neutis | Tiny quad-core system-on-module for makers and hardware startups
https://neutis.io/

Neutis N5 is a $ 49 Allwinner H5 SoM with WiFi and Bluetooth
https://www.cnx-software.com/2018/02/23/neutis-n5-is-a-49-allwinner-h5-som-with-wifi-and-bluetooth/

Neutis N5 is a single board computer scheduled to be released by Neutis in April 2018. The price is scheduled to be about 49 dollars (about 5300 yen), I am using the 64-bit quad-core ARM Cortex-A 53 for the CPU and 8 GB eMMC for the storage.

Overseas IT news siteCNX SoftAccording to, the reason for the birth of this product is a single board computer for Intel's IoT deviceIntel EdisonIt is because the offer of the function has ended and the product of the same function is no longer available. So Neutis seems to decide to make a single board computer with its own small, cheap, powerful radio function.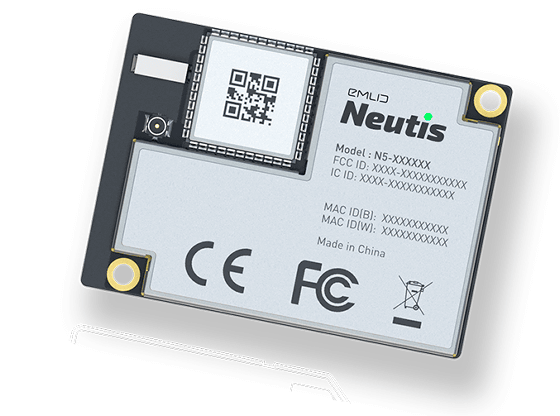 The size is about 41 mm long side riding on your fingertips. Compared to the image of SD card with long side 32 mm × short side 24 mm drawn with white wire under the main body, I can understand its smallness well.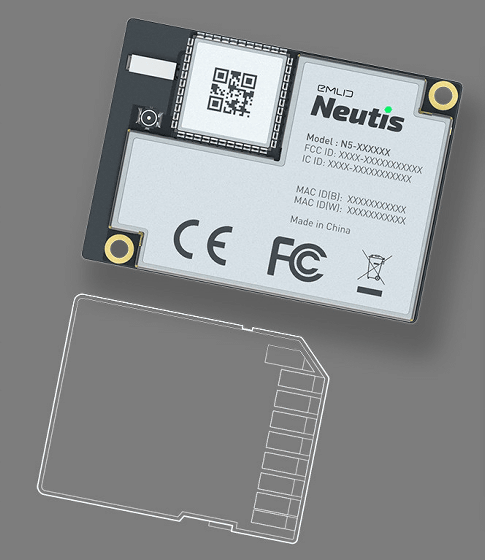 Detailed specifications are as follows.

【Neutis N5 specification】
◆ Hardware
·size:Long side 41 mm × short side 29.5 mm Thickness 4.3 mm
· Operating operating temperature:Ce - 25 degrees to 85 degrees
· Storage operating temperature:Ce-40 to 85 degrees
·price:$ 49 (about 5300 yen)
· At the time of purchase from China, 20% tariffs on importing to the country are not tax exempt

◆ CPU:ARM 64-bit quad core Cortex-A 53 (highest frequency 1.3 GHz)
◆ GPU:ARM Mali - 450 MP 4
◆ System memory:512 MB (DDR 3 standard)
◆ Storage:8 GB (eMMC)

◆Software support
·firmware:Linux OS main line andYocto ProjectBuild withDebian ProjectYou can use Linux distribution of the system.
·Board Support Package (BSP):You can update with OTA using BSP based on Yocto Project. We are planning an update based on Linux main line.

◆Security
· Chips for storing encryption keys
· Unique ID
· Onboard random number generation
·other

◆wireless
·Wifi:802.11 b / g / n
· Bluetooth:Dual mode 4.0 BLE
· It is possible to add antennas using U.FL connector

A kit for developers with standard connectors (2.54 mm pitch pins) specification for easy creation of prototypes is also planned.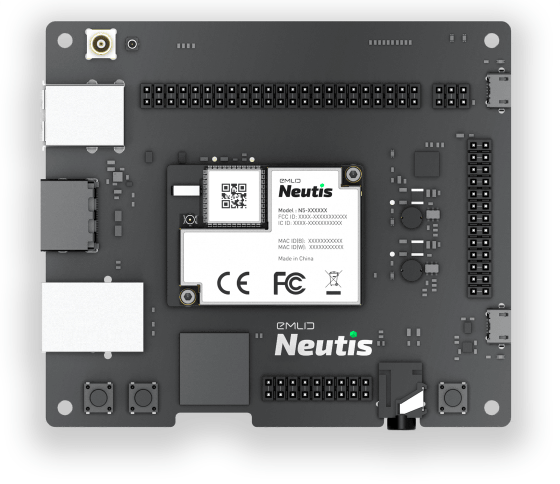 ◆Interface specification of developer kit
· 2 x USB 2.0 Type A
· 1 x USB 2.0 OTG Micro-B
· 1 x HDMI
· 1 x MicroSD card slot
· Display: 1 × HDMI, 1 × Composite video output
· Audio: 2 × PCM, line output, line input, 2 × microphone input
· 1 × IR input
1 x RJ 45 10/100 M Ethernet connector
Other

People who are concerned about more detailed specificationsOfficial sitePlease check the PDF file at.

Neutis N 5
(PDF file)https://neutis.io/wp-content/themes/twentytwelve/Brochure_neutis16_02.pdf