A man who beat her innocent roommate with a master sword of "The Legend of Zelda" is arrested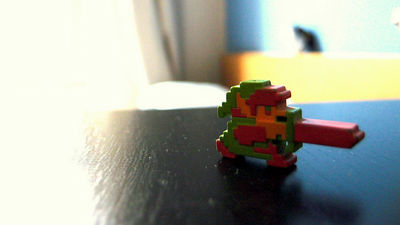 byAdam Heath

A 22-year-old man living in Anchorage, Alaska, USA, fought with a roommate who lived together in the apartment, and stabbed with a replica of the brave sword "Master Sword" appearing in the legendary series of Zelda I woke you.

Anchorage man attacked roommate with 'Legend of Zelda' sword - then a real knife, charges say - Anchorage Daily News
https://www.adn.com/alaska-news/crime-courts/2018/01/30/anchorage-man-attacked-roommate-with-legend-of-zelda-toy-sword-and-knife-charges-say/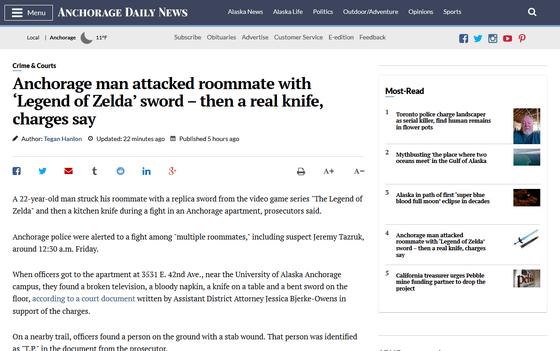 According to Anchorage Daily News, Anchorage's news media, Anchorage police have fought a fierce brawl in the room around 12:30 on Friday, January 26, 2018, with Jeremy Tazzuk and several roommates We announced. Submitted to the courtdocumentsAccording to the report, a police officer who rushed to the apartment near the University of Anchorage of Alaska was a destroyed television, a bloody napkin, a knife placed on the table, and a replica of a folded master sword falling to the floor He said he discovered that he was there. In the road near the apartment, it is found that a person who has been stabbed collapsed, and although the name has not been revealed, it is written as "TP" in the judicial documents.

It is unknown why multiple fighting by roommate has occurred, but according to Mr. Tazuke and other witnesses, TP pushed a roommate and the roommate hit an chair of an chair and turned over. Another roommate who saw this situation tried to push the TP, and TP beat the roommate. There were also his fiancipans who were pregnant with Mr. Tazuk near, but they also said they suddenly beat him.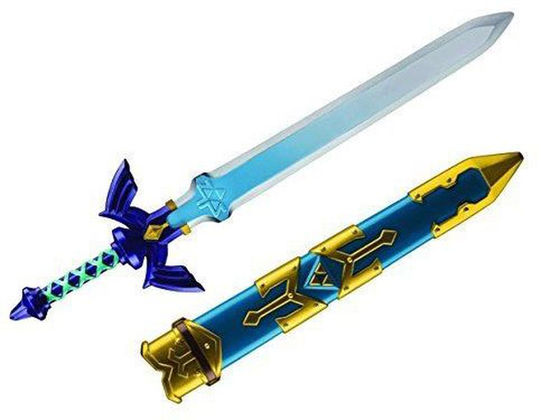 Mr. Tazuke's fiancée who felt his danger seemed to ask other roommates to call the police, but Mr. Tazuk takes the master sword of the replica out of the wall and tries to strike back the TP with the pod . TP who saw this was attacked by Mr. Tazuk and Mr. Tazuke said that it was decided to beat the TP multiple times with Master Sword. In addition, "Although the edge of the sword is not sharp, the tip was pointed."

The two brawls will involve the other two roommates, and when the TP attacks Mr. Tazuk again, it is fighting with a kitchen knife and fighting at least twice the TP with a knife There is that.

The TP that had collapsed on the road was transported to the hospital for treatment, and Mr. Tazuke was arrested for injuries and reckless dangerous acts. According to the records of the court, Mr. Tazuk never committed a criminal offense.