Something strange Apple device, such as module to add home button to iPhone X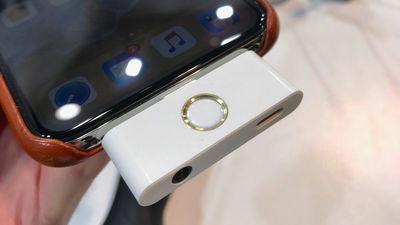 The iPhone series is a popular smartphone whose cumulative sales volume has exceeded 1.2 billion units, and hence the response due to changes in the terminal design and others is also tremendous, for the first time the earphone jack is not adoptediPhone 7/7 PlusWhen it appeared,The one who can open an earphone jack on his / her own terminalAnd so on and it became a hot topic. On the other hand,iPhone X"The home button is missing for the first time in the iPhone series, and the idea of ​​forcibly adding a home button appears as soon as it is when the earphone jack is gone.

CES 2018: The fascinating world of strange knockoff Apple accessories | 9to5Mac
https://9to5mac.com/2018/01/11/ces-2018-apple-accessory-funhouse/

◆ Module to add a home button to iPhone X
It is the accessory maker in China who wanted to purposely add the home button to the iPhone X with no home button by using additional accessories. Because it is an accessory called "Physically add home buttons that have disappeared on iPhone X", this module also comes with an earphone jack that is no longer iPhone 7, so regaining the lost Nanika of the iPhone It is an accessory that can be done.

I found this module is 9to 5Mac reporting Apple-related news. When I actually used it, I wrote that inserting it in the Lightning port made it possible to use it as a home button without problems. However, since this module does not have a fingerprint authentication function, it will not be able to use Touch ID. The module has a Lightning port, so you can charge iPhone X from here.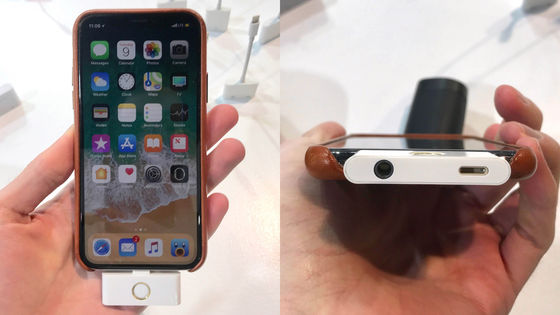 If you press the Home button once, you will return to the Home screen, pressing it twice opens the multitasking screen is exactly the same as the iPhone other than iPhone X. Also, on iPhone X, since the home button is gone, it is designed to activate Siri by pressing and holding the side button for a long time, but it seems that you can start Siri by pressing and holding the home button added by module .

◆ Speaker similar to HomePod
Apple in 2018Postponed releaseAlthough it was HomePod, two similar speakers were found at the venue of CES 2018. Since the main body color is white and black and its appearance is also covered with a mesh, it seems that it is exactly the HomePod itself when viewed from a distance. Although 9 to 5 Mac is said to be "cheatable", although HomePod has a display indicating Siri on the top surface, since these speakers have physical buttons on the top surface, " It is made to be able to distinguish firmly if you look closely. "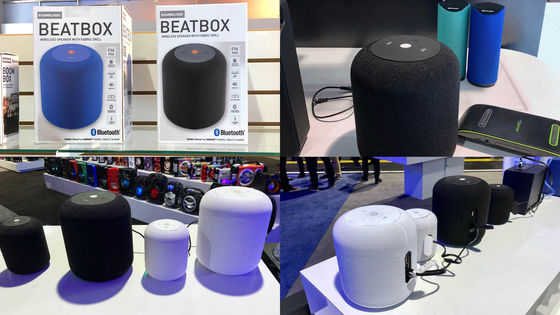 ◆ AirPods Like Wireless Earphone
Like Apple's popular wireless earphone AirPods, which has been in excess of demand for a long time since its announcement, similar terminals have appeared. This "Star Wrist" was displayed on CES 2018 as a wireless earphone very similar to AirPods. It is the same as AirPods that there is a dedicated charging case by connecting with a smartphone etc. with Bluetooth. The appearance of the main body and charging case is similar to AirPods, and 9to 5Mac expresses "Design like EarPods and AirPods which is an earphone for iPhone".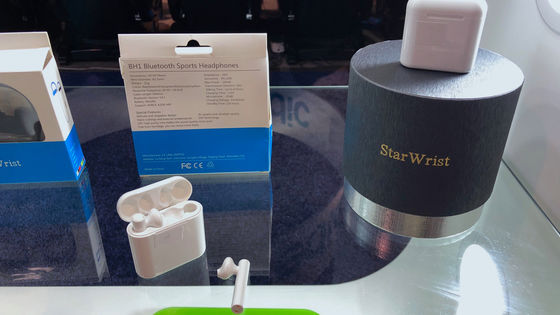 ◆ Wireless charging mat like AirPower
Apple iPhone 8/8 Plus and iPhone X supported wireless charging, so Apple announced AirPower wireless charging mat at the same time. This is an excellent thing that you can charge iPhone, Apple Watch, AirPods at the same time at the same time, and it is due to appear as Apple official charging mat. However, since AirPower is not yet released like HomePod, a third-party accessory maker exhibits an AirPower-like charging mat at the venue of CES 2018 as soon as possible.

However, as is natural, Apple does not have technology to seamlessly charge multiple terminals on one charging mat, so third-party AirPower-like charging mats can support one Qi at a time Only the terminal can charge. However, some of them have forcibly merged two charging mats into one, so if you use this, the location will be specified finely, but you can charge two terminals simultaneously with one charging mat It is also possible.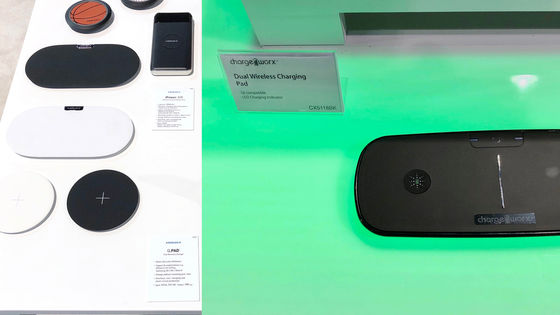 ◆ Apple Watch style smart watch
The Apple Watch style smart watch appearsIt is not the first timeHowever, Apple Watch style smart watch evolved also in CES 2018 has been found. The appearance of aluminum casing and silicon band is exactly Apple Watch itself, but there are no red dots like Apple Watch Series 3 on the digital crown on the side. Also, in the case of smartwatch, you can not install genuine Apple Watch OS watchOS, so you can not tightly cooperate with iPhone.