Also make 5.2 million yen Taiwan's "Gran Turismo SPORT Super Bundle version" also includes a real Mazda Roadster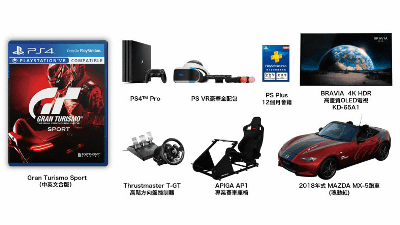 The latest work of driving & amp; car life simulator game which gathers high popularity with real behavior and high quality CG "Gran Turismo SPORT"Will finally be released in Japan on October 19, 2017. With the appearance of a big title PS4 body of special design and games etc became a setPlayStation 4 Gran Turismo SPORT Limited EditionAlthough it is also appearing in Japan, in Taiwan it is a high end model of 4K TV and handle controller, and Mazda · Roadster'sActual vehicleEven until it became a set "Gran Turismo SPORT Super Bundle version"Will be released.

The strongest in history! Total bullet amount Yu group! PS4 ™ Game Play "Gran Turismo Sport" Super class The same gigs luxurious department 8 Items Commemorative debts New Buddhist 1,398,000 RMB Total Roundtrip Dance and Experience Activities November 4th Entry!
https://asia.playstation.com/cht-tw/latest-news/2017/20171016_super-bundle/

'Gran Turismo Sport' Super Bundle comes with a real Mazda Miata - Autoblog
https://www.autoblog.com/2017/10/17/gran-turismo-sport-super-bundle-real-mazda-miata/

Sony interactive entertainment Taiwan (SIE) which is a selling source of games, not a little famous game shop in Taiwan ... ... did not plan an unheard-of set that a genuine car follows along with purchasing a car game. Taiwan). In the press release of SIE Taiwan, where the letters of "the strongest in history!" Are written in detail the details of the product name "Gran Turismo Sport super class contest" with its insanely cool name, and besides the game body, PlayStation In addition to 4 Pro body, PlayStation VR, and 100,000 yen class racing controller, racing seat, BRAVIA 4K HDR TV, 2018 model Mazda MX - 5 (Japan name "Roadster") is set. And the price you are interested in is TWD 1.39 million Taiwan dollars (about 5.2 million yen).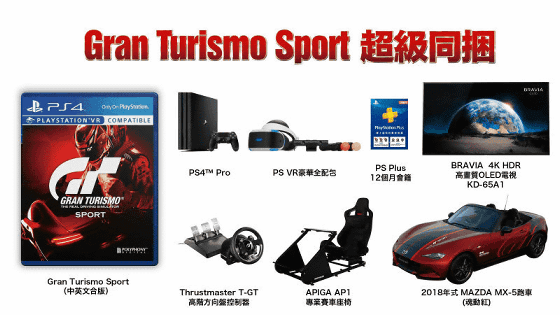 Speaking of the special version to be sold in Japan, as mentioned above, the special design PS 4 and bonus cars packed into "PlayStation 4 Gran Turismo SPORT Limited Edition" and special booklet etc are setGran Turismo SPORT Limited EditionAlthough the main thing is, the set in which the actual vehicle became a plus is a product that is unimaginable. The following items are set in this bundle version.

· Game "Gran Turismo SPORT" (Middle English version)
· PlayStation 4 Pro main body (Jet · Black)
· PlayStation VR gorgeous full package (Taiwan planned product: PlayStation Camera, including 2 PlayStation Move controllers)
· PlayStation Plus 12 month membership
· BRAVIA 65V type 4K HDR organic EL television (Model: KD-65A1)
· Racing controller "Thrustmaster T-GT"
· Racing seat "APIGA AP1"
· 2018 MAZDA MX-5 sports car (color name: "soul exercise" (Japanese "Soul Red Premium Metallic"?))

By the way, the prices of individual goods in Japan are summarized below.

·Gran Turismo SPORT: About 6000 yen
·PlayStation 4 Pro Jet · Black 1 TB: Approximately 50,000 yen
·PlayStation VR PlayStation Camera bundled version: Approximately 55,000 yen
·PlayStation Move motion controller: About 5200 yen × 2
·PlayStation Plus 12 months use right: 5143 yen
·SONY 65V type organic EL television OLED bravia KJ-65A1 4K compatible(Equivalent): Approximately 670,000 yen
·Racing controllerThrustmaster T-GT: Approximately 85,000 yen
·Racing seatAPIGA AP1 Professional Racing Simulator Domestic dealer version - Product details | PC SHOP arc (ark)
·MAZDA MX-5: (Taiwan is a 2 liter engine specification, so there is no equivalent grade in Japan.The price in Taiwan is T $ 1.32 million Taiwan dollar · from about 4.9 million yen)

By summing up these, the Japanese yen will be about 5.8 million yen, the price of the bundle version is about 600,000 yen less than the price of the body of the Roadster. I do not know how much discounts are common in Taiwan's car dealers, but depending on what you think, it will be to buy a new car Mazda / Roadster for 600,000 yen discount, so it may be surprisingly bargain in reality I do not.