The Department of Homeland Security ordered the deactivation of Kaspersky products at government agencies concerned about the influence of Russia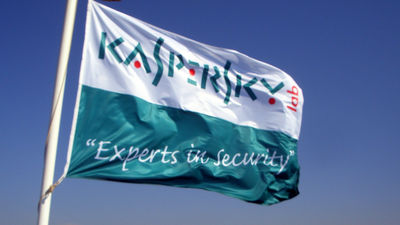 byDavid Orban

The Homeland Security Department ordered federal government agencies to prohibit the use of Kaspersky Lab related products and services as "appropriate measures for products with security risks".

DHS Statement on the Issuance of Binding Operational Directive 17-01 | Homeland Security
https://www.dhs.gov/news/2017/09/13/dhs-statement-issuance-binding-operational-directive-17-01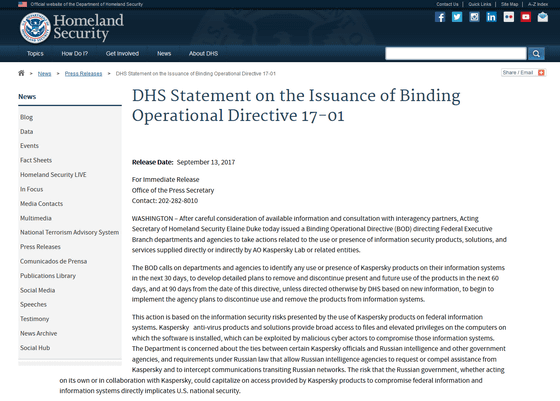 Trump administration orders purge of Kaspersky products from U.S. government
http://www.reuters.com/article/us-usa-security-kaspersky/trump-administration-orders-purge-of-kaspersky-products-from-u-s-government-idUSKCN1BO2CH

Kaspersky software banned from US government systems over concerns about Russia
https://betanews.com/2017/09/13/kaspersky-software-ban/

According to the Ministry of National Security, Kaspersky Lab products require extensive access to files on installed computers and elevation of privilege, and that malicious users may violate the information system . Also, as a major concern, Kaspersky is in a relationship to receive cooperation requests from Russian intelligence agencies, raising the risk that the Russian government can cooperate with Kaspersky Laboratories to use the product's access authority to provide information in the United States I will.

According to executives of intelligence agencies, senior information intelligence officials said that the use of Kaspersky products was not permitted in the military network at the beginning of 2017 . In the future, we will conduct a survey of usage situation in 30 days, and will be canceled after 3 months.

According to Reuters information, contracts with Kaspersky and federal government agencies are in billions of dollars (hundreds of billions of yen), not as large as the proportion of revenue seen from Kaspersky. However, even if it is supposed not to use Kaspersky under the contract, there are cases where a product incorporating Kaspersky's technology is provided by a contractor or another software maker, so "Kaspersky technologies related We are using it "is considered to be quite extensive.

In addition, Kaspersky's CEO Eugene Kaspersky has attended the school of KGB and undertakes work from the Russian Federation Safety Agency, but he continues to deny the suspicion of "conducting spy activities on behalf of the Russian government" It is.