"Cowboy bebop" to be live-action television series, to develop to the world market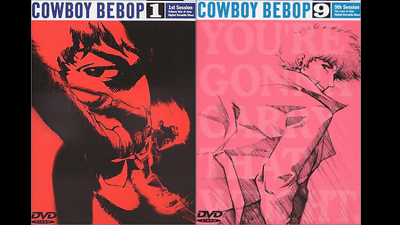 TV anime "Cowboy Bebop" broadcasted in 1998 not only domestically but also overseas was decided to be live-action television series. Mr. Marty Adelstein and others who are producers of the popular drama "Prison Break" are involved in the production, and Sunrise, who was in charge of producing animation, will also jointly develop the project.

"Cowboy Bebop" world-class highly rated live-action television series!
http://www.cowboy-bebop.net/news/index.php#13029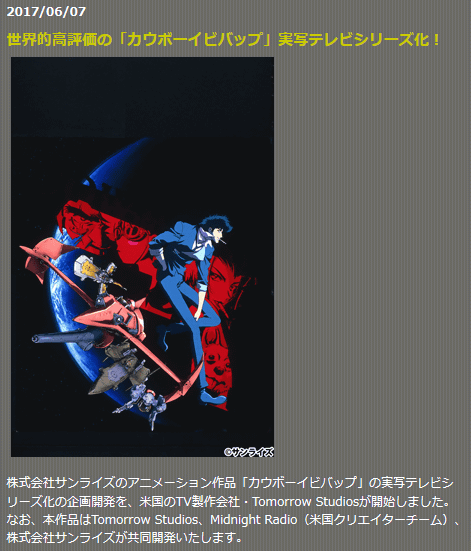 "Cowboy Bebop" is an anime television broadcast on TV Tokyo from April 1998 to June. At this time, it was a broadcast in the form of all 13 episodes including summary due to various circumstances, but from October 1998 to March 1999 broadcasting was done in WOWOW with all 26 story all together. At the 3rd Animation Kobe held in November 1998 overlapped with the broadcast at WOWOWWork Prize · Television DivisionAwarded. In 2000 I was awarded the media division of Nebula Award for excellent SF work.

It was the 2nd studio of Sunrise who made the production. Minami Masahiko Producer is an independent animation production companyBondsWe launched, "2001 published in"Cowboy Bebop Theatrical Version Door to HeavenBonds was in charge of production.

As mentioned above, although it is a highly valuable work in Japan, it is also popular overseas, and it is described as "one of the best anime series ever" at The Variety and Deadline news sites.

In 2009Actual movie making with Keanu Reeves starringThere is a story, and it seems that the project was working until 2013, but as of 2017, there is no follow-up report.

This TV series is responsible for planning and development by Tomorrow Studios, operated by Marty Adelstein, producer of "Prison Break" and ITV Studios, a British producer. The creator team Midnight Radio and Sunrise who produced the original animation series are in charge of joint development. Christopher Jost of "Mighty Saw / Dark World" is in charge of the script.

Adelstein said that he commented as follows.

Sunrise continues to produce great works and I believe it is one of the most innovative companies in the animation industry. Together they will not be excited to be able to produce the popular work "Cowboy Bebop" as a live-action television series for the US and the world market. Based on the fact that the animation work "Cowboy Bebop" is familiar to people all over the world for a long time and the current popularity of animation itself is greatly expanding, the live-action version can make a big impact on the world I believe.
in Anime, Posted by logc_nt