Ruwa that "Core i9" will appear in Intel top CPU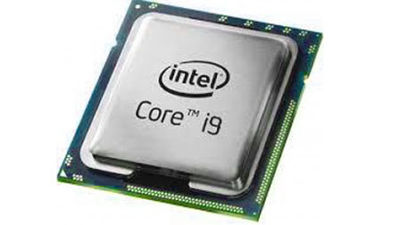 Intel has used the naming "Core i7 / i5 / i3" for a long time in CPU "Core i" series. Easy-to-understand branding that the size of numbers represents high performance (high price), but as a new top-level model "Core i 9Leak information that creates series is appearing.

Page 417 - Intel Skylake / Kaby Lake Thread - 6 C / 12 T Coffee Lake launching August 2017
https://forums.anandtech.com/threads/intel-skylake-kaby-lake-thread-6c-12t-coffee-lake-launching-august-2017.2428363/page-417#post-38889905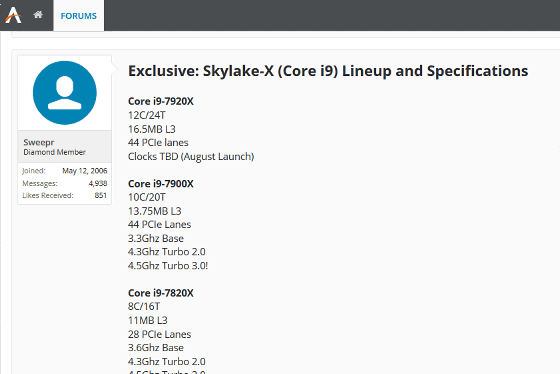 Intel Skylake X Core i9-7920X 12 Core X299 HEDT CPU and More Leaked
http://wccftech.com/intel-skylake-x-core-i9-7920x-7900x-7820x-7800x-x299-leaked/

The information of "Core i9" was issued is an official bulletin board of "Anand Tech" dealing with hardware related news · Anandtech Forums. The name of Core i 9 can be confirmed in Intel's lineup material published by user of Forum · Sweepr as 'exclusive information'.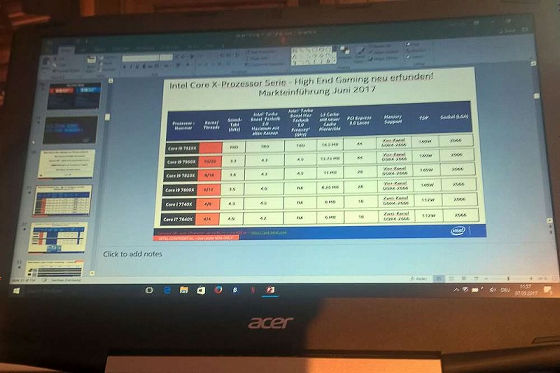 The lineup which is difficult to check on the pictureVideocardzAre summarized in the table. The top model "Core i9-7920X" is 12 cores / 24 threads and PCI-Express will be 44 lanes. There are other lower core models of 10 cores, 8 cores, and 6 cores. The Core i 9 sub model is scheduled to be released in June 2017, and the highest i 9 - 7920 X is scheduled to be released in August 2017. The number of clocks for i9-7920X is not clarified, but the number "7920" seems to suggest that a higher clock model exists.




Intel is developing the code names "Skylake-X" and "Kaby Lake-X" series of the LGA 2066 standard as the next CPU replacing the high-end CPU "Broadwell-E" series of the LGA2011-v3 standard. Originally, 10 core / 20 threads were planned as the top model Skylake-X series, but 8 rival AMD released in March 2017 in 8 core / 16 thread "Ryzen 7In order to counter the phenomenal cost performance of the series, leak information was issued saying that it was changed to 12 cores / 24 threads and higher specifications. This leak information is that the name of the top model of the Core i9 series will be i9-7920X.

Before the appearance of AMD Ryzen, change the Skylake-X to 12 cores quickly to the "Intel impatient" state & possibility of price revision - GIGAZINE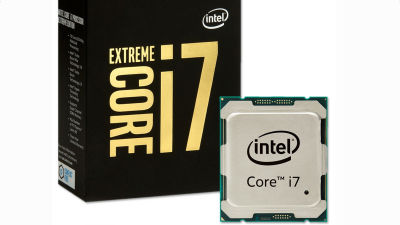 Mr. Sweepr who released the leakage image is a long-time user who has participated in the Anandtech Forums since 2006 and has posted more than 4,900 articles so far, so it is a difficult point to cut off leak information of this time as a talk story . By releasing it as a Core i 9 model higher than Core i 7, Intel's scenario of positioning it as a more sophisticated model and competing against AMD Ryzen is easy to understand, but if it is according to leak information, Kaby Lake The 4 core / 4 threads "Core i 7-7640 K" which seems to be the -X series also seems to have promoted to the "Core i 7" what was conventionally the Core i 5 series, and performance is hard to understand from naming It is likely to cause confusion.

It was not the first time that the possibility of naming "Core i9" was pointed out, but information was also available in the code name "Gulftown" series of the LGA 1366 standard. Also in "Ivy Bridge-E" in 2013 also the appearance of Core i 9OwasaThere was.

Intel launches the new high-end CPU "Core i9", lineup becomes more difficult - GIGAZINE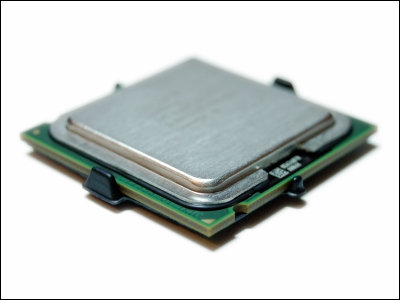 If Intel, which has mixed the naming of "Core i 7" in both the series of high-end models without GPU and the series for popularization with GPU, and further introducing the "Core i 9" series, confusion is unlikely to be avoided . If Core i9's subordinate model is really going to be released in June 2017, there will be some announcement in COMPUTEX TAIPEI 2017 to be held from May 30, 2017, but what will happen?