Next-generation iPhone adopts "function area" instead of home button on 5.8-inch full-surface organic EL display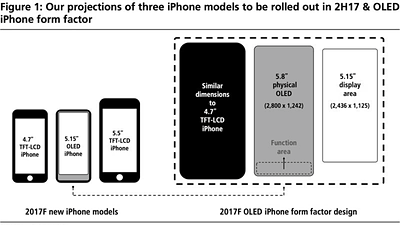 The new iPhone (iPhone 8) will become a newly designed iPhone that will discontinue bezels and home buttons as much as possible from the same size case as the conventional 4.7-inch model, and adopt a 5.8-inch organic EL (OLED) display all over. KGI Securities analyst Ming - Chi Kuo who has made accurate forecasts on Apple hardware related projects.

IPhone 8 to Feature 5.8-Inch OLED Display With 5.15-In Main Screen and Virtual Buttons Below - Mac Rumors
https://www.macrumors.com/2017/02/15/2017-iphone-edge-to-edge-display-virtual-buttons/

According to Ming-Chi Kuo, the enclosure size of the new iPhone (iPhone 8) will be about the same as the 4.7-inch iPhone 6 series which can be operated with one hand. However, a full-sized organic EL display without a home button or bezel is adopted, and the display size is expected to be 5.8 inches larger than the display of the iPhone 6 Plus series. Also, among 5.8-inch organic EL displays, 5.15 inches is the "display area", and the remaining areas are different from the conventional home buttons, and in the "function area" where home buttons and other functions are displayed on the display It is illustrated graphically.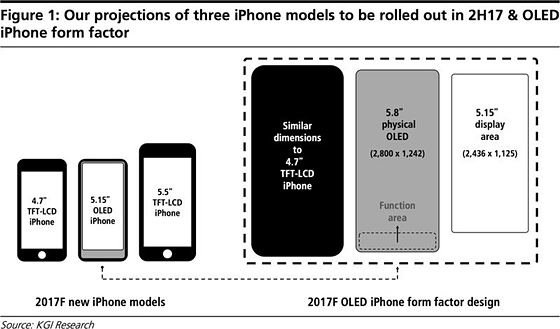 If the function area is realized, unlike the conventional home button, it will be possible to use the home button and fingerprint authentication function only in the necessary scene, but Apple has filed a technical patent for that, iPhone 8 There seems to be not a few possibilities to be implemented.

Possibility to be able to perform fingerprint authentication on the next iPhone display - GIGAZINE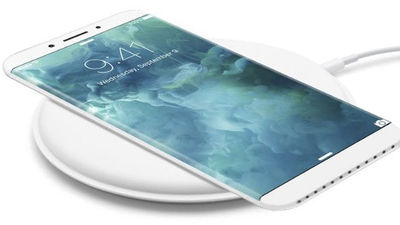 In addition, this OLED model's new iPhone will be a high-end model and at the same time 4.7 inch and 5.5 inch LCD display models will continue to be sold. Although two body design iPhones with completely different feeling of operation appear, it does not know about the difference in function. With the information so far, the new iPhoneWireless charging compatibleIt is seen that it will become a glass case, and Kuo expects biometrics authentication functions such as fingerprint authentication, face authentication, iris authentication etc. to be adopted along with the abolition of the home button.

If these various changes are adopted by the new iPhone, the price of the high-end model's new iPhone will be over $ 1,000 (about 114,000 yen), and it may appear as the highest iPhone ever.

Reason why the next iPhone of the 10th anniversary will become "luxury iPhone" exceeding $ 1000 - GIGAZINE