Movie summarizing the age-specific scenes of Hill Valley appearing in the movie "Back to the Future"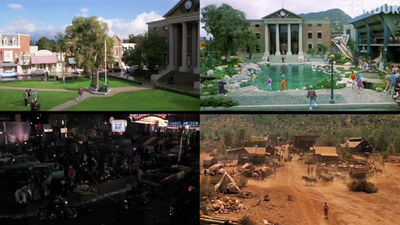 movies"Back to the Future"Hill Valley, which appears in the fictional city, was showing different figures depending on the era when the hero's Marty McFly visited. A movie that summarizes the change of such Hill Valley into one "4 Times BACK TO THE FUTURE: Welcome to Hill Valley"Has been released.

4 Times BACK TO THE FUTURE: Welcome to Hill Valley (comparison video essay) on Vimeo


In the movie, the upper left is "1955 (back to the future)", the upper right is "2015 (back to the future PART 2)" the lower left is "1985", the lower right is "1885 To the Future Part 3) 'Hill Valley. However, "1985" at the bottom left shows two patterns of 1985 which appeared in "Back to the Future" and 1985 "Back to the Future PART 2".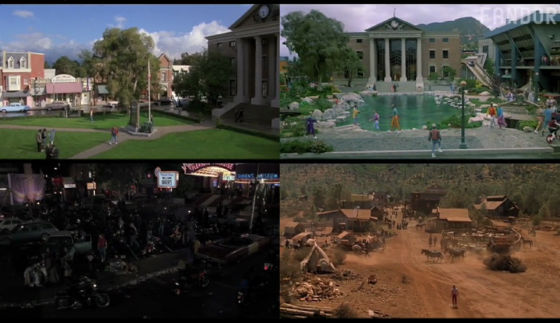 A clock tower of Hill Valley that appeared to be sure as a necessity in an important scene of a movie. It is still under construction at the bottom right in 1885. In the lower left in 1985, signboards of Bifutanen, which had become the great wealthy millionaire in the clock tower, are decorated.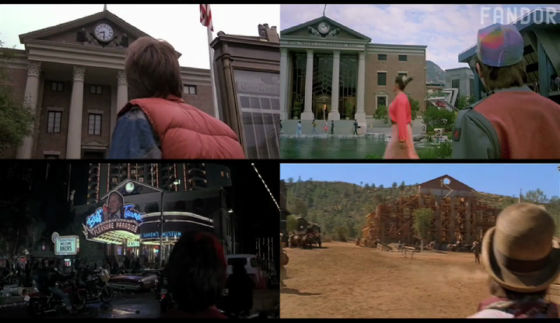 Next was the gas station "Texaco". In each age car type was different and Texaco in 2015 was evolving into fully automated service without employees.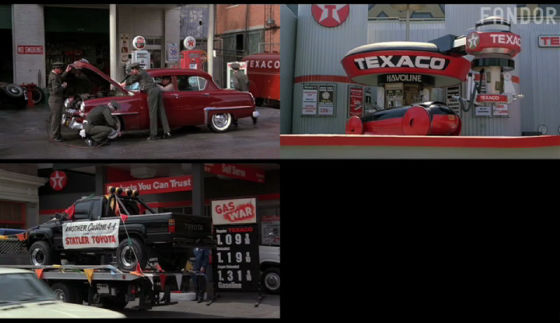 Next is a movie theater. In 1985, "Essex Theater" was changed to "Holomax" showing 3D movies in 2015. The CM that hologram jaws jump out was epochal.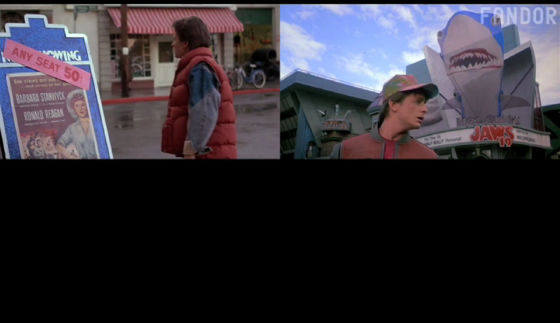 The movie theater in 1985 when Bifu was eating Hill Valley, although the name was the Essex Theater, it was a movie theater specializing in adult movies.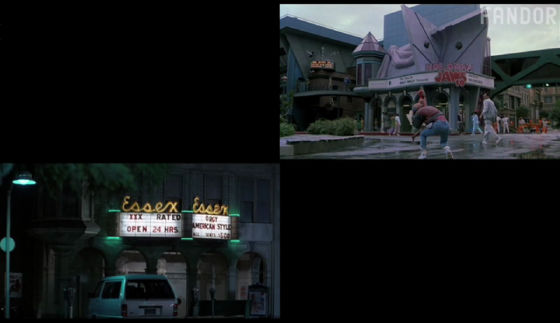 This is Ruu's coffee shop. I am surprised that I have been running business since 1985.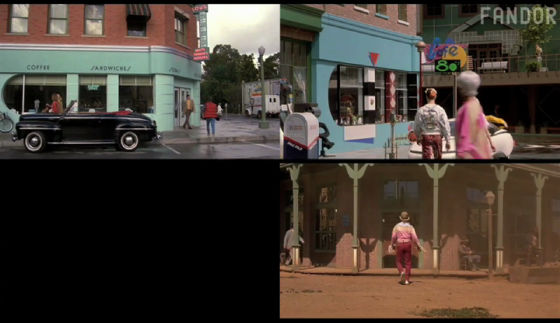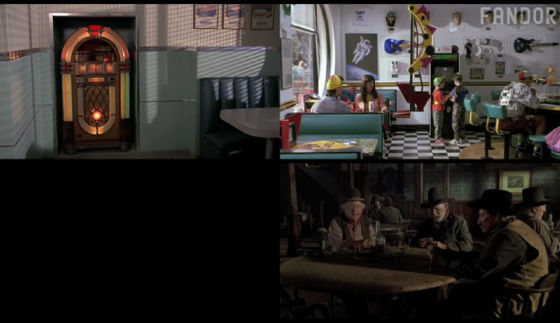 In Ruu's store in 2015, the clerk evolved into a service that will serve through the monitor.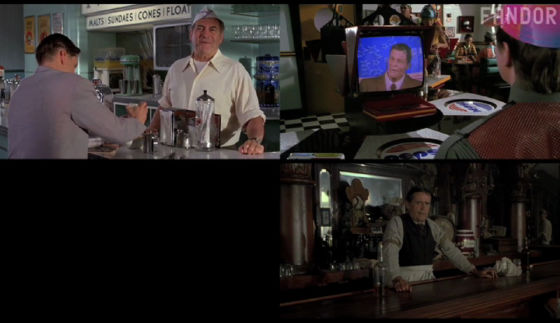 A scene in which Biff and grandchildren 's glyphs appear at Ruu' s store.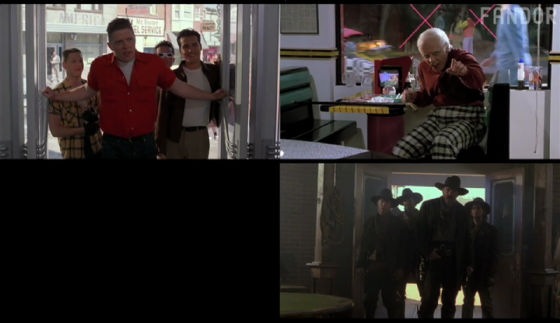 Knocking your head does not change in any age.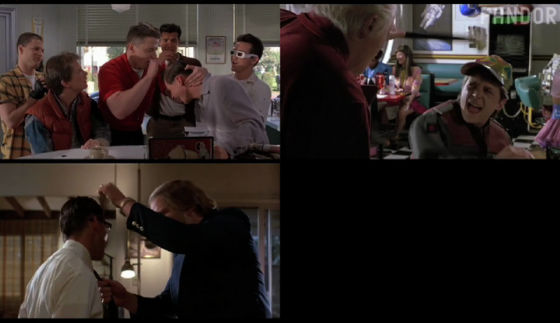 Scene where Marty will ride on skateboard & hover board and escape from the bifs. In this scene camera angles and cut splits are made in the same way.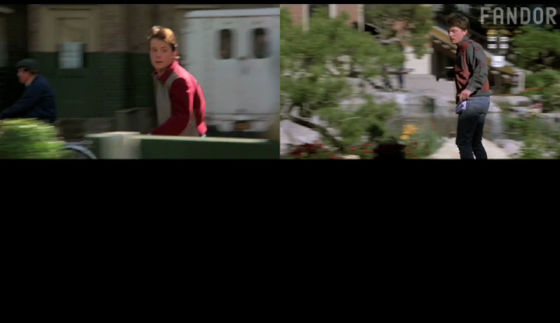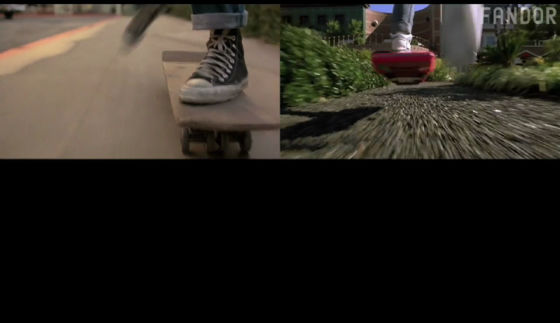 It is familiar every time that Bifu loses to Marty and becomes covered with fertilizer. However, the 2015 glyph was not spread over fertilizer but was thrown into the court and arrested by the police.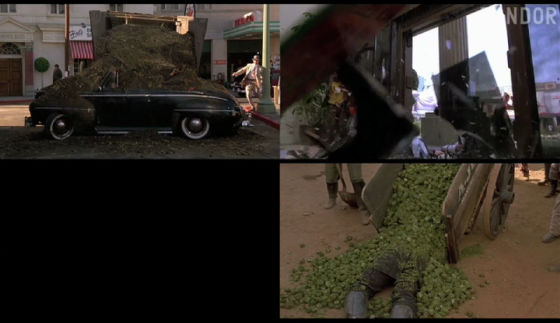 The movie is over with the famous line of "Biku something very familiar about all this." (Something you saw somewhere).