Since Chicken Mack Nugget can eat 15 pieces at 390 yen, I tried a nugget in a limited time sauce "Creamy Cheese Sauce & Fruit Curry Sauce"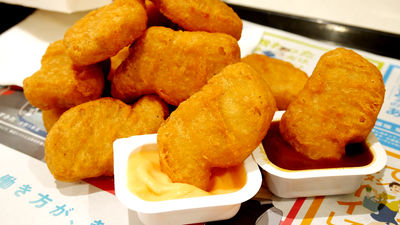 Speaking of McDonald 's Chicken Mack Nugget, it is a popular side menu of a bite size to eat with a standard barbecue sauce and mustard sauce. To the source for such chicken mac nuggets, from December 7, 2016 (Wednesday) for a limited time "Creamy cheese sauce"When"Fruit curry sauceIn addition, special campaign which is sold at 390 yen with special price tax including "Chicken Mack Nugget 15 pieces (with 3 sources)" will be 30% off of 570 yen for 570 yen including tax. I was wondering what the taste of the new sauce is, so I've worked Mac chicken nugget with 15 piece pack.

Popular source for chicken mac nuggets reappears for a limited time! "Creamy cheese sauce" "Fruit curry sauce"
http://www.mcd-holdings.co.jp/news/2016/promotion/promo1205a.html

I came to McDonald's at once.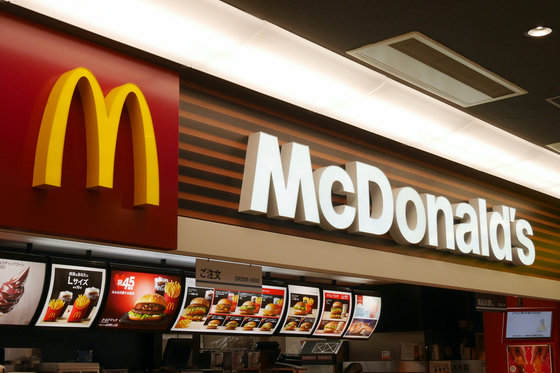 In the shop front is promoted limited source of chicken mac nuggets and 15 piece pack of 30% off.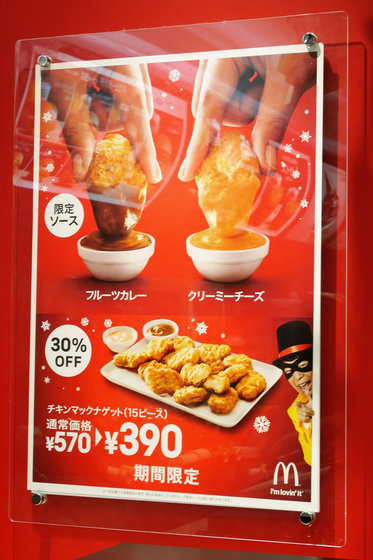 When I ordered "chicken mac nugget 15 piece", it took about 4 minutes to offer the product. However, the waiting nugget has been hot.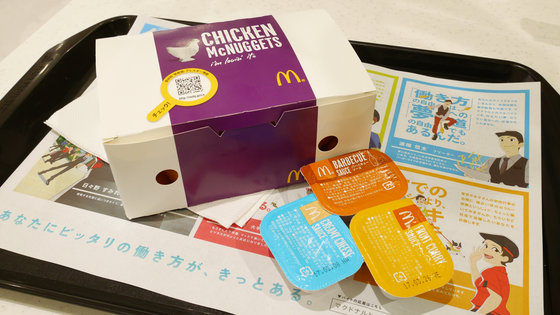 When opening the box it looks like this with a nuggets ruffle like this.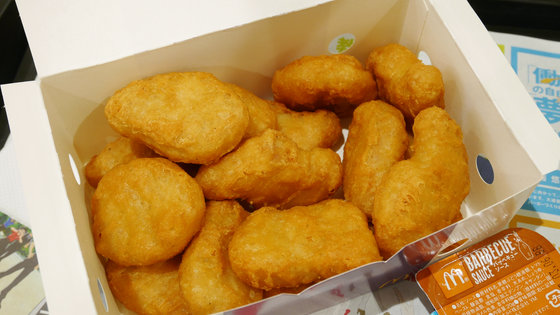 If you order 15 pieces, you can add 3 sources. This time I chose creamy cheese sauce (light blue), fruit curry sauce (yellow), barbecue sauce (orange).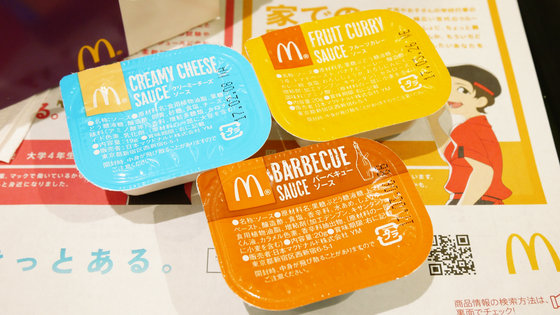 Creamy cheese sauce raw material contains cheese according to the product name.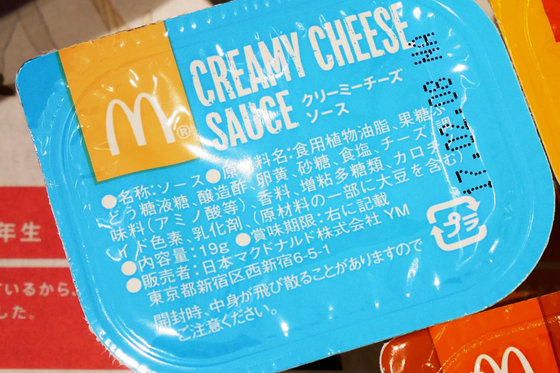 In addition to tomato paste and banana puree, curry powder, grated ginger and grated garlic can be confirmed as raw materials of fruit curry sauce.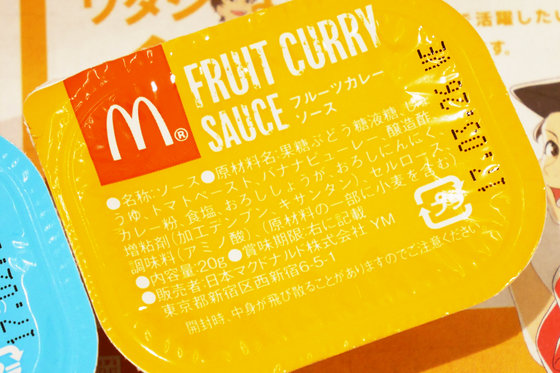 Creamy cheese sauce on the upper left, fruit curry sauce on the upper right, barbecue sauce on the lower. The fruit curry sauce is a bit lighter than the barbecue sauce, but at the moment the lid is opened, the fragrance of sweet curry spreads swiftly.



So I will try eating chicken mac nugget with sauce at once.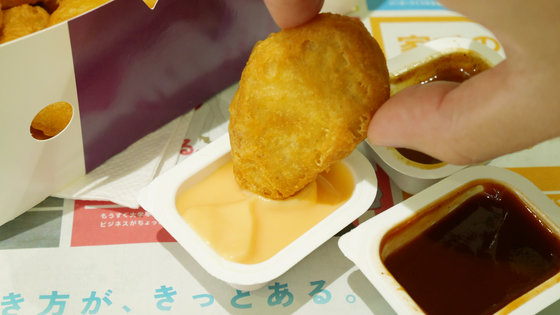 If you try to eat with creamy cheese sauce, the source that spreads the rich umami of cheddar cheese is characterized by a rich taste not found in standard barbecue sauce and mustard sauce.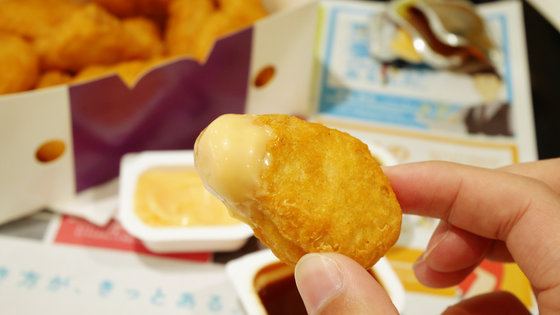 Of course, compatibility with fried crispy chicken mac nugget is outstanding.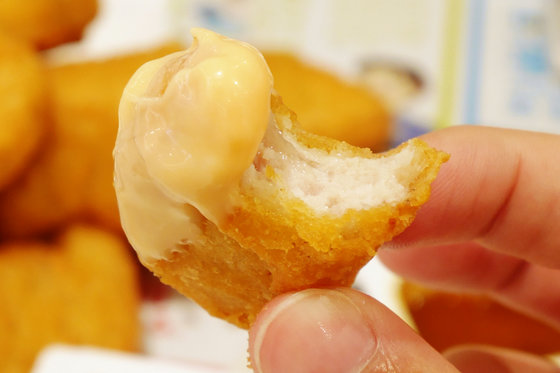 Next, when you try eating fruit curry sauce, it is the flavor of spice and the sweetness of fruits to make the taste of chicken complemented and the sauce is also excellent, but will you bring out the taste of chicken mac nuggets to the maximum It is such a source. Especially the fruit curry sauce is more than perfectly imagined and you want level to be added in addition to regular sauce.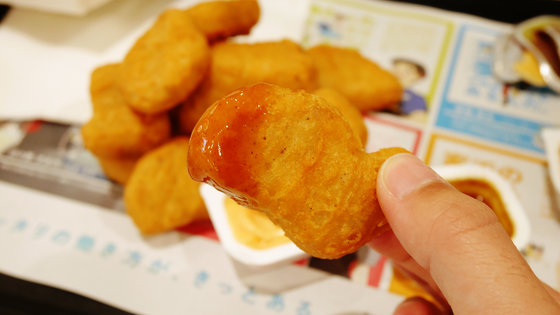 When ordering 15 pieces of chicken mac nuggets, the sauce comes in three sets, so if you eat three different tastes alternately, you can finish it without delaying it.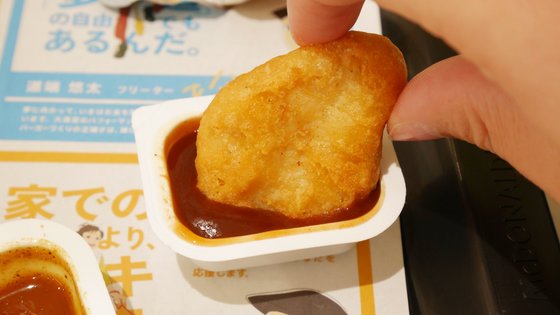 In addition, selling at the special price of "Creamy Cheese Sauce" and "Fruit Curry Sauce" of Chicken Mack Nugget and "Chicken Mack Nugget 15 Piece" will be closed for a limited time, scheduled to end on January 3, 2017 It is getting.