[Dangyo] Former Chairman Fidel Castro who was "hero" of the Cuban revolution dies at the age of 90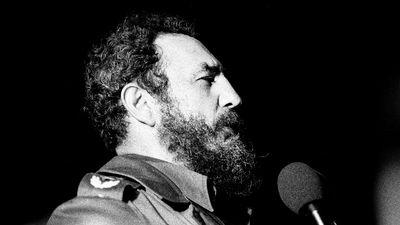 ByMarcelo Montecino

Mr. Fidel Castro who overwhelmed the Batista regime which was the parent rice in the 1950s and succeeded in the Cuban revolution and served as head of State of Cuba (National Council Chairman) from 1976 to 2008, Chairman Raul Castro revealed. He was 90 years old.

Cuba Fidel Castro former National Council Chairperson died | NHK News
http://www3.nhk.or.jp/news/html/20161126/k10010785261000.html

Former Cuban leader Fidel Castro dies - CNN.com
http://edition.cnn.com/2016/11/26/americas/fidel-castro-obit/

Fidel Castro, Cuba's leader of revolution, dies at 90 - BBC News
http://www.bbc.com/news/world-latin-america-38114953

Cuba's Fidel Castro dead aged 90 - News from Al Jazeera
http://www.aljazeera.com/news/2016/11/cuba-fidel-castro-dies-aged-90-161126052522006.html

Fidel Castro was born on August 13, 1926 as a child of wealthy farmers. While studying law at the University of Havana I threw myself into the student movement sympathetic to leftist anti-imperialist thought. After involvement in the riot against the right wing regime in the Dominican Republic and Colombia, I plan to overthrow the Fulencio Batista regime. Castro who gathered comrades failed on July 26, 1953, attacking Moncada's barracks. After having been imprisoned for one year, we organized a revolutionary movement group "July 26 exercise" across Mexico with his brother Raul Castro and Choi Guevara.

Castro joined the group and returned to Cuba and fought with the Batista regime based on the Maestra mountains, and in 1959, Suzuki finally succeeded in overthrowing the regime by expelling Batista from Cuba. Since then I caught military and political power as prime minister.

In April 1961, the US invaded Cuba with force to eliminate Castro (Pigs Bay incident). However, the bombing of the Cuban military base that was carried out to support the landing operations at the beginning of the strategy can not produce results, the Cuban army maintains the air control. The landing force was to be bombed by the Cuban army and was defeated by being surrounded by an overwhelming number of Cuban armies.

In the "Cuban Crisis" of 1962, nuclear missile bases were created in Cuba, so the US and the Soviet Union came to a point just before the nuclear war, but in the end Kennedy and Khrushchev avoided nuclear warfare.

Castro became Cuba's head of state head council and council chairperson on December 3, 1976. Since then, he continued to be in that position until the 2000s, but in 2006 he delegated authority to Raul Castro provisionally due to health problems. On February 19, 2008 he officially announced his retirement and retired on 24th February.
in Note, Posted by logc_nt