An amateur scientist, "I made my own fusion reactor in my bedroom when I was a high school student, but I have a question?" Arrives on the bulletin board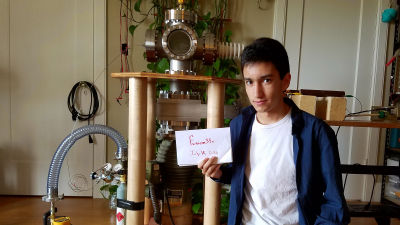 A high school student in the United States made a self-made nuclear fusion reactor in his bedroom, succeeded in causing a nuclear fusion reaction, and posted on the bulletin board reddit "I made my own fusion reactor, but have any questions?" doing.

IamA (I built a fusion reactor in my bedroom) AMA!: IAmA
https://www.reddit.com/r/IAmA/comments/4tgsaz/iama_i_built_a_fusion_reactor_in_my_bedroom_ama/

This is a fusion reactor that Kuba Anglin and Noah Anglin twin brothers made their own.



You can check the state of making your own fusion reactor with the following movie.

Fusion Reactor: Complete Construction and Operation - Kuba and Noah - YouTube


So, on the bulletin board various questions are gathered, Kuba answers.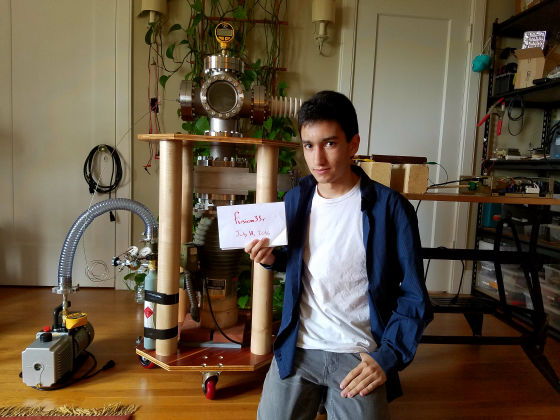 Q:
How much did it cost to make experimental equipment?

Kuba:
A total of 6000 dollars (about 630,000 yen). I made a 3D design byte for collecting money. Many friends and family also asked for help.

Q:
When I told my parents that they were making a nuclear fusion reactor in the bedroom, did you know what it was? It sounds like a terrible thing to an amateur.

Kuba:
My mother called the police and the fire department. Twice as well. By the way my father is a firefighter. Every time we do an experiment, my mother leaves home. It has become quite cooperative now, but I am still worried about our safety.



Q:
Is this legal?

Kuba:
Yes. To my knowledge.

Q:
Why did you decide to make it?

Kuba:
Mainly to learn from experiences. I learned a lot from this fusion project. Plasma physics, vacuum system, electrical engineering, mechanical engineering, nuclear physics and so on. I hope that the nuclear fusion reactor we made will be used for future research. Also, a lot of connections were made. There are some top-level university professors and entrepreneurs.

As for this answer, there is a possibility that the "connection" may increase even more because there is a reply saying "I know someone who wants to talk with you."

Q:
Are you planning to make a small fusion reactor and put it in a robot suit?

Kuba:
(Iron Man's) Tony Stark will do it ... ....

Q:
Is not it dangerous for such a nuclear fusion reactor to be at home?

Kuba:
When experimenting, the amount of X-ray radiation is large, but assuming that the X-ray spreads radially, it weakens to be proportional to the square of the distance, so those who do not approach within 35 feet (about 10 meters) Is good. I have a Geiger counter, but it has been confirmed that the radiation dose has not risen at the place 35 feet away. The power supply can be operated remotely.

Q:
Does X-ray do not adversely affect electronic equipment?

Kuba:
X-rays can be detected with a digital camera. This is displayed as a white dot.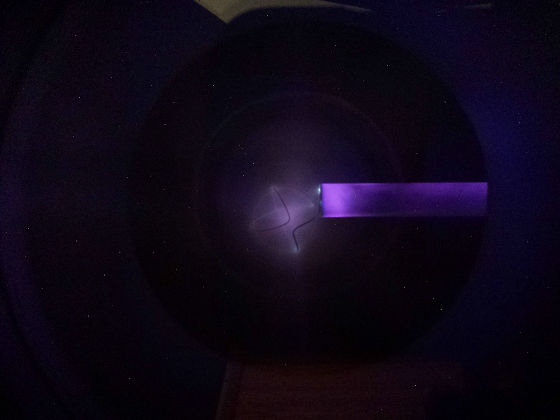 Q:
Do you think she would say that she would enter the room?

Kuba:
A photographer came to shoot from the campus magazine. She seems I did not know what to say.

Q:
Estimate rough, how long do you think there are such small reactors around the world?

Kuba:
We are 16th and 17th high school students in the world which completed the fusion reactor. In the world, I think that about 50 amateur scientists make their own devices like this.

Q:
Did not you put it in the science contest?

Kuba:
The fusion project was completed just a few months ago and it was too late to apply for the contest. Some scientific contests have nuclear fusion themes, and the best award-winning research was nuclear fusion.

Q:
How do you detect fast neutrons?

Kuba:
It is a neutron bubble dosimeter. This is basically a tube filled with gel that holds a special liquid small bubble. When a neutron strikes a droplet, it evaporates and becomes visible bubbles.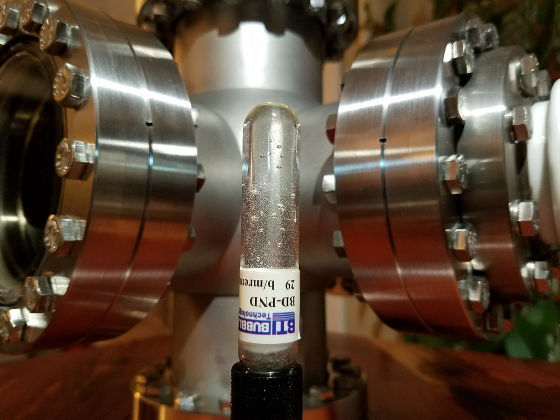 Q:
What are you planning to make next?

Kuba:
I have made three Tesla coils so far. One is for music, the other is a CO2 laser that burns trees, and the third is a fusion reactor, so the bedroom is no longer an experiment room in SF. Next, I would like to work on an induction furnace. It's so cool.

Q:
What is the worst possible situation in fusion experiments?

Kuba:
Implosionis. At the lowest pressure condition, the pressure in the chamber reaches 6 atm. Per trillion. Also, the plasma in the reactor reaches several hundred million Kelvin. Although this is not dangerous in itself, high energy has a risk of causing problems with the vacuum system.

Q:
How long will it take for your nuclear fusion reactor to be able to cover household electricity?

Kuba:
The reactor is very inefficient. Lucky if you can get one trillionth of input energy. However, I thought that it was suitable for the platform for research, so I decided to make it.

Q:
What causes inefficiency?

Kuba:
I think that energy is lost mainly when ions collide with inner conductors.

Q:
I think that I achieved amazing academic research at the age of 19, but what kind of things are you studying now and what kind of research do you want to do in the long term?

Kuba:
"3 hours a day extracurricular learning" that continued during junior high school and high school did not help grade. My teaching supervisor said that he would not reach the top-level university and did not apply to the university I longed for believing in it. I regret this choice, but I have hope for the future. I am going to take the University of California at Santa Cruz next spring. Because there is no recruitment in nuclear engineering, it is in the field of electronic engineering ... ....

In response to this answer, the opinion "What is your thinking guidance staff thinking?" Or the opinion "You got a very valuable lesson from early?" Tell the story that you do not believe your dreams You should not lend "on a lesson" is received.