【Dread: Ohira Toru died known for dubbing the role of Darth · Vader of "Star Wars"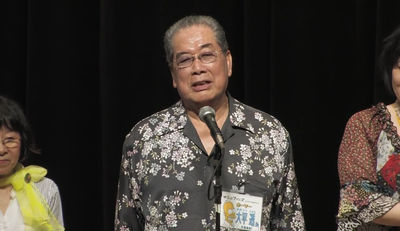 In "The Simpsons" role of Homer Simpson, Mourning Black Fukuro role of "Laughing Er sorum", and in the drama "Spy Taisen", the voice of the command tape named "Good Morning, Phelps" was dubbed, In Star Wars series, I heard that voice actor actor Actor · actor who was in charge of dubbing the role of Darth · Vader and died on April 12 (Tuesday) 2016. I was 86 years old.

Ohira Toru: Affiliated actor: 81produce
http://www.81produce.co.jp/list.cgi?man+0505528135050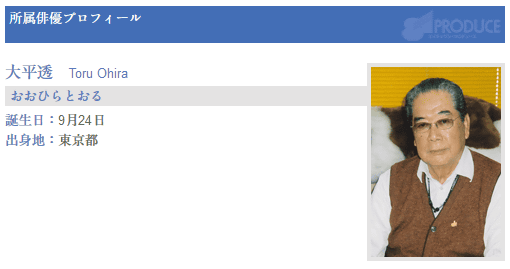 Mourning Fukuzen · Hase Demon King ... Dr. Toru Ohira Died: Culture: Yomiuri Shimbun (YOMIURI ONLINE)
http://www.yomiuri.co.jp/culture/20160414-OYT1T50125.html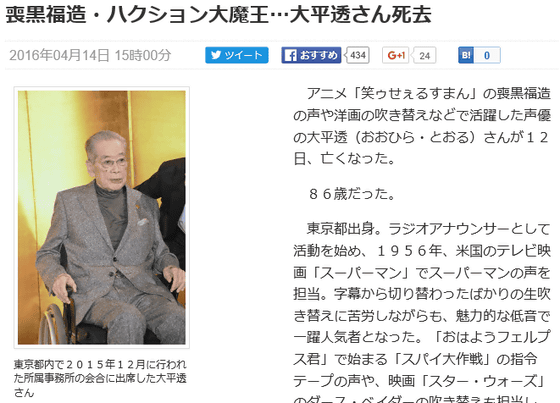 Mr. Ohira born in 1929 (Showa 4 years) was absent for three years in pulmonary tuberculosis while attending the Meiji University School of Political Economics. Where he was about to return to school, he received an audition from an exclusive announcer of a radio program after being advised by his father, passed and passed the announcer in 1952. School also transferred to undergraduate school at night and continued to pass and graduated safely.

Radio Tokyo TV (now TBS) opened in 1955, joined the TBS Theater Company. In this year, I was in charge of "Japanese first dubbing in Japan" with "Manga · Superman" made by re-editing overseas animation, and since then I have been active in numerous dubbing works.

In the "Star Wars" series, Toshi Shimada is responsible for Duke Vader's Duke with version of Luke and Tsutomu Isobe playing Han Solo. As for the difference in version of dubbing, even if only Luke's role is seen, there are various kinds such as Akira Kamiya, Hiroshi Mizushima, Akira Ishida, Eiji Okuda and Toru Watanabe, but Darth Vader played by George Lucas It seems to like it, only one scene where Anakin wears a dozen Vader mask at the end in episode 3,It seems that there was a designation that I want Ohira to do it directly from Lucasis.

In addition, TV animation has been involved since the dawn, 1967's "Goa Gizzura" role playing the role of Gizzla, 1969 "Haion Daemon King" in the Hakushon Demon Lord role, in 1971 "Kabatot" the hippopotamus I am in charge of.

Homer Simpson's role of "The Simpsons" is a Japanese dubbing of animation, the blurred character and Mr. Ohira's voice are well matched and known as a representative role, but in 2007 the movie " When the theater of the The Simpsons MOVIE was released, it was changed to a cast called Becky: Homer's role as George, Merger role: Wada Akiko, Burt role: Atsushi Tamura (London boots No. 2 No. 2) It became a big topic among celebrities, even until the signature activities that showed protest.

As a result, the video software will be recorded simultaneously as a drama in Homer's role: Ohira Toru, merge role: Miyuichi Ichijyo, Burt role: Akiko Hori, Lisa role: Knowledge of Losau: "The Simpsons fan thanksgiving festival" of teams and fans gathered is being held.

The 1st The Simpsons fan Thanksgiving _ Message from Tooru Ohira to fans - YouTube


Recently, a substitute for hospitalization was set up and in the "Star Wars Rebels" that had been broadcasted until March 2016, Mr. Kusunoki played the role of Darth Vader.