[Dangyo] 'Mr. Sazae' Miki Aso, known for his role as Isono Fune, died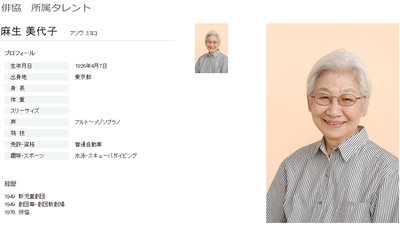 Ms. Misako Aso, who took charge of the main narration for a variety of TV Tokyo series "Japanese style total headhunter" who was in charge of Isono Fune for 46 years until the change in the anime "Sazae-san" for 46 years, on August 25, 2018 (Saturday), it was announced from the affiliated office · Haka-kyo that the deceased because of senility. I was 92 years old.

Suicide Aso Miyoko
https://haikyo.co.jp/information/info43/info.html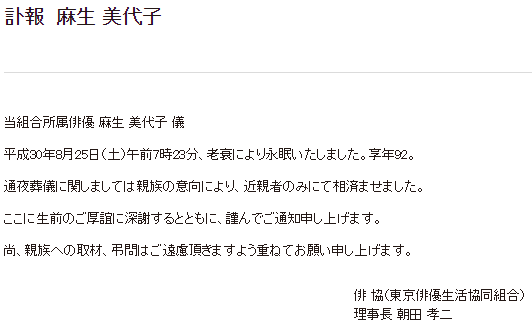 Mr. Sazae Top Page - Fuji TV
https://www.fujitv.co.jp/sazaesan/




Maiko Aso - Hakugo
https://haikyo.co.jp/profile/profile.php?ActorID=131

Mr. Aso was born April 7, 1926 (Taisho 15th). In the television anime "Sazae-san" which started broadcasting from October 5, 1969, he was in charge of Mother-Fuji role of Sazae for a long time. We changed to Mr. Teruichi Terauchi on September 27, 2015 broadcasting period, but the period of responsibility was 46 years. By the way Mr. Terauchi was born in 1953, and Baton was a form sent from Mr. Aso who is 89 years old to Mr. Terauchi, 62 years old.

Besides this, in animation, he is responsible for Rottenmayer of "Alice girl Heidi", Colon of "Ranma 1/2", Pinako · Rock Bell of "Alchemist of Steel". He also played a role in dubbing, stage, narration, etc. In charge of main narration in the TV Tokyo variety variety program " Japanese style total head home ", he also appeared as owner of Toyoshi beansea that appeared in the program.
in Note, Posted by logc_nt