Former Defense Secretary made a game application of "Churchill's Solitaire" with high difficulty using 2 pairs of playing cards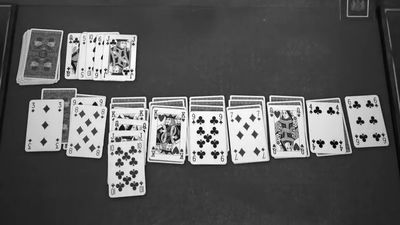 Solitaire is one of card games, there are several types, but if you represent a typical "Klondike", use cards arranged in deck and 7 rows to reload all cards in numerical order.

However, here we use 2 cards and arrange the cards in 10 rows as "Churchill's Solitaire". Mr. Donald Rumsfeld, former Secretary of Defense of the United States, is involved in this, making it a game application.

At 83, I Decided to Develop an App - Medium
https://medium.com/@DonRumsfeld/at-83-i-decided-to-develop-an-app-dadd4e53d342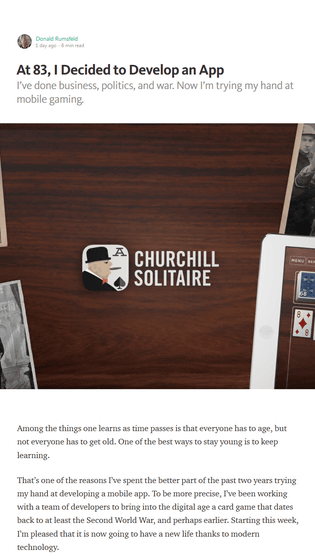 Former Defense Secretary Marches Into New Territory: Videogames - WSJ
http://www.wsj.com/articles/former-defense-secretary-marches-into-new-territory-videogames-1453483137

Winston Churchill's lost card game now on iOS thanks to Donald Rumsfeld | Ars Technica
http://arstechnica.com/gaming/2016/01/winston-churchills-lost-card-game-now-on-ios-thanks-to-donald-rumsfeld/

This is a trailer picture of the game. Roughly, you can see what kind of image it was made of.

Churchill Solitaire - Full Trailer - YouTube


Winston Churchill was British Prime Minister at the time of World War II.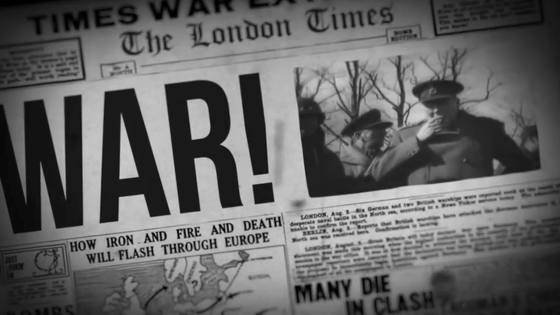 The game that Churchill loved this "Churchill's Solitaire".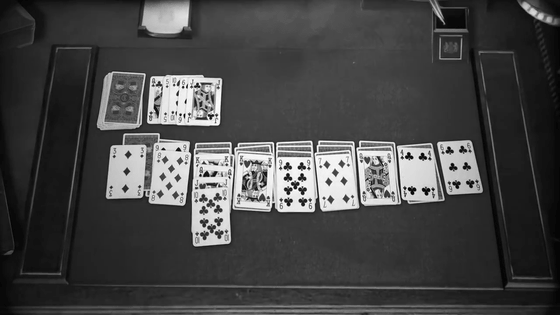 Right now, this "Churchill Solitaire" will revive as a game application.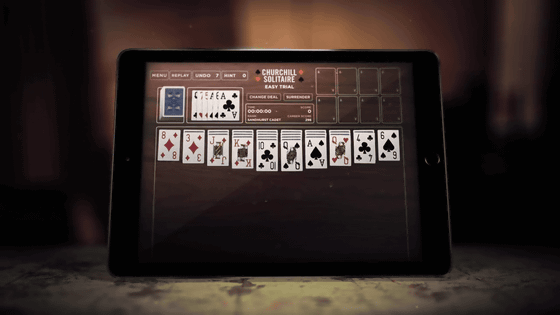 A title can be obtained according to points at the time of clearing. The highest rank is the same as Churchill 'PRIME MINISTER'.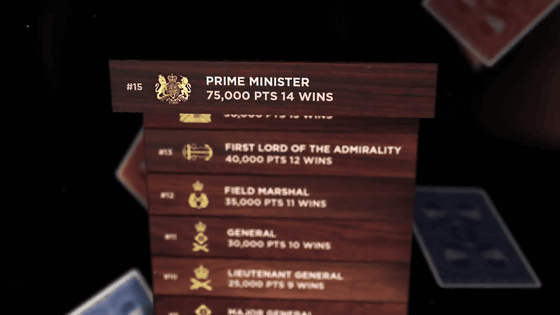 The application is for iOS, downloading is free.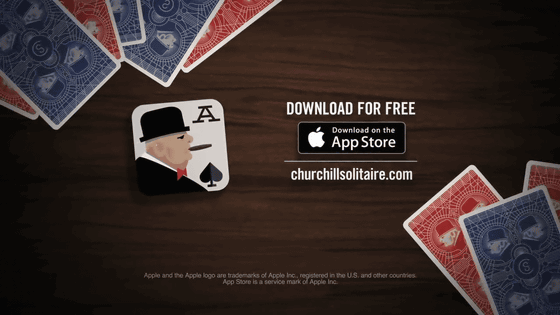 The application is already being distributed on the App Store. Following, the Android version will also be delivered. In addition, the hint function and the undo function are locked, and it is said that it takes $ 5 (about 600 yen) to release.

Churchill Solitaire on the App Store
https://itunes.apple.com/us/app/churchill-solitaire/id1030804846

Mr. Rumsfeld is named "developer", but it is in a position like supervision to the last, real production is done by a company called Javelin.

According to Mr. Rumsfeld, "Churchill's solitaire" was originally told to Churchill by Belgian government aide André de Staercke who fled to London when Germany led by Hitler invaded Belgium in 1940 . Mr. Staercke served as a diplomat in Belgium after the war and met with Mr. Rumsfeld who went to NATO as an American ambassador in 1973 and told me this game.

Mr. Rumsfeld expresses this game as "the most challenging and strategic thing in puzzles and logic games" and tells that what is necessary for play is "perseverance perseverance, dexterity and concentration, strategy and abandon" It was.

Churchill died in 1965 and Mr. Staercke who taught the game also died in Brussels in 2001 and the game which this Churchill enjoyed was about to be lost, but by chance the offer of converting to a game application was Mr. Rumsfeld's I came to the original. In January 2014, Mr. Rumsfeld consulted Randolph Churchill, the grandchild of Churchill, about gaming. Then, the Churchill family returned a reply of great agreement, thus realizing the game.

In addition, the revenue of this game is that it can be devoted to charity.