I tried to make thick rolled sushi with "Sushezi (Sushi Easy)" which extrudes rolled sushi with Tsurun like Bazooka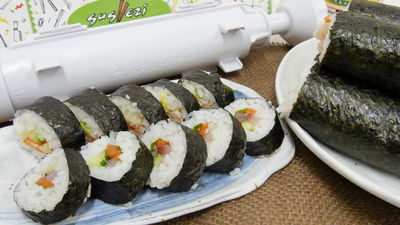 It is possible to make rolled sushi by shaping the rice into a column shape without using winding and it is possible to make rolled sushi like a bazooka gun "Sushezi(SUSHI EASY) ". As the name suggests, I actually made several kinds of rolled sushi to see if I could make rolled sushi really easily.

Sushezi.com >> Perfect sushi, made easy
http://www.sushezi.com/

"Sushezi" arrived in a long narrow box in which a pop illustration was drawn.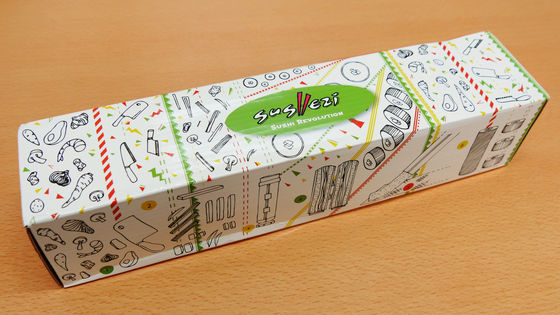 Illustrated on the side how to make rolled sushi using Sushezi. The illustration of No. 5 has a surreal picture plane which I can not imagine as an explanation of rolled sushi making ... ....




When opening the box, Sushezi main body and instructions were included.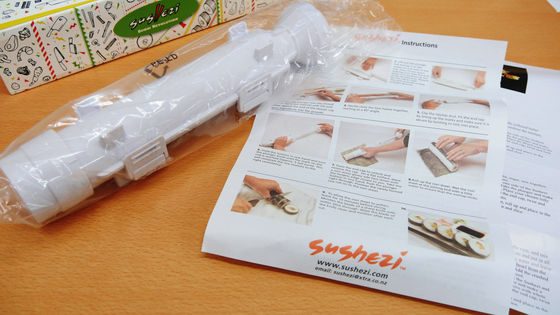 I tried to remove the main body from the bag. It is made of plastic and has an elongated cylindrical shape.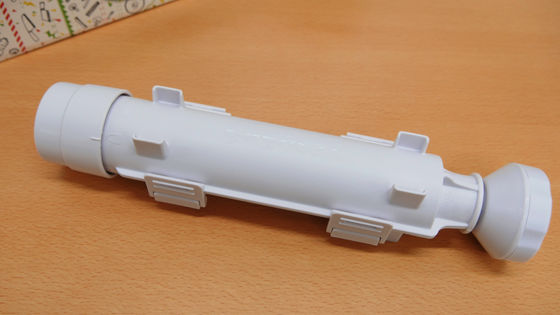 In the center "Sushezi" logo is carved.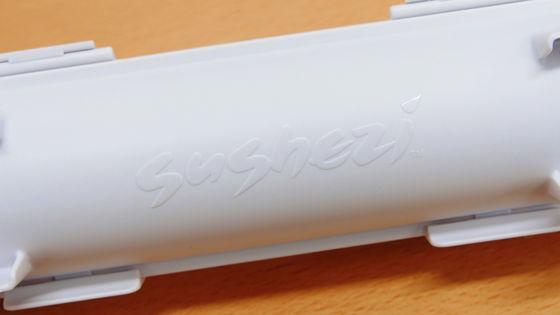 This side has such a feeling, rectangular parts for fixing are attached to two places.




At the tip is a handle for pushing the piston ......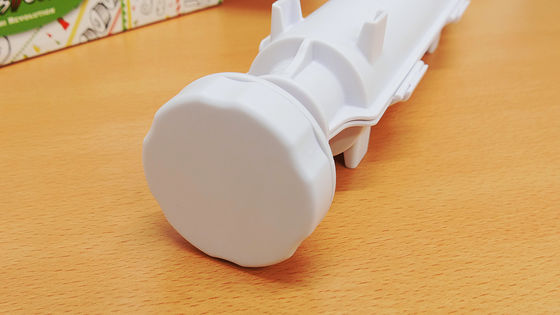 Removable lid on the other side.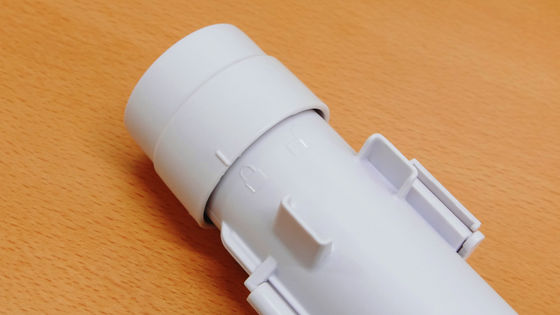 When disassembling, it will be divided into three parts: a part that fills sushi, a lid, and a piston rod with the feeling as follows.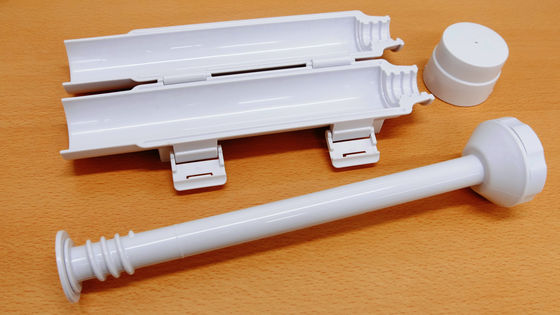 In the instruction book, recipes of rolled sushi with photos are on sale in English.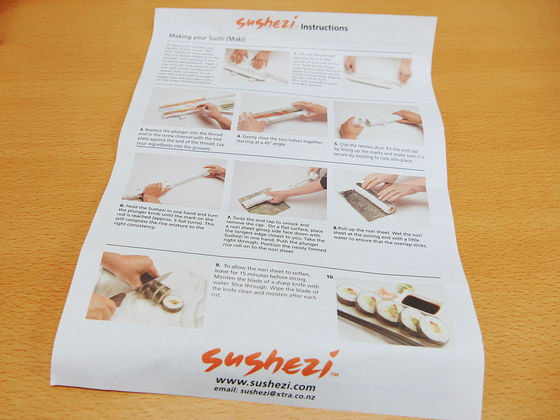 Although it is a strange feeling to make rolled sushi originating in Japan with reference to the English notation recipe, according to the attached recipe, we will first make sushi rice. Recipes also included ways to cook rice in a pot or a range for Western homes that do not have a rice cooker, but this time we cooked white rice with a rice cooker.



The ingredients for two rolled sushi are the same as 2 cups of rice, 2 tablespoons of sushi vinegar, 1 tablespoon of sugar and 1 / 4.1 teaspoon of salt rice as almost two cups.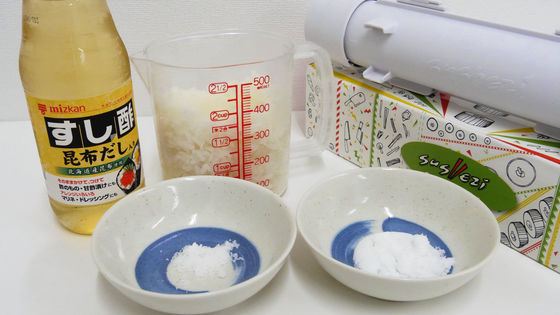 Place the cooked rice in a large bowl etc while warm, add seasoning ......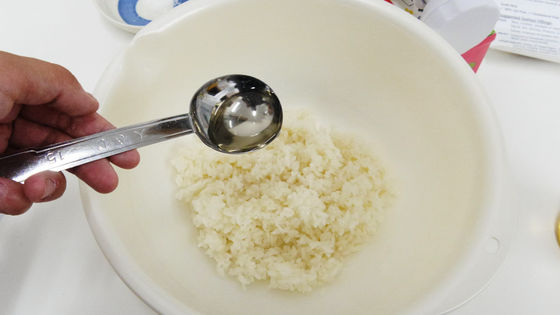 Mix well, let it cool down and take heat.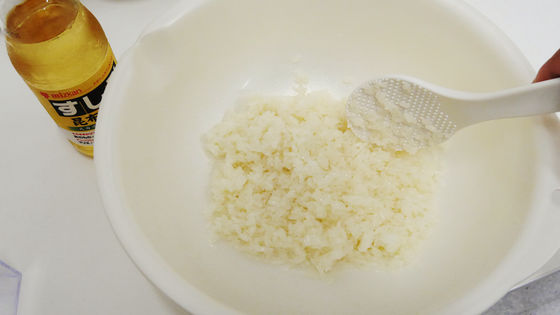 When you are ready for sushi rice, open the body of Sushezi, set the piston rod at the end of the container, and lightly draw the salad oil inside.



Stuff sushi rice on both sides of the container 1/2 cup each.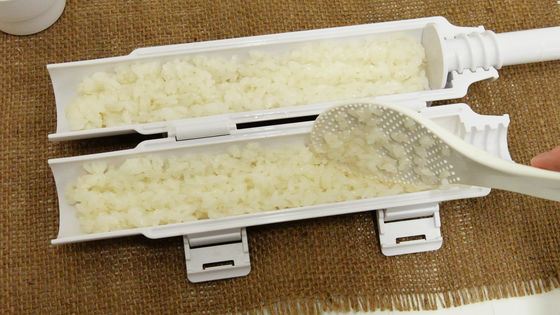 Put the piston rod in the center of the sushi rice and push it gently to make the indentation that puts ingredients.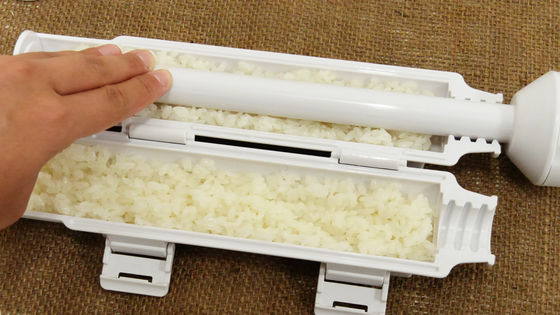 According to the recipe, tuna, salmon, squid, eel, shrimp, crab, shellfish, caviar, scallops etc. are recommended as a thick roll of ingredients. In addition, meat such as smoked chicken and roast beef, ingredients such as asparagus, celery, garlic, sweet corn, cream cheese, etc. which Japanese sushi seems not to see are the first to be found in the recipe. First of all, I try to make thick rolls of ingredients such as tuna, berries, cucumber, etc on orthodox. I set ingredients in the indentation made with the piston rod earlier.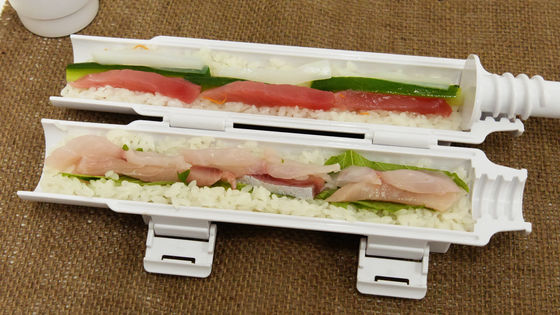 Once you can set the ingredients, slowly lift the mold from both and fit together.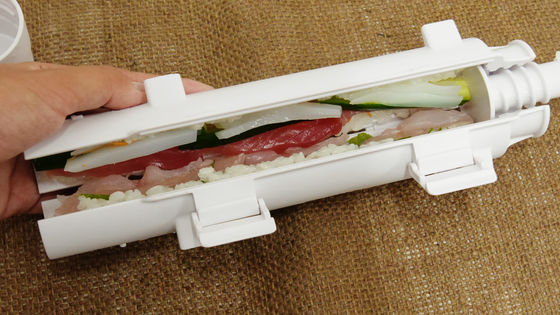 Next, work to flatten the tip of rolled sushi. Attach the cap to the tip of Sushezi.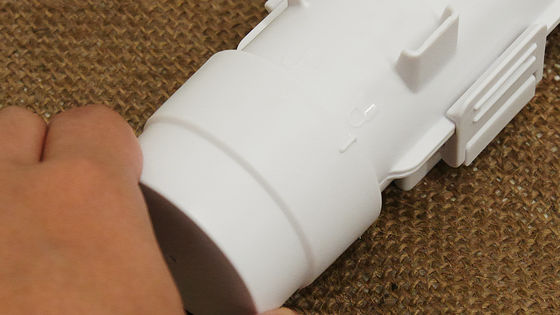 Hold the body of Sushezi with your left hand, hold the tip of the piston rod with your right hand, and then turn it and push the sushi rice.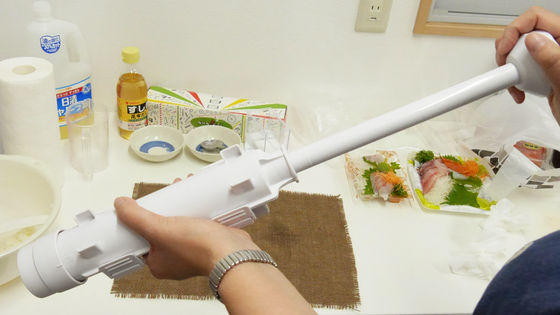 It is just right to push the wire written on the surface of the piston rod to the extent that it comes to the border of the container.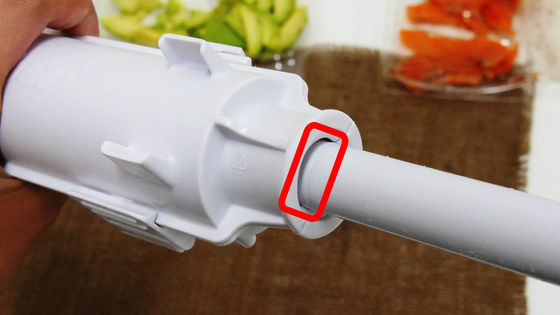 If you remove the cap, you can see that the ingredients are completely clogged.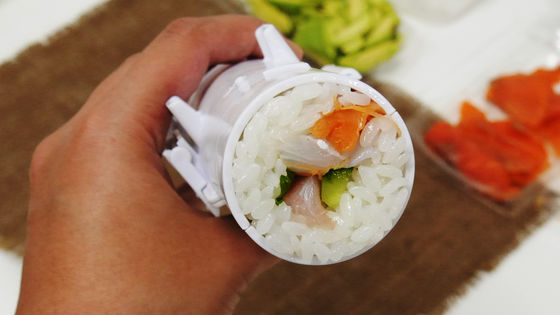 Next is the work of winding rolled sushi. I can see the appearance of extrusion of sushi rice with tulle and making rolled sushi in the following movie.

Suspension of Tsurun and rolled sushi at "Sushezi" like Bazooka making thick rolled sushi - YouTube


Sushi rice came out with Nurulin when spreading pasta on a flat dish and pushing the piston rod of Sushezi. I do not need any particular force, the feeling of pushing out sushi rice with light power is like Bazooka.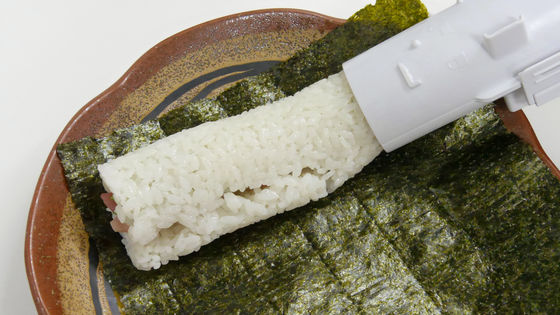 When pushing the piston all the way in, sushi rice & ingredients are united, so to speak, "rice of rolled sushi" is a piece of cylindrical rice crown comes out with Tsurun. Since it is not necessary to grab rice with gyugu and force in winding, children with weak power can easily make rolled sushi.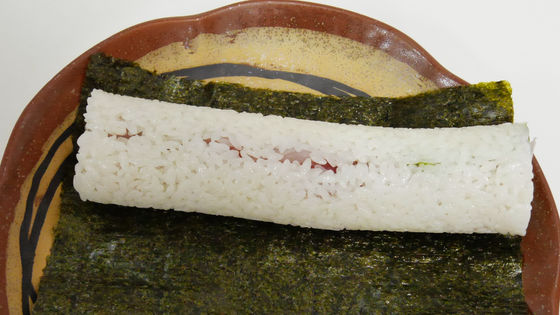 Finally roll around grated rice around the rice ... ...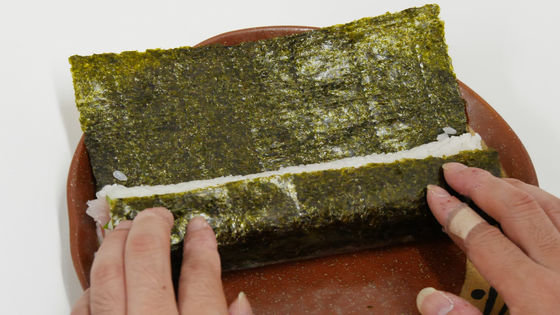 Completion of thick rolled sushi!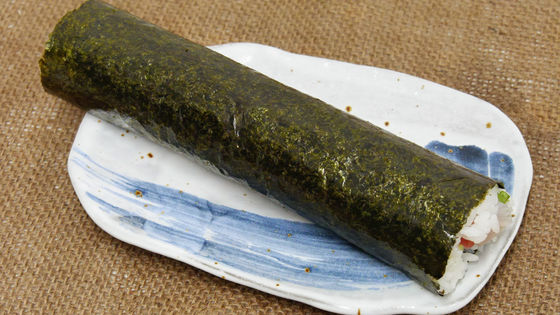 Even looking from the side, the finish that is comparable to rolled sushi made by winding up.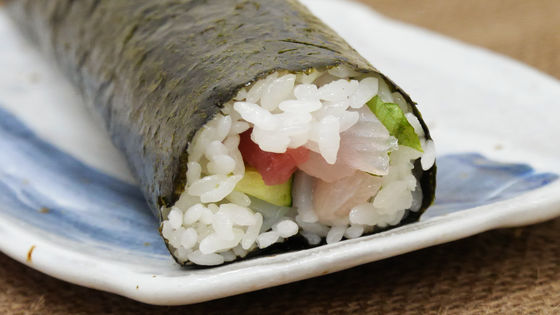 Taking it in my hand, it is about this size. It is okay to eat a thick roll 1 as it is like a Setsubun 's circle ... ...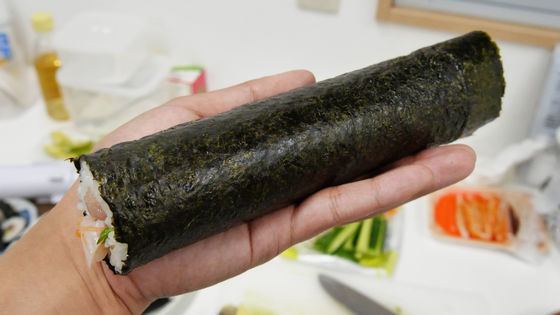 I decided to cut it easily with kitchen knife.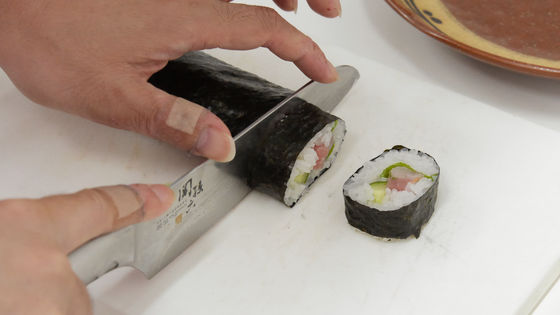 As I tried to eat, the sushi rice is packed tight like a roll with tightly grasped it. It is a nice point that you can adjust the amount of rice or put as much of your favorite ingredients as you want. However, due to the specification of Sushezi, we can not adjust the thickness of sushi like rolled sushi made by winding.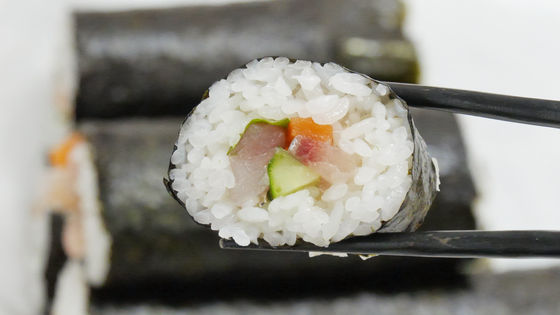 Next, we made smoked salmon, avocado, crab meat, mayonnaise to make rolled sushi with California roll.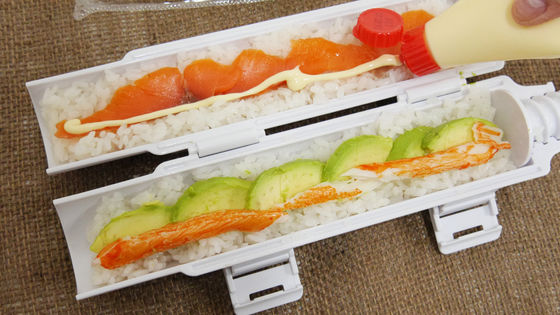 Although the ingredients were slightly stiffened, they were completed. The rice is wrapped around the circumference so as not to disturb the soft avocado, and it is likely that various rolled sushi can be made depending on the ingenuity for people who are not good at sashimi.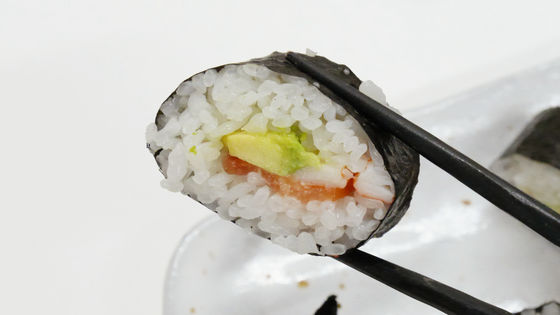 From the editorial staff who tasted it, impressions such as "You can make hand-rolled sushi if you cook less rice" or "Completion degree if you come out to home party" pops out.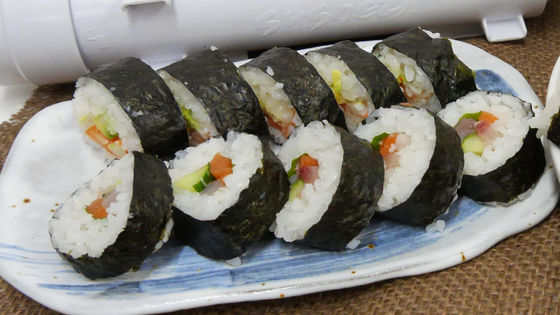 In addition, "Sushezi" is a machine made in New Zealand, imported items are sold for Amazon with 2542 yen including tax.

Amazon.co.jp: Exclusive re-import from NZ ☆ Super Bazooka Sushi Jiro: Home & amp; Kitchen
http://www.amazon.co.jp/dp/B002AVYQNY/