New MacBook Air is expected to boost battery capacity with "Broadwell" generation processor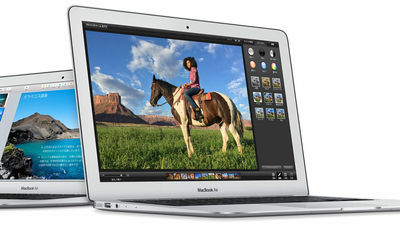 An event held by Apple that starts from 2:00 on March 10, 2015 in Japan time "Spring forwardScreenshots of the new MacBook Air will be posted on the forum siteFeng.comMany posts were posted, detailed specifications became clear.

Alleged specs of refreshed 13-inch MacBook Air w / upgraded processor & graphics surface | 9to 5Mac
http://9to5mac.com/2015/03/04/alleged-specs-of-refreshed-13-inch-macbook-air-w-upgraded-processor-graphics-surface/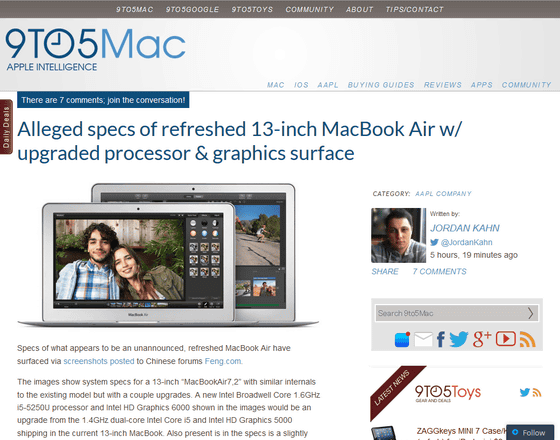 Probable Broadwell MacBook Air shows up in screenshots | Ars Technica
http://arstechnica.com/apple/2015/03/probable-broadwell-macbook-air-shows-up-in-screenshots/

The screenshot posted on Feng.com seems to have captured the screen of the new 13 "MacBook Air.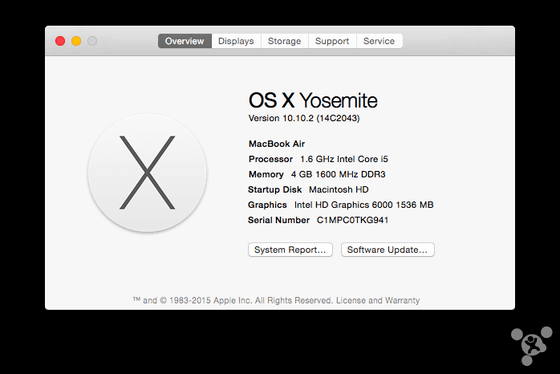 According to the screenshot, the installed CPU is "Broadwell generation"Intel Core i 5 - 5250 U", 2 cores, 4 threads, frequency 1.6 GHz, TDP 15 W.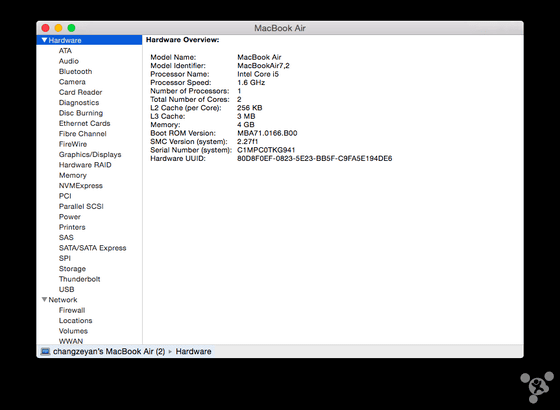 The GPU is equipped with Intel HD Graphics 6000. Since the current model of MacBook Air has 1.4 GHz Intel Core i 5 as CPU and Intel HD Graphics 5000 as GPU, you can see that they are upgrading each.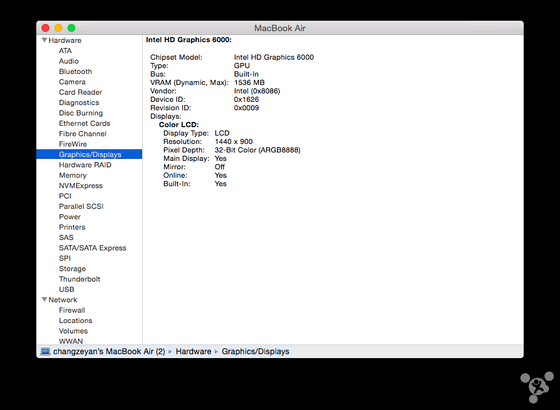 In addition, although the battery capacity of the current model is 7150 mAh, it is 7422 mAh in the 2015 model and the capacity is up.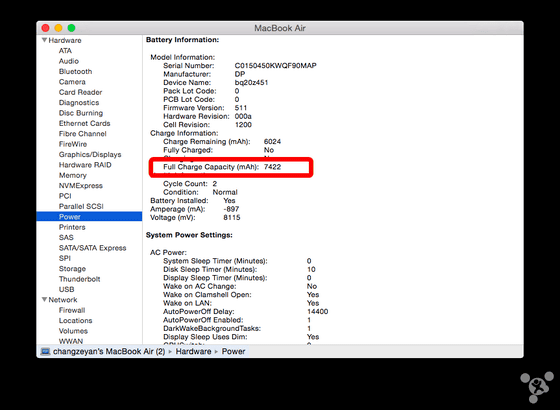 As other information, the memory is 4 GB and the display resolution is 1440 × 900, so the area around this is unchanged from the current model. Retina display model is not expected to appear even with the new MacBook Air.

Also, according to the person who posted a screenshot in the forum, the 13-inch Macbook Air can select "Intel Core i5-5250U" or "Intel Core i7-5650U" as CPU, and the capacity of the SSD also changes from 128 GB to 512 GB There seems to be only 8 GB of memory with "Intel Core i7-5650U" model.