Knowing if traveling abroad there is no loss, the world's LCC and enchanting international long-haul routes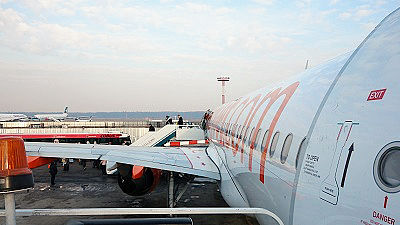 No way, I never imagined that an era of using airplanes in the sense of getting on the bus would come. LCC which abbreviated "English" Low Cost Carrier "realizes an incredible low price flight due to thorough cost reduction, increasing the presence in the world sky.

Hello,Takuya Sudo @ circle around the world bicycle @ Charridermanis. In 2014, there was also the last sport of the trip and there were many airplane movements, and it took care of LCC several times. Looking at the LCCs around the world, the next line seems to be interesting from next. It was very interesting, so I tried to group them all together. If LCC's international long-haul route can be used successfully, the journey will proceed smoothly.

◆ What is LCC?
Reflects the result of numerous streamlining such as flight reservation for the Internet, unification in seats' economy class, fee charged for checked baggage, abolition of in-flight meals, etc. in the fare. With low price as a weapon, LCC has achieved remarkable growth all over the world. There are many airlines in this time, but since there are airlines with checked baggage charged or paying by credit card transaction fee, please give me a reference level to the last.

As LCC reserves earlier, the price of the ticket is lower, so it is a good idea to advance at a stretch once you make a plan. You can not miss the promotion of commemorative sale who did not care about profitability. By the way, in creating this article, the Wikipedia English version of the airline companyList of destined citiesIt was very convenient.

◆ Europe
·Easyjet (easyJet)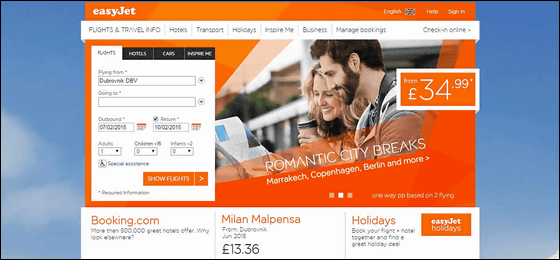 route map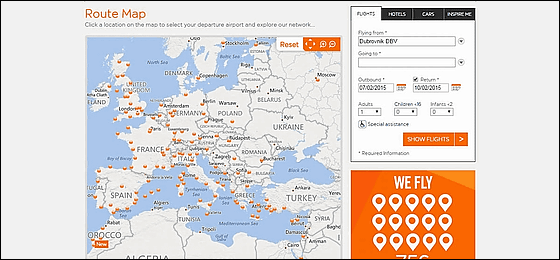 EasyJetIs connecting the whole of Europe as an LCC from the UK. There are a lot of people using European backpackers around the world for flights connecting Morocco in Europe and North Africa. I moved from London to Moscow on 4th November 2014, but when I made an appointment at the end of August it cost me 183.03 US dollars (19,635 yen). I also carry folding bikes.

·Ryanair (Ryanair)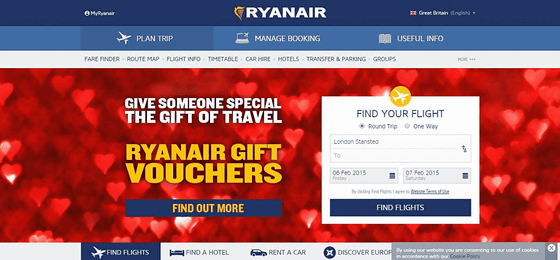 route map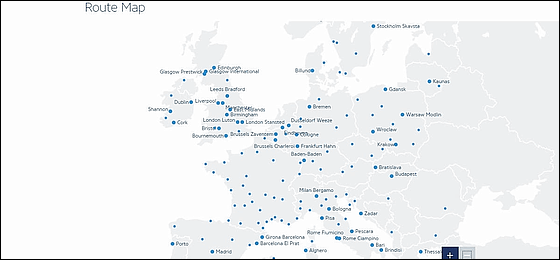 Ryan AirIs LCC from Ireland and connects various parts of Europe. As Europe's largest LCC, remember, there will be no loss. However, one caution is required, and before the flight, you have to check the online on the internet and print the boarding pass. If you do not have a boarding pass on the day,It costs additional and additional. Although it takes time and effort, it is a reputation LCC that is cheap anyway, so I'd like to try someday.

·Pegasus Airlines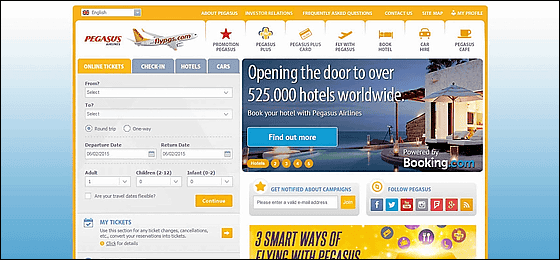 (PDF file)route map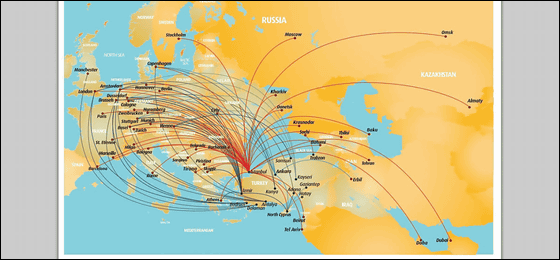 Pegasus AirwaysHas a hub airport in Istanbul, Turkey and connects various parts of Europe, the Middle East and Central Asia. The flight that flew to Istanbul from Egypt's Sharm El Sheikh in January 2015 was 167.99 US dollars (26,52 yen), the flight returned to Sharm el-Sheikh via Istanbul from Sarajevo, Bosnia and Herzegovina the other day the other day It was 166.69 US dollars (22,25 yen). As we made a schedule so quickly, the price will not change, but if you book earlier, you can make cheaper for Istanbul. This is the charge including the checked baggage.

"118 euro (about 15,800 yen)" is being sold is a flight connecting Istanbul and Bishkek, the capital of Kyrgyzstan in Central Asia. Countries in Central AsiaTurkic ethnic groupsAs you know, Turkey is deeply connected.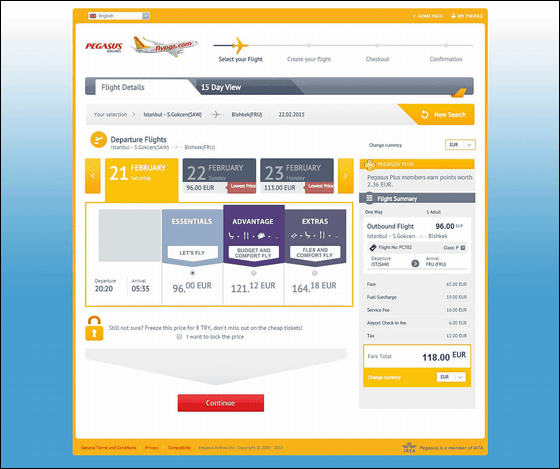 ·Air Baltic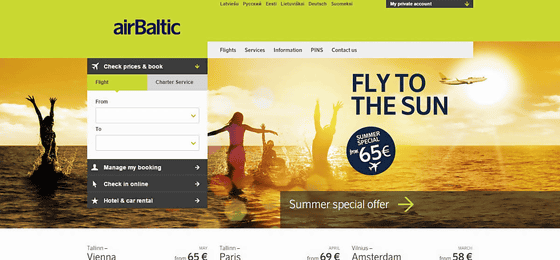 route map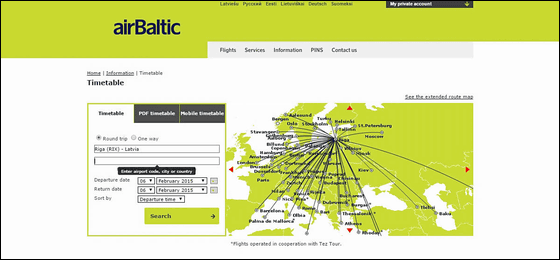 Air BalticHas a hub airport to Riga in Latvia and connects various parts of Europe. When I visited Moscow, I got a flight from London, but I paid the cost of the checked baggage (24.99 euros) and the price was 161.92 euros (23,000 yen) in total. After reservation, the flight schedule has changed due to the airline's circumstances, and we have a full refund. Instead I used EasyJet for Moscow.

·Norway · Air Shuttle (Norwegian)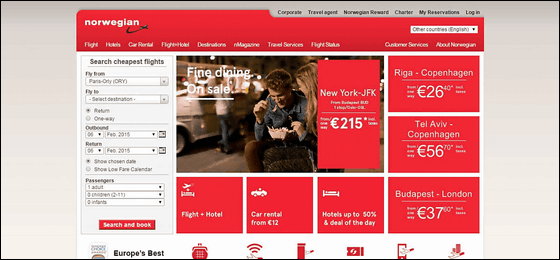 route map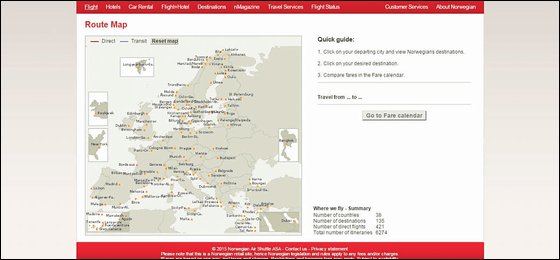 Norway · Air shuttleHas a hub airport in Oslo in Norway and connects various parts of Europe, mainly in Northern Europe. Besides that, there are also long-distance routes such as New York in the USA, Bangkok in Thailand, UAE's Dubai. When flying to Fort Lauderdale on the Florida peninsula in the United States on 12th December 2014, to Oslo of Norway, including about 20kg of baggage that entered the folding bike, it was 227.20 US dollars (24 4373 yen) I finished it. It is a flight I had booked at the end of August.

The one that is sold at "154.20 euro (about 20 700 yen each way)" is a flight connecting Oslo and Southeast Asia to Bangkok, Thailand's capital. However, although this airline is free for checked baggage up to 10 kg, you need to pay additional baggage with added options. In this case it was that 20 kg of checked baggage required 33 euros (about 4400 yen). It is an unusual LCC line connecting Europe and Southeast Asia.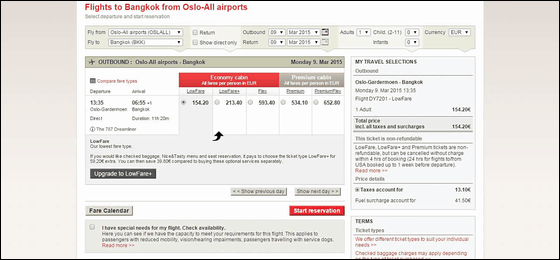 ·Jetairfly (Jetairfly)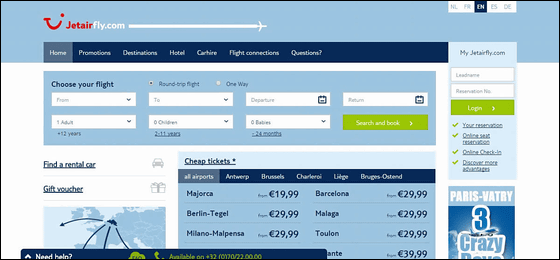 List of destined cities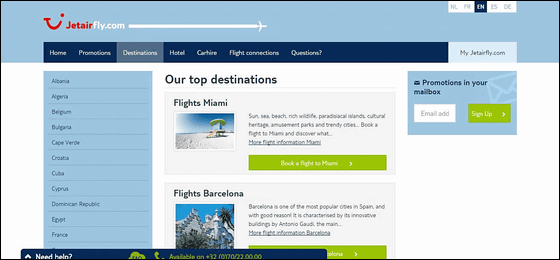 Jet air flyHas a hub airport in Brussels in Belgium and connects various parts of the world. Although I tried to purchase a ticket from the Internet when crossing from Europe to the Caribbean Sea, the debit card gave up without payment. Brussels and Miami in the United States, Cancun in Mexico, Cuba, Dominican Republic, long-haul flights across Jamaica and the Atlantic are very attractive. I also have a line to Zanzibar in Tanzania.

"One way 124.99 euros (about 16,800 yen)" is sold in Brussels and the island country floating in the Atlantic Ocean of West AfricaCape VerdeIt is a flight to. After this I could go around Senegal and travel around West Africa and it was an interesting route that could be used when entering Africa.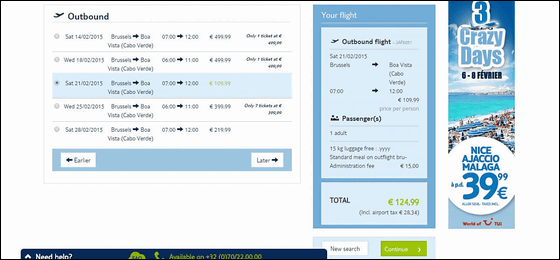 ◆ Middle East · Africa
·Air Arabia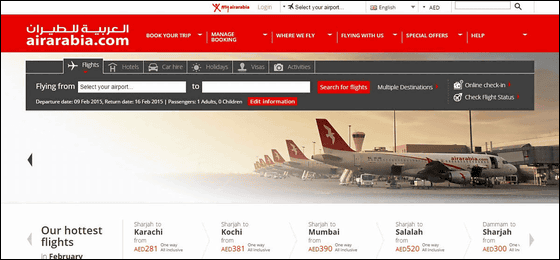 List of destined cities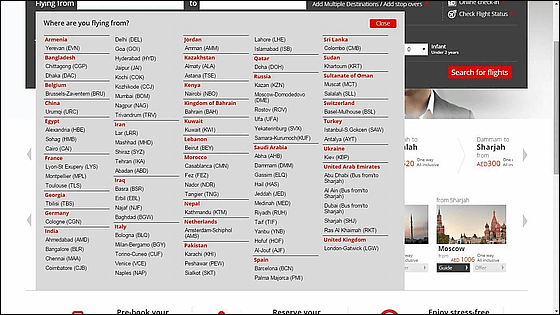 Air ArabiaHas a hub airport in Sharjah in the United Arab Emirates, with Europe, South Asia and East Africa, mainly in the Middle East.List of destined citiesLooking at it, the route is extending radially from Sharjah and it seems likely to fly anywhere. There are also geographical factors connecting Europe, Africa and Asia, and it may be LCC of high utility value.

·Flydubai (flydubai)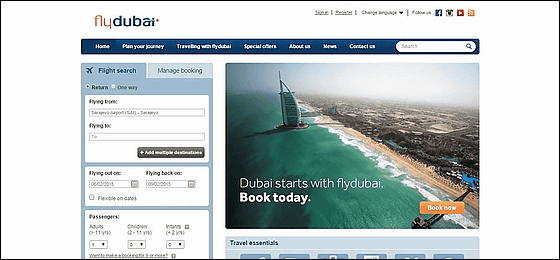 route map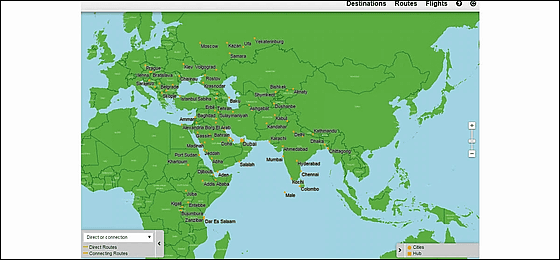 Fly DubaiHas a hub airport in Dubai of the United Arab Emirates and connects Eastern Europe, East Africa and South Asia as well as the Middle East.List of destined citiesLooking at it, there are many flights to Burundi's Burundura, South Sudan's Juba, Tajikistan's Dushanbe, Moldova's Chisinau and minor cities.

·Mango Airlines



Mango aircraftIs a South African Airlines LCC which is a flag carrier, and connects various parts of South Africa. The destinations are Bloemfontein, Cape Town, Durban, George, Johannesburg, Port Elizabeth and Zanzibar of Tanzania.

Those sold from "3236 Land (about 32,200 yen)" are sold in TanzaniaZanzibarIt is a flight connecting Johannesburg in South Africa. With a crystal clear blue sea, Zanzibar will attract many travelers.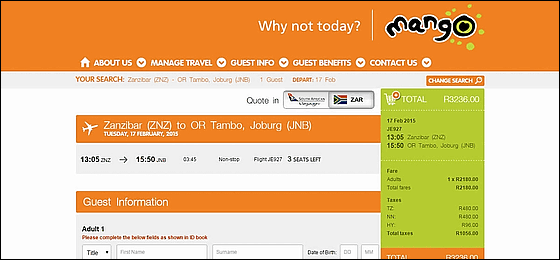 ◆ North America
·Jet Blue (JetBlue)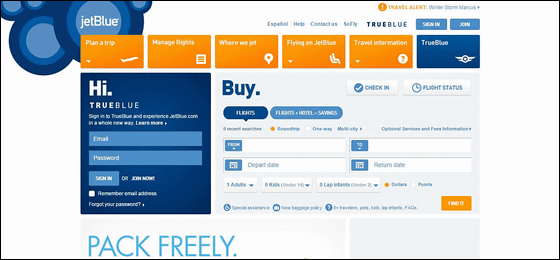 route map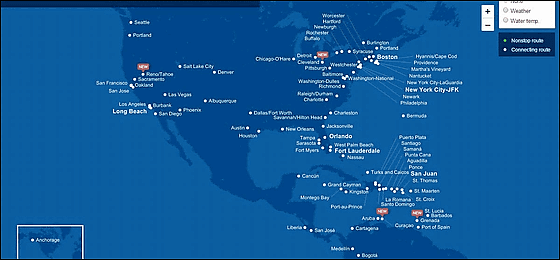 Jet blueAs the LCC originating in the United States, we are tying the Caribbean and Central American countries, mainly in Japan. In the Caribbean countries where expenses of air tickets are expensive by anything, choosing LCC from and to the USA can fly advantageously for distances. In the Caribbean, the flight to the neighboring island country exceeded US $ 100 despite not so much distance.

On 8 December 2014, from the Trinidad and Tobago located at the southernmost point in the Caribbean island country, the flight to the Florida peninsula was US $ 148.16 (15,895 yen). Likewise it was Jet Blue when I was in Santo Domingo, the capital of the Dominican Republic. It is a flight from Moscow. The tie-up Russian airline company Trans Aero will travel to New York, the transit point, and the flight will be Jet Blue and go to Santo Domingo. The flight from Moscow to Santo Domingo via New York was 48,810 yen. All of them have made reservations at the end of August.

It is sold from "230 US dollars (about 27 thousand yen)", New York and South America are flights connecting Colombian capital Bogoda. When I flew from Panama to Bogda it took nearly 400 US dollars, so I think that it is a great flight in spite of long distance.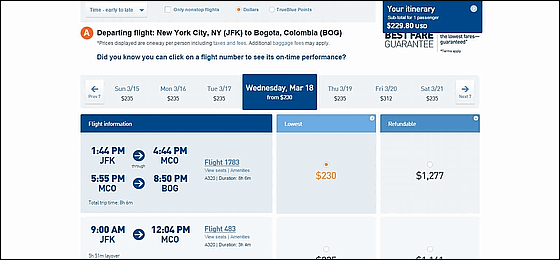 ·Spirit Airlines



route map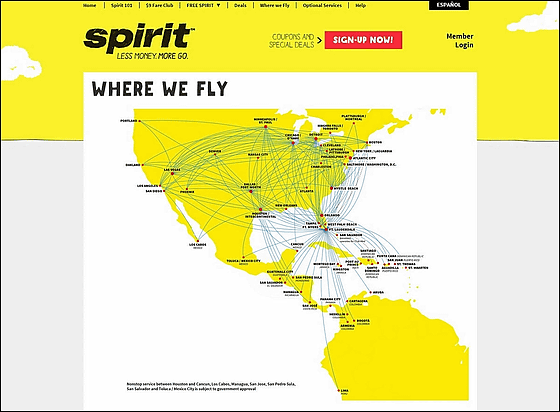 Spirit AirlinesAs the LCC originating in the United States, we are tying the Caribbean and Central American countries, mainly in Japan. Official site is a design that Americans seem to like most. Like Jet Blue, it seems to be able to be used when traveling around Caribbean countries.

It is sold from "201.79 US dollars (about 24,100 yen)", a flight connecting Florida Peninsula's Fort Lauderdale and South America to Peru's capital Lima. Valuable route connecting Peru and America with Nasca's landmarks and Machu Picchu.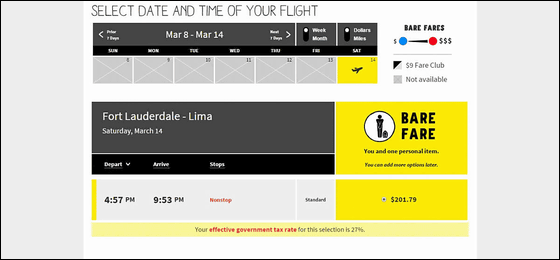 ◆ Asia, the Pacific
·Jetstar Airways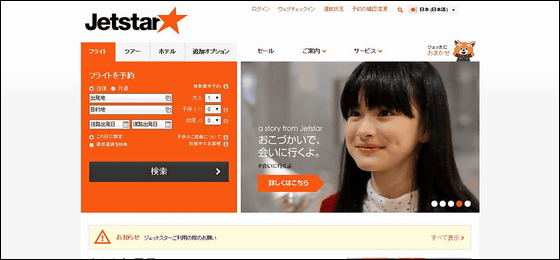 route map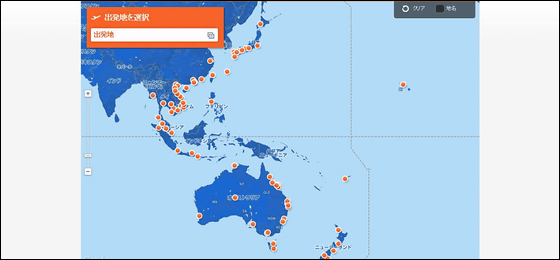 Jetstar AirlinesQantas Airlines, an flag carrier in Australia, established LCC to combat the newly entered Virgin Blue (now Virgin Australia), connecting Australia and Southeast Asia with Japan. Even when I joined Japan Airlines (JAL) and Mitsubishi Corporation and newly entered Japan domestic flights, it became a hot topic. It seems that new routes have been opened one after another, and from Bangkok to local FukuokaWhen temporarily returning homeThere was also a new service commemorative sale and it flew in 3780 Thai baht (12,221 yen).

It is sold from "229.00 Australian doll (about 21 1100 yen)" is a flight connecting Australia's Sydney and the Pacific Island Fiji. However, this does not include checked baggage, and if you plan to deposit 20 kg, 28 Australian dollar (approximately 2600 yen) is required at the time of reservation. At the end of a round of the world I would like to travel around the island country of the Pacific, so at that time I may be indebted to Jetstar Airlines.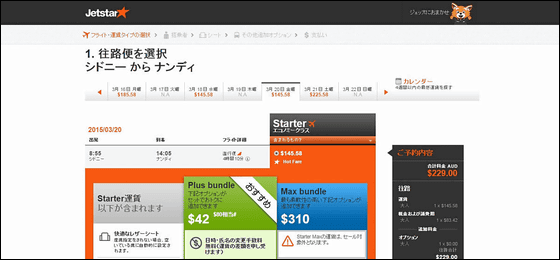 ·AirAsia (AirAsia)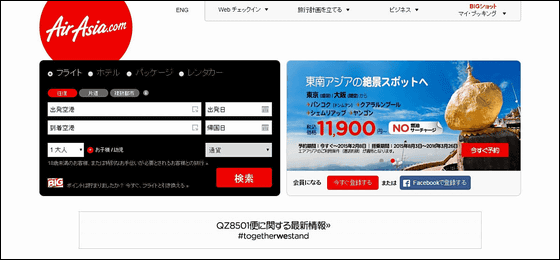 route map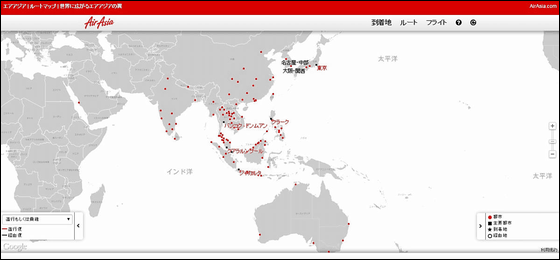 Air AsiaAs a pioneer of LCC, we have a hub airport in Kuala Lumpur, Malaysia, and we are expanding our routes to India, Australia and Japan, mainly in Southeast Asia. If you are a backpacker traveling in Asia there is not anyone you do not know about LCC. Once, in partnership with All Nippon Airways (ANA), as AirAsia Japan (now Vanilla Air), it also entered Japan's domestic flight. Although I withdrew once, I will join Rakuten, a new partner, and I am planning to enter the domestic domestic market again.

·Virgin Australia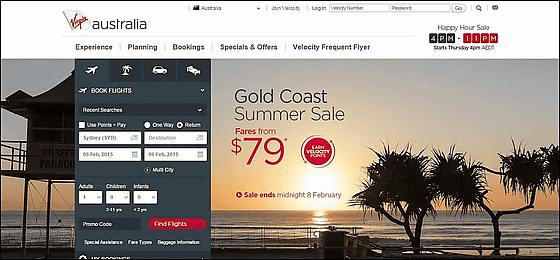 route map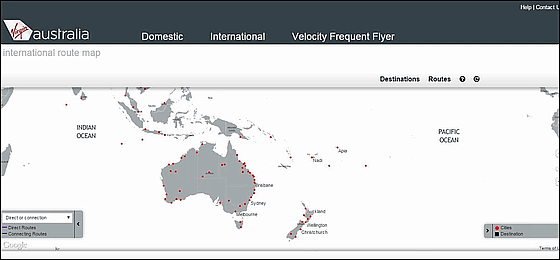 Virgin AustraliaIs a member of the British Virgin Group and connects the Pacific region, mainly Australia. Virgin Samoa of the group company also has flights to Samoa, Tonga and Fiji, and it seems to be able to use it when traveling around the Pacific countries.

It is one way from New Zealand's Auckland, but I expect to be able to fly this way to Apia in Samoa, Nuku'alofa in Tonga, Rarotonga in Cook Islands.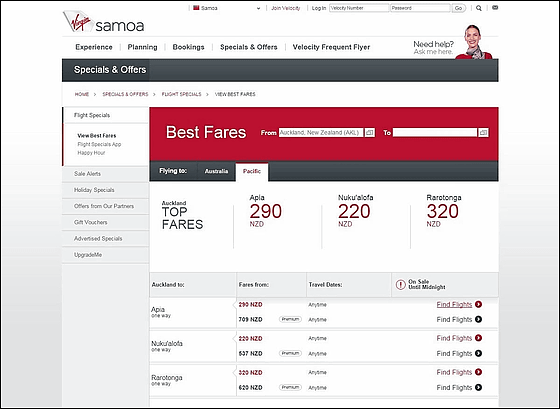 ·Tiger Airways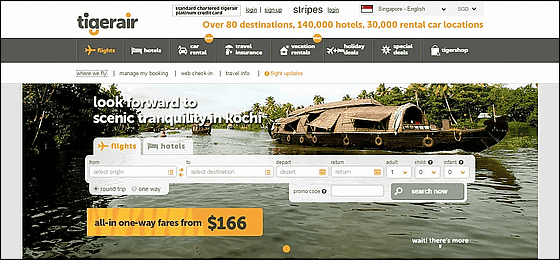 route map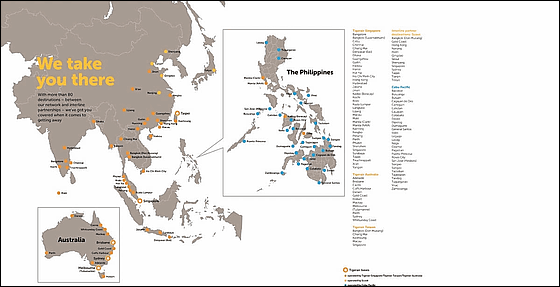 Tiger AirwaysHas a hub airport in Singapore and connects Southeast Asia, Australia and all parts of India. When I was working holiday in Australia in 2007, it was rumored airline to fly cheaply from Darwin in the north to Singapore.

It is a flight that connects Singapore and the island nation Maldives that floats in the Indian Ocean, "From 169.79 Singapore dollar (about 16,200 yen each way)". I need two tickets to and from my neighbor in India but I thought that it was very profitable because I could travel long distances from this Singapore and I can float one way ticket fee as well.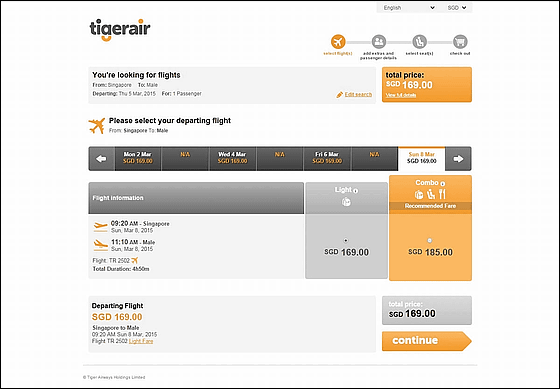 ◆ Japan · Korea · China
·Vanilla Air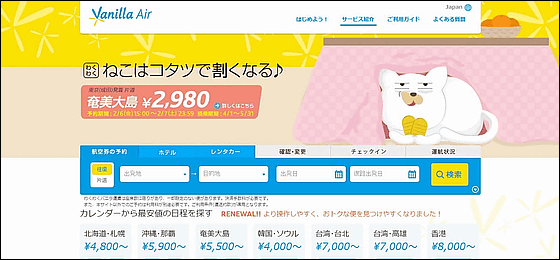 route map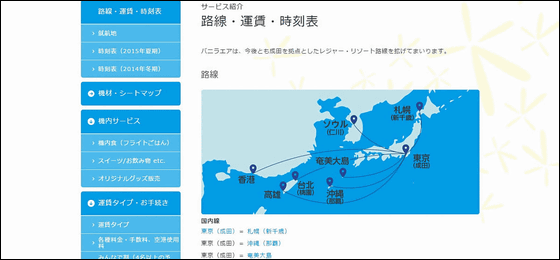 Although all Nippon Airways (ANA) and AirAsia jointly invested and was established as AirAsia Japan, the alliance was dissolved due to the difference in management policy of both companies. It is now that the operation was restarted in the form of taking over AirAsia Japan at this timeVanilla Air. As a hub airport from Narita International Airport, we connect various parts of Japan with Korea, Taiwan and Hong Kong.

·Peach Aviation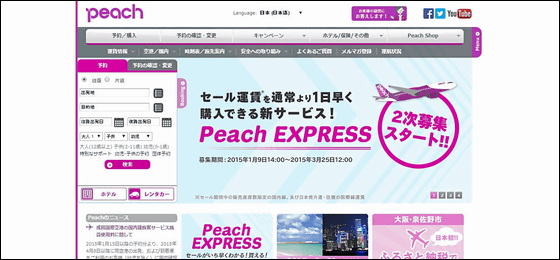 route map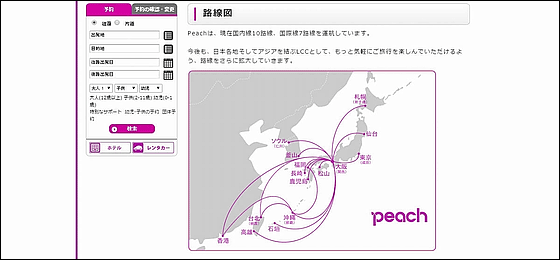 Peach · AviationHas connected Kansai International Airport as a hub airport with various parts of Japan, Korea, Taiwan, Hong Kong. This is also a subsidiary of All Nippon Airways (ANA). The domestic LCC who entered intense competition existed without being one head. Even GIGAZINE "I tried using LCC "Peach Aviation" which entered Narita ~ Seki spaceIt is covered in the article that "

·Air Busan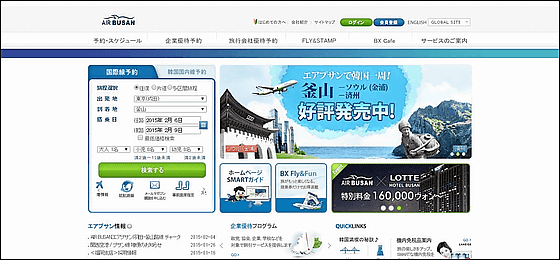 route map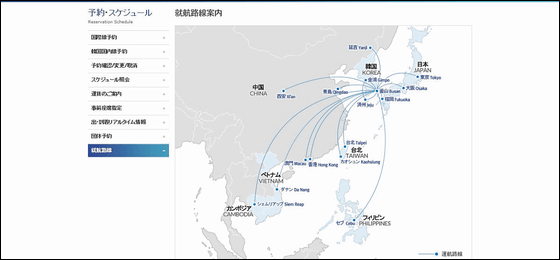 Air BusanHas a hub airport in Busan, connecting Korea domestic, Japan, China and Southeast Asia. It is a group company of Asiana Airlines.

·Jeju Air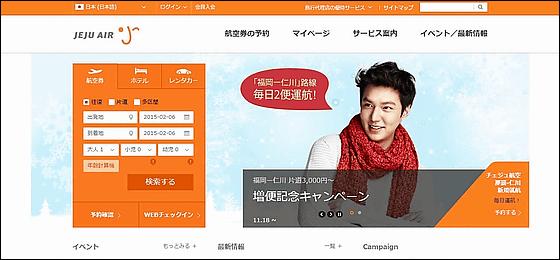 route map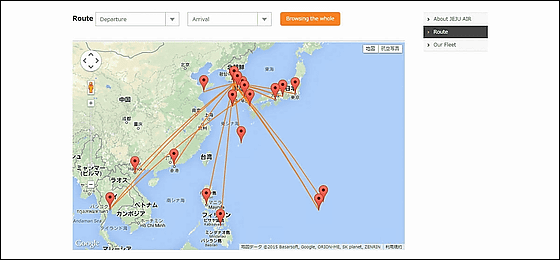 Cheju AirConnects Japan, China, Southeast Asia and Guam · Saipan from Seoul and Busan to Jeju Island from various parts of Korea. It is likely to be an option for visiting Jeju Island, which is famous as a resort in Korea.

·Spring Airlines (Spring Airlines)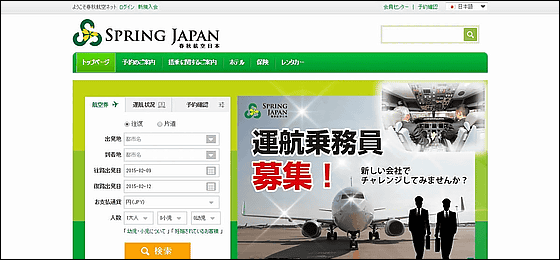 route map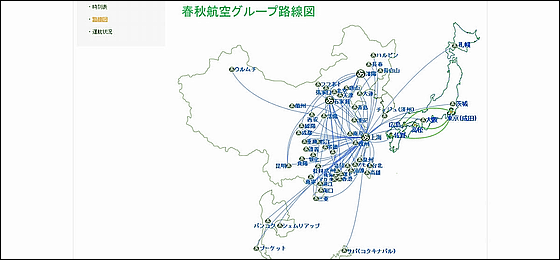 Spring and autumn airHas a hub airport in Shanghai as an LCC originating from China and connects various parts of China, Japan and Southeast Asia. Their service to local cities such as Ibaraki, Takamatsu and Saga is a different color even in the LCC which entered the domestic routes. It is an airline which becomes something news, such as considering the introduction of a standing seat. Even GIGAZINE "I tried riding "Takamatsu-Narita" flight of Chinese LCC Chunpu Air that there is rumor that in-flight sales are noisyIt is covered in the article that "

·Hong Kong Express (HONG KONG EXPRESS)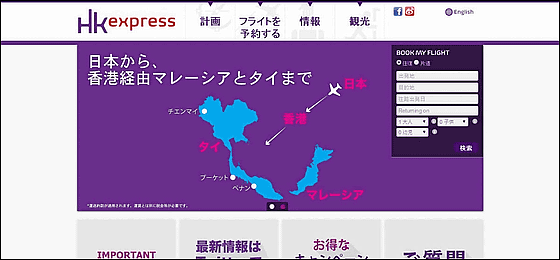 route map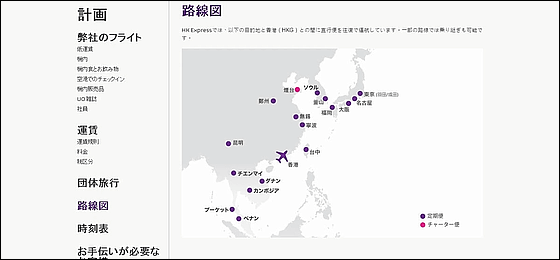 Hong Kong ExpressHas a hub airport in Hong Kong and connects various parts of China, Japan, Korea and Southeast Asia. In the restaurant, you can enjoy Hokuhoku 's drinking tea ceremony, and in shopping like going around the city, you can enjoy Hong Kong trips easily. Even GIGAZINE "I tried to use Hong Kong Express in Hong Kong ~ Kansai space but LCC but a wide seat spaceIt is covered in the article that "

With this kind of feeling, I tried collecting the LCC that I care about and the flights that I can fly easily. I hope that it will help someone's journey even a bit. In addition to this there will be LCC of the world and rare routes, so please let me know if there is something.

(Sentence / photo: Takuya S. Narou Charriderman
Cycling around the world for a bicyclehttp://shuutak.com
Twitter@ Shuutak)