Intel 5th generation Core code name "Broadwell-U" improved battery up to 30% & other power greatly improved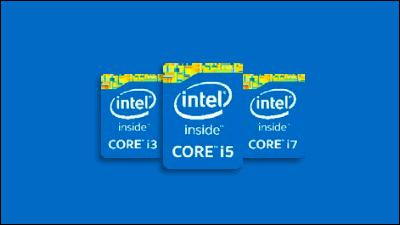 Intel announced the fifth generation Core processor for notebook PCs. It was developed under the code of "Broadwell-U""Surface Pro 3" released in 2014It is said that it is the next-generation model of the processor which was installed in the system.

5th Generation Intel® Core ™ Processors
http://www.intel.com/content/www/us/en/processors/core/5th-gen-core-processor-family.html

The 5th Generation Intel® Core ™ Family of Processors Arrive to Transform Computing Experiences, 'Cherry Trail' Shipping
http://newsroom.intel.com/community/intel_newsroom/blog/2015/01/05/the-5th-generation-intel-core-family-of-processors-arrive-to-transform-computing-experiences-cherry-trail-shipping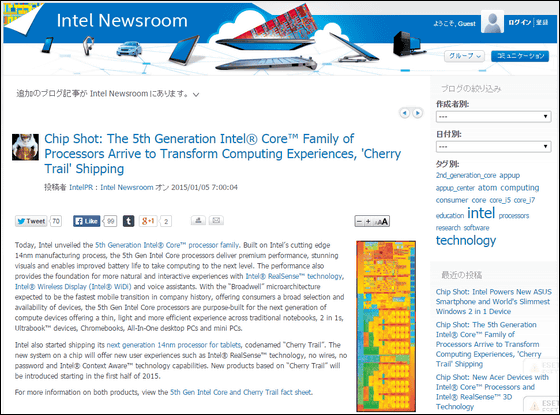 This fifth-generation Core processor (Broadwell-U) is a "Broadwell" generation processor following the Core M processor announced in September 2014. SemiconductorProcess ruleHas been miniaturized from 22 nm to 14 nm of the 4th generation Core processor (Haswell).

Battery life has also improved by 20% to 30%, and the average movie playing time is 90 minutes longer. It is scheduled to be installed in notebook PCs, display integrated desktop PCs, etc. In January shipments of onboard models will begin.

This figure compares the 5th generation and the 4th generation. The size of the die is 37% smaller, but the number of semiconductors is increasing. In addition, you can see that the 3D graphics performance is improved by 22%, the speed of movie conversion is improved by 50%, productivity is improved by 4%, and the power up has been drastically improved.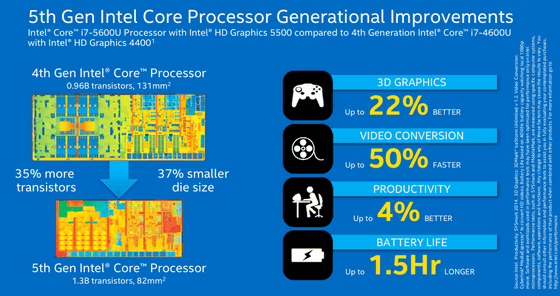 TDP (thermal design power)28W version and 15W version, together with 14 products will be prepared. The list looks something like this.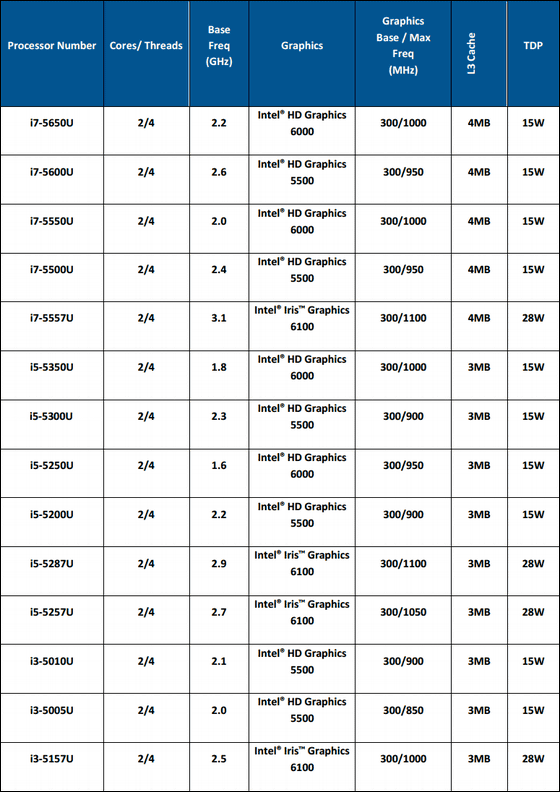 At the same time, Intel also announced that it has shipped a 14-nm tablet processor "Cherry Trail" for tablets. At present, "Bay Trail" is used for tablets, but it is supposed to be replaced sequentially, and new products equipped with this processor will appear in the first half of 2015.

In the future, in the middle of 2015, the fifth generation Core processor with TDP of 45 W or more which improves the performance will be released.