【Old news】 Mr. Rokuro Naya who played Kamu of the Aquarius · Dr. Sensei, etc.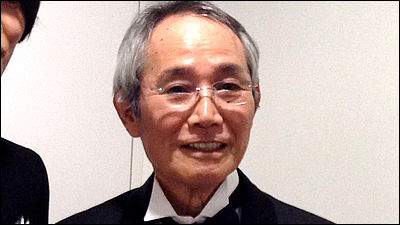 Sayuri Shinobi of "Yu Yu Hakusho", a voice actor / actor who was also active in dubbing overseas dramas and foreign films, such as the role of the director of the director of "Crayon Shinchan", the camper of the aqueduct of "Saint Seiya", Rokuro Naya Passed away on November 17th. I was 82 years old.

Mouse Promotion Official Site: Affiliation Talent
http://www.mausu.net/talent/tpdb_view.cgi?UID=115

Voice actor Rokuro Naya has died ... Brother has a role of Monbukago police officers, many brothers and sisters - Sponichi Annex entertainment
http://www.sponichi.co.jp/entertainment/news/2014/11/18/kiji/K20141118009305440.html

Mr. Naya debuted as a voice actor with "Yokai Human Bem" in 1969, with a voice actor Goro Nariya's younger brother known as Chief of Lupine the 3rd priest. In addition to playing Camusu of Aquarius with "Saint Seiya", she has been invited to a wide range of generations with the voice of Professor Park of "Crayon Shinchan" being broadcasted since 1992 and the voice of Sir Ham Hat, "Thomas the Tank Engine" It is known.

Besides this, in animation, he is responsible for Shinobu Senji of "Yu Yu Hakusho" and role of Christoph Blanc of "Eureka Seven AO".

As a possessor of dubbing, William H. Macy (ER emergency room), director of surgery, Morgenstan surgeon, "Jurassic Park III" Paul Kirby etc.), Ed Harris ("Apollo 13" (video software version) Gene · Kurzu), and in "Ghost Busters" I also took charge of the role of Dr. Igno Spengler who played Harold Lemis. By the way, Harold Lemis was born in 1944 and is about a year younger than Mr. Naya, but due to complications of inflammatory vasculitis,He died on 24th February 2014.

Due to these achievements, a prize prize was awarded at the 8th voice actor award in 2014. The photographs below are pictures with Yoshimasa Hosoya who also won the supporting actor award at the same time. Mr. Noriya Noriya's eldest son and Mouse Promotion President Shigeru Nayato shot.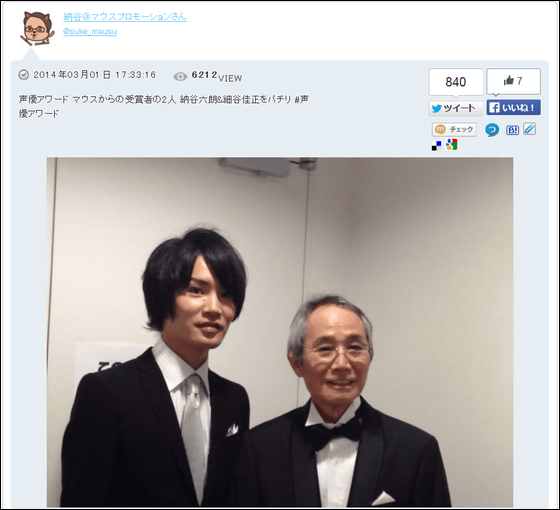 Farewells and mourning voices by industry are also flowing. This is a tweet by Shiji Mizushima of "Oedo rocket", an animation in which Mr. Naya played the retirement role.

Rokuro Naya played a retirement in the Oedo rocket, I remember being impressed by the attitude towards work and youthfulness. Thank you very much……

- Shuji Mizushima (dairy fur) (@ oichanmusi)2014, November 18

Tweet by voice actor Yu Mizushima.

Mr. Rokuro Nayato was departed.To Mr. Rokuro, as I was a junior high school student, I became indebted at the scene of dubbing at a movie, and every time we met afterwards, it was something called out "Yuu, how are you?" With a smiling face like a shy smile is. Mr. Rokuro, thank you very much. I sincerely pray for the souls.Voice actor

- Yutaka Mizushima (@ goofyalice2013)2014, November 18

"Thomas the Tank Engine" and tweets by Keiko Nemoto who played Sir Mr. Top Ham Hat despite being quite young.

Last month, when I went to Oi River, I bought a souvenir for my son. I brought a souvenir afterwards, but since I am not feeling well, I heard that it was overtaking. I was worried. A few days ago I heard it was criticized. I got stuck in various ways. I heard that he died yesterday. I was prepared for somewhere in my mind but after all it was impossible. I cried in the streets.

- Keiko Nemoto (@ nemory 1210)2014, November 18
At first I thought that it was casting at the age of 47 as a senior Mr. Nayani's mother's role. Mr. Nayato did not say anything, but I think that I thought that it was casting after all. For several years I was always a selfish mother to my son. Speaking of mother heart, I will not forgive you to pass away before parents! When,

- Keiko Nemoto (@ nemory 1210)2014, November 18
I think that mother is saying that. Rokuro Nayato. I was really happy. Thank you for many wonderful experiences. ... Regret is left that the souvenir I bought at Oigawa last month could not be passed. Please rest in peace ... Good job.Pic.twitter.com/CokzO5TMJS

- Keiko Nemoto (@ nemory 1210)2014, November 18

A memorial illustration also at pixiv.


In addition, from "Crayon Shinchan" broadcasting on October 9, 2015, Mr. Junpei Morita will take over Mr. Norihide Master.