What are the problems and solutions for reviews and 5 star reviews?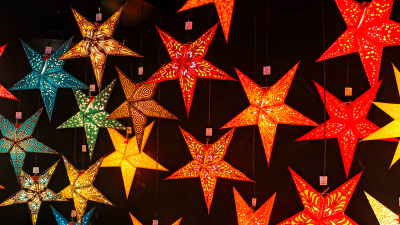 ByTambako The Jaguar

There are many people who refer to reviews and photos of people who actually went when shopping at Amazon or searching for a meal place with eating logs. On the other hand, it is not necessarily said that reviews and reviews by users are accurate results, as companies that operate paid reviews and reviews at a fee are talking about themselves. About such limitations of reviews and reviews,TripExpertPointed out.

TripExpert - The Limits of User Reviews: A Study of TripAdvisor and Yelp
http://www.tripexpert.com/articles/limits-of-user-reviews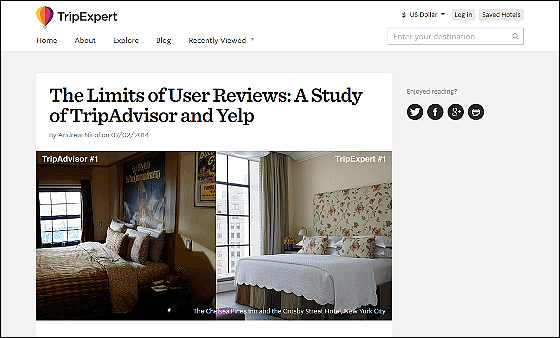 Now it seems that there is no product review unnaturally, but in 1999 a general user can fill out a review of consumer products such as cameras, books and toys "Epinions.comThe birth of "was considered a groundbreaking idea at that time. Epinions operates as of 2014 and it is an important factor for consumers to make decisions.

Where else to eat? When it says "Yelp, Home appliances and everyday miscellaneous goods are "Amazon", books are lost "GoodreadsFor hotels staying "trip advisorThere is ", which becomes a reference at the choice of the doctor"Healthgrades"There are various reviews reviews sites such as. User reviews can not only help people improve the way money and time are spent on products and services but also trigger the improvement of quality for restaurant owners and manufacturers.

However, in the case of mistake himself in the Scottish "The 87th best tourist attraction"As a review of Scotland women and Tumon Beach hotels reviewed as"The sea on the beach is beautiful but covered with sandThere are times when you are misled by posts of lacking knowledge, such as a man in Hawaii who posted, so user reviews and reviews may not necessarily produce accurate results.

◆ 1: Motivation to write a review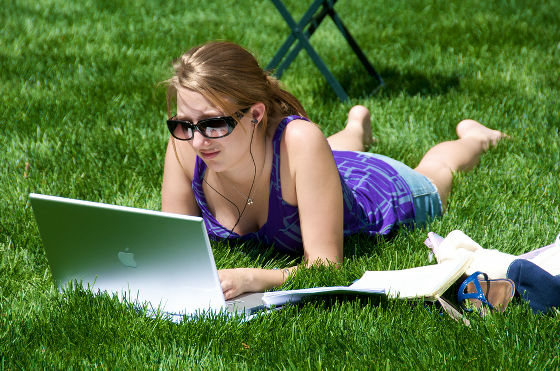 ByEd Yourdon

For word-of-mouth sites like Yelp and TripAdvisor, it is important to know the trend of "Who will write a review?" For example, people who write reviews tend to write good / bad experiences, not just positive or negative impression of just "OK" written. Many of the review stated schemes adopt "five star review" that adds 1 star to 5 stars, but this 5 star review is written regardless of the experience experienced by customers To be holding.

"Night club penaltyIn the word of mouth called "clubs and bars," bad experiences may be written by one star in the hotel review area with famous clubs and bars. Many are many in New York's bars and clubs that have poorly dressed clothes that bouncers (bouncers) are dirty and that have discriminatory "selective doors" that refuse to enter male-only groups. In short, despite reviews that the hotel did not even stay overnight, it sometimes has the wrong impression that "Is there a problem with hotel services and rates due to the small number of stars?"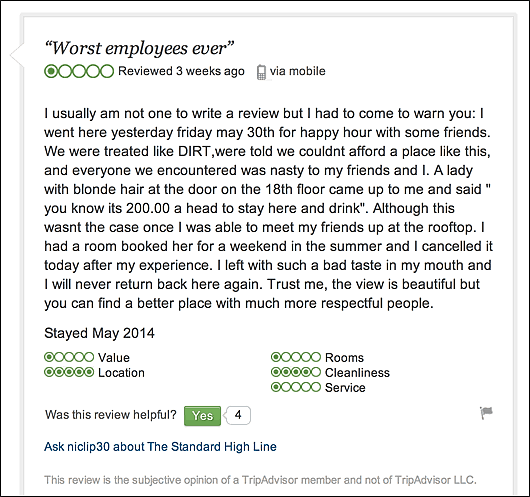 These nightclub penalties apply to all facilities such as golf courses and casinos which are attached to the hotel. Just by clearly distinguishing the nightclub penalty, even the same hotels reviews will show a big difference as follows.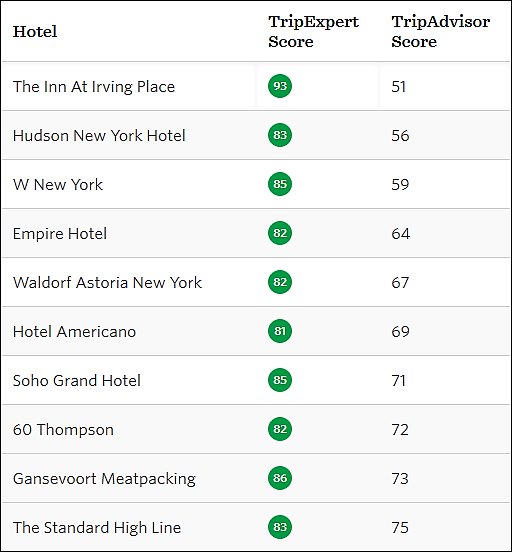 TripExpert investigated 447 hotels in New York that are registered in the U.S. to investigate why one star is attached besides "exclusion by bouncer". I classified the contents attached with 1 star, and 41% of all 1 star was "service"It turned out to be a claim concerning. This percentage tends to be higher as it is a luxury hotel and it will vary up to 46%.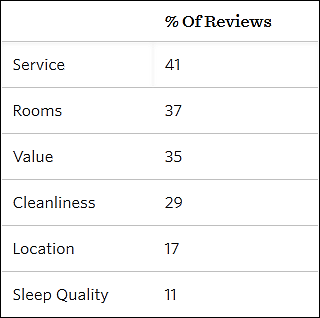 It is said to be the best hotel in New YorkThe St. RegisIn the following one-star review titled "I will never come again" has been posted for the reason that "staff was blunt and poorly friendly" as follows.




According to a survey of "Where do you place importance on hotel choice?", One of the important factors in deciding where to stay is of course the quality of service, the most important thing was "Location: 30 % ", Then" bed comfort: 29% ", thirdly" employee service: 24% "answer results. Elements of emphasis on people differ so it may be difficult to judge by just "one star".

It is also important whether the hotel accommodation fee that you stay is worth the amount, but sometimes a highly rated review is "Excessive expectationThere are times when it will let you have. The hotel rated No. 1 in Rome with a rating of 99 pointsAppia Antica Resortis. On the bedside of a clean room is written that the word "rest" by the language of each country and the staff are very nice and helpful.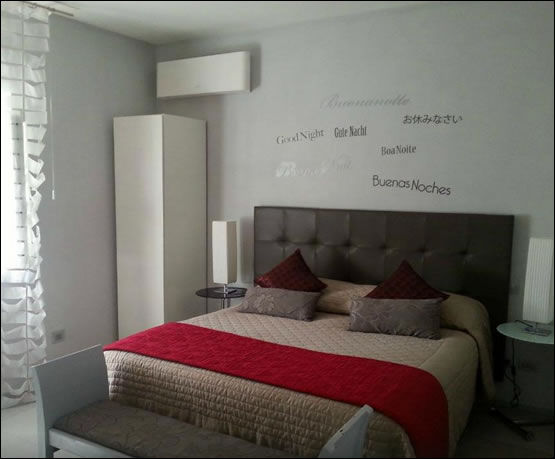 The hotel that is rated Rome number 1 by TripExpert,Spanish StepsThe luxurious garden was set up right next toHotel De RussieHowever, in the word of the word, several one star reviews are attached, and contents which are "too expensive" "disappointing". Because it is a hotel to use for honeymoon travel and the like to make it nearly 100,000 yen per night, although it gets a high evaluation as "special expenditure once in a lifetime", it may be said that it will be low evaluation as a mere traveling use .

◆ 5: Impersonation Review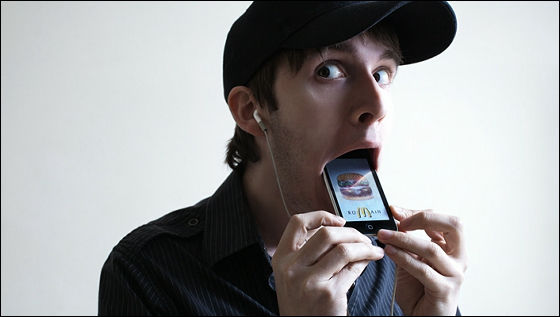 ByRomain Ballez

Although it gained high evaluation by camouflage review which became problem in Japan, the same thing is happening also in Yelp and TripAdvisor. According to some estimates it is estimated to be 40% of the total,A study at the University of California, BerkeleyAccording to the result that the review star adds only 0.5 stars, the sales of the most popular time zone increase by 13% ~ 34%(PDF file) Study of Harvard Business SchoolThe addition of one review star is said to lead to an increase of 5-9% of revenue.

FiverrIn the cloud platform like, we sell the review stars to hotels and restaurants for 25 cents a day (about 25.5 yen), and the review impersonation is cheap. Yelp and TripAdvisor have introduced excellent algorithms that grow by machine learning, which can automatically search out suspect reviews and delete them, but the trick system to trick these systems into enormous assets Because there are many companies to be put on, it is a state of toughness.

◆ 6: Population Analysis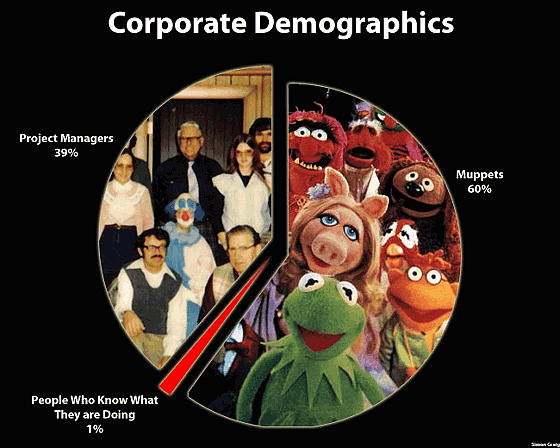 BySimon Greig

In some word-of-mouth websites, the accuracy of the reviewers may be lacked, as the demographics of the reviewers are skewed. For example, in Yelp, it is estimated that among women who write reviews, at least 60% of female users are expected, but women are more interested in diet and health considerations than men, and vegetarians in the United StatesVegan(Full vegetarian) ofThe proportion of women is 79%It will be. As a result, differences in men's and women's interests may cause a difference in the review evaluation. Movement-selling cinnamon roll shop that gets high reputation in New YorkThe Cinnamon SnailIs selling organic foods and it is a popular shop in Vegan, but if a carnivore person sees only the number of review stars and eats it may feel unsatisfactory.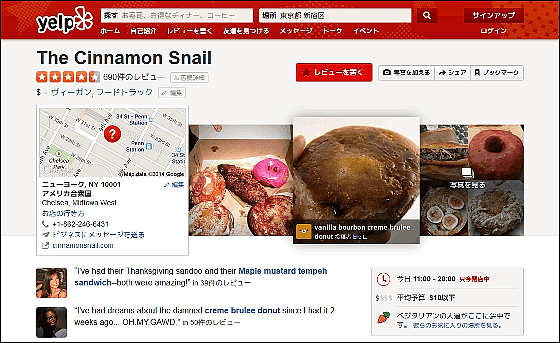 ◆ TripExpert's solution
There are many problems with the 5 star review and evaluation system, but many people tend to refer to the number of stars as a comprehensive evaluation because it is not possible to read all review posts when selecting restaurants and hotels . There, TripExpert, as a solution to provide accurate hotel reviews to users,Lonely Planet·Frommer's·Travel + LeisureWe use data on travel-related websites and publishers like combining reviews from 20 different professional writers to provide accurate hotel quality, in short, indeed, various reviews reviewed in detail So we should judge comprehensively not only from a single point of view but on various criteria.