NHK is releasing next-generation CAS technology that replaces B-CAS that has overcome encryption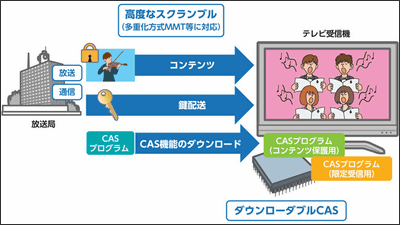 In order to watch digital broadcasting in Japan, you need to insert a B - CAS card in the TV. thisB-CAS cardIs to make it possible for only paying broadcast subscribers to see applicable programs in BS digital broadcastingConditional Access System (CAS)Although it appeared as, but since 2004 it has become an indispensable card to watch digital broadcasting.

Since the encryption of this B-CAS card was broken, in 2012Procedure to turn B-CAS card into an unlimited card for pay broadcasting turned outAnd thenI illegally alter and sell the B-CAS card so that paid broadcasting can be viewed for freeIt appeared to those who did, and made the public a noise.

Next-generation CAS technology replacing such B-CAS is currently being developed,NHK Giken Open 2014It was published in.

Exhibit item 18 Next-generation CAS technology | NHK Institute of Technology Open 2014 - Kokoro moving technology -
http://www.nhk.or.jp/strl/open2014/tenji/tenji18/index.html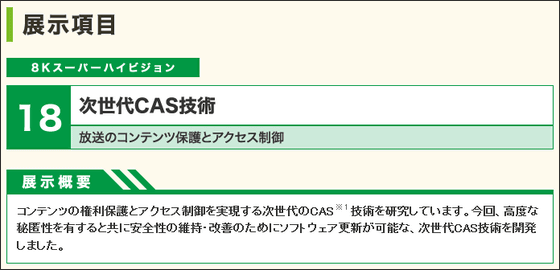 "Next-generation CAS technology" is research and development being advanced to realize content rights protection and access control, "advanced confidentiality" and to be able to maintain and improve safety He said that he is aiming for "software update" possible.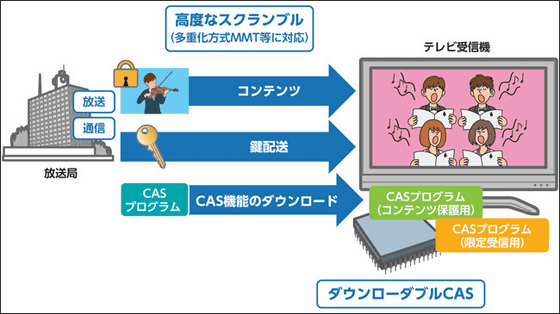 In order to realize "high confidentiality", we have adopted a scrambling method compatible with MMT (media transport method), equipped with switching function of encryption method and tamper detection function by message authentication, and access control It will be possible. Since there is an encryption method switching function, even if encryption is broken like B-CAS, encryption algorithm can be changed.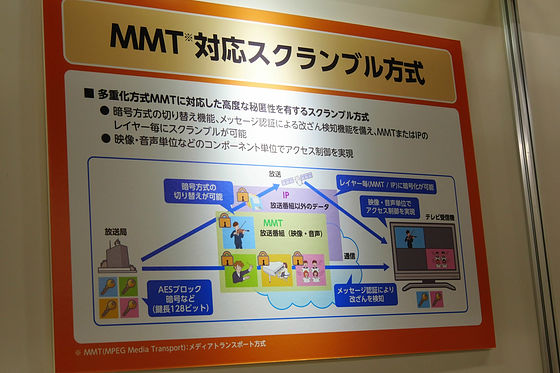 There was a scrambler that demonstrated MMT scrambling method in the booth.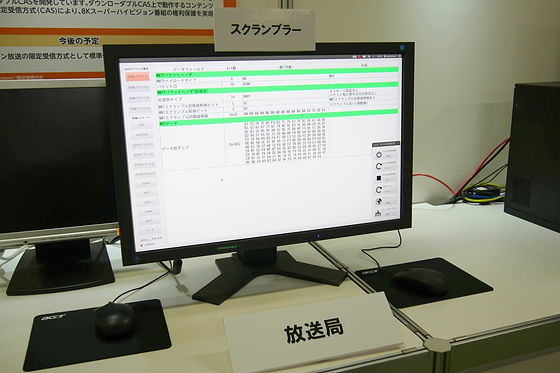 And, the technology which has been developed to enable "software update" is Downloadable CAS (D-CAS). This is a receiver platform that can securely install and run the CAS function in the form of software, installing multiple programs, downloading a new CAS program in case of security problems, secure the television It is a technology that can keep it in a state.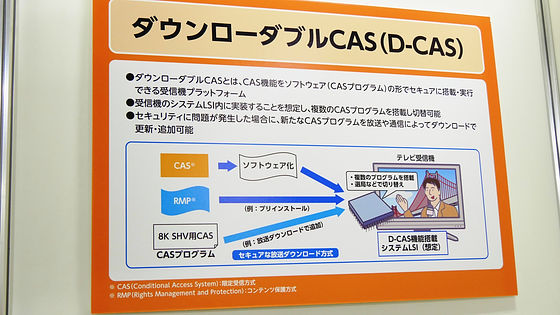 This is the prototype of D - CAS. By the time it is put into practical use, it is said that this will be a small chip and will be installed in the TV.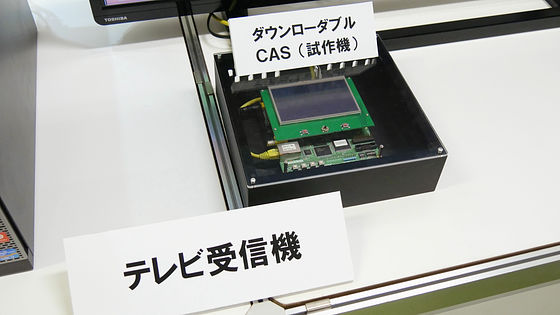 The next-generation CAS technology introduced at the booth is said to be progressing toward practical application in order to advance the standardization as the conditional reception system of 8K Super Hi-Vision broadcasting where the trial broadcast begins in 2016.