The 5.5-inch "iPhone Air" may be delayed in 2015 due to delay in thin battery manufacture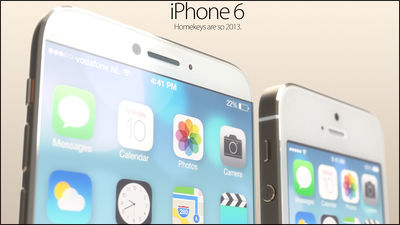 ByMartin Hajek

The next iPhone will become thinner while the screen size becomes as large as 5.5 inches, so from suppliers of parts "IPhone AirIt is said that it is called. The battery installed in such iPhone Air is also being slimmed down, but the production of this has not progressed well and the release of iPhone Air may be delayed until 2015, it is reported by multiple media I will.

New iPhone Battery Compassion Factory Power 搶 | A10 Schedule Requirements Request | 20140421 | Industrial Business Times | Industry and Commerce e
http://ctee.com.tw/News/Content.aspx?id=514479&yyyymmdd=20140421&f=9586020c7c19e6c3e26d7b8551ebcdb1&h=1d37976b8f2475634ce463e729024bfe&t=tpp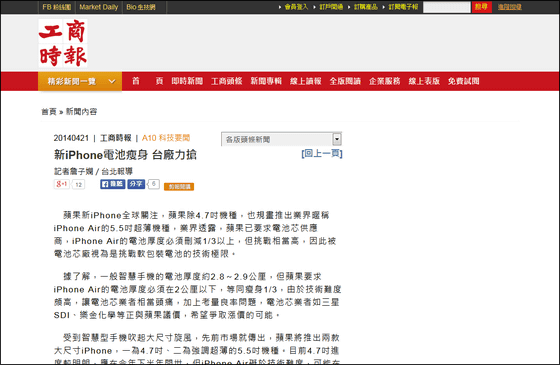 Battery-production problems delay anorexic 5.5-inch 'iPhone Air' • The Register
http://www.theregister.co.uk/2014/04/22/batteryproduction_problems_delay_anorexic_55inch_iphone_air/



According to Kogyo Shimbun, standard batteries for smartphones are 2.8 - 2.9 mm thin, but Apple seems to have asked suppliers to produce very thin batteries less than 2 mm to this supplier It is said that companies that are responsible for manufacturing batteries are struggling.

Early this month, "The 5.5-inch iPhone has a problem with the display touch sensor and the release is delayed"Although it was reported that officials leaked to The Register, according to the Industrial and Commercial Newsletter, it seems that there is a problem with the battery. Whether these problems are actually occurring is unknown, but both of the media are compiled "Apple is currently manufacturing a 5.5-inch iPhone, this release will be delayed until 2015It is a fact that reports it.

In addition, according to Industry Commercial Newsletter, in addition to the 5.5-inch iPhone, iPhone with a 4.7-inch display seems to be released in the second half of 2014, and this is said that production is proceeding as planned. If the iPhone becomes thinner than the current iPhone 5 · 5s · 5c with a very thin battery and touch sensor display, I am convinced that what is called by the nickname "iPhone Air" is called It is unknown for now whether this is adopted as the official name.