Interactive Cooktop with near-future stove that allows you to search recipes, SNS, and mail with touch panel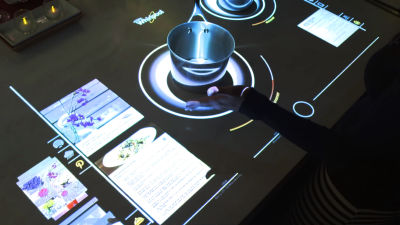 Connect to the Internet, such as a refrigerator and TVAlthough the number of household electrical appliances has increased, not only is it realized flatness at IH but also interactive future type stove that allows recipes and mail contents to be displayed directly on the space on the touch panel, and information can be shared by SNS "Interactive Cooktop"is.

Interactive Cooktop: Cook Without Limits | Whirlpool CES 2014 Hub
http://ces.whirlpool.com/interactive-cooktop/interactive-cooktop-cook-without-limits/

You can check how you actually use Interactive Cooktop from the following movie.

Whirlpool® Interactive Cooktop at CES 2014 - YouTube


Interactive Cooktop looks like a standard IH cooking stove at first glance, but as you slide your hand into nothing flat space ... ...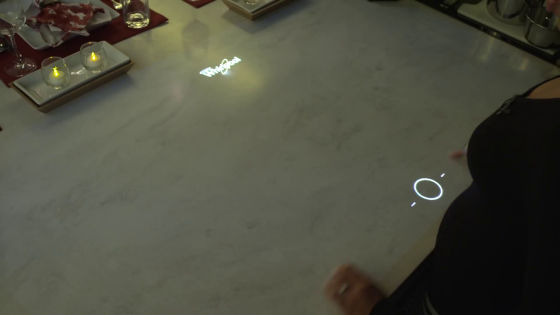 The line runs to the space that looked like a table.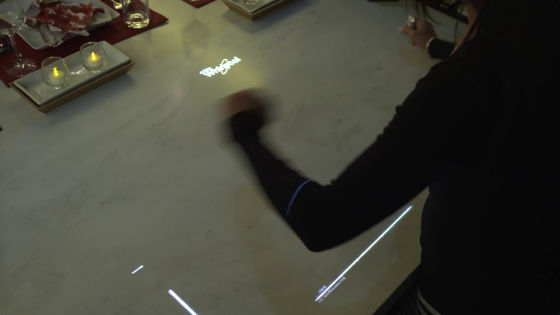 At both endsPinterestIcons such as Twitter and Facebook are displayed.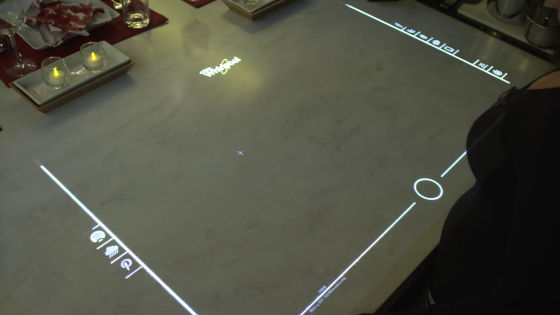 Round light appears in the middle of the space. You can cook here if you place a pot etc.



A woman putting a small pan.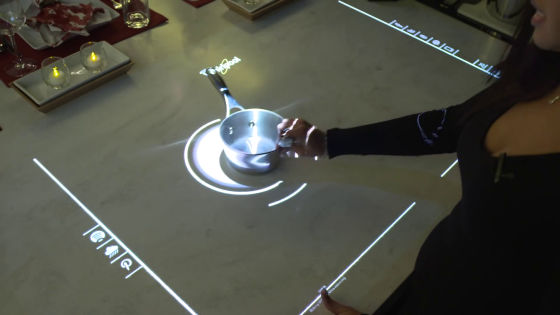 I will slide my hand further in front of the space.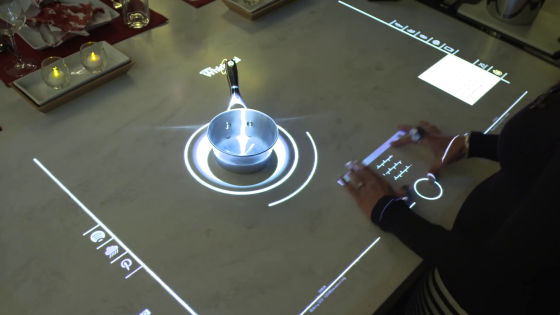 Then the keyboard appeared.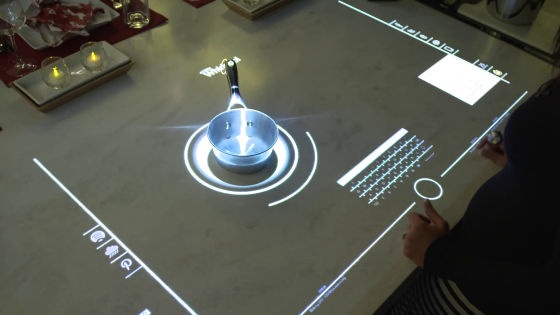 You can use the keyboard during cooking to examine recipes and use SNS.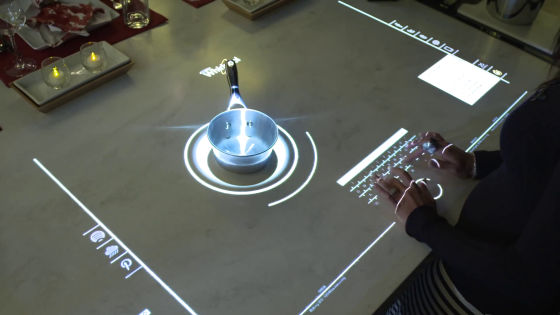 Touch the photo displayed at the left end of the space ......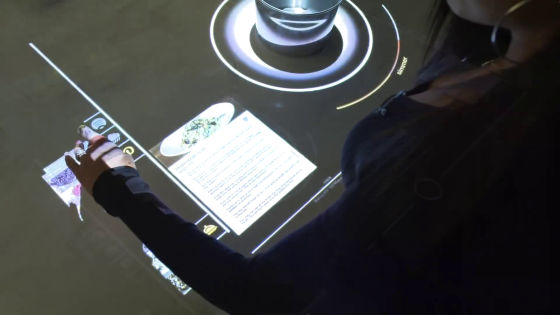 Move inside the frame.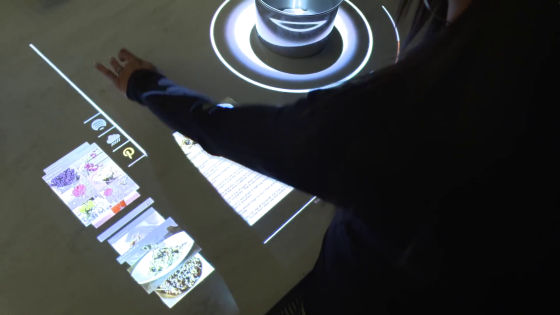 Then the picture which was displayed small outside the frame was enlarged and displayed. It seems that it was an e-mail attached with photos of flowers, apparently with messages attached. In addition, the recipe of cooking is also displayed under the e-mail.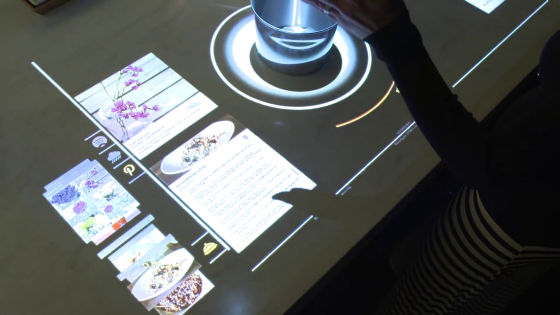 You can also make recipe search crispy.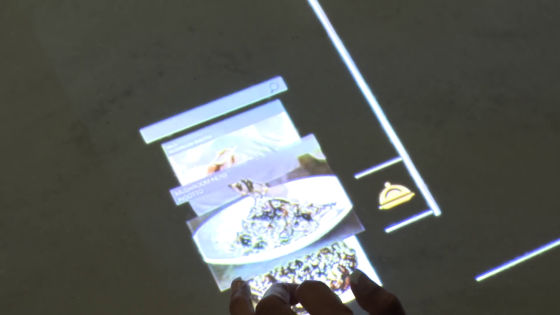 After displaying recipe details in the frame, it is possible to scroll the screen with your finger to read the contents so that you can use the tablet.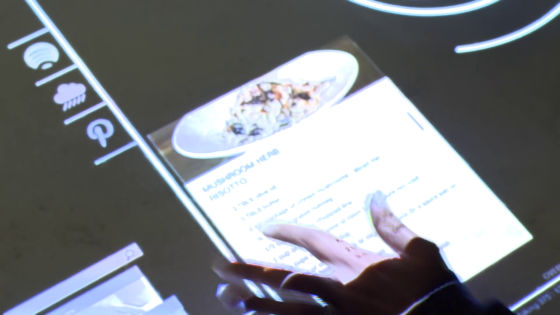 Since each button of each SNS is also available, it is easy to contact someone and share information, and there will not be such a situation that you mess with the smartphone in the kitchen and submerge.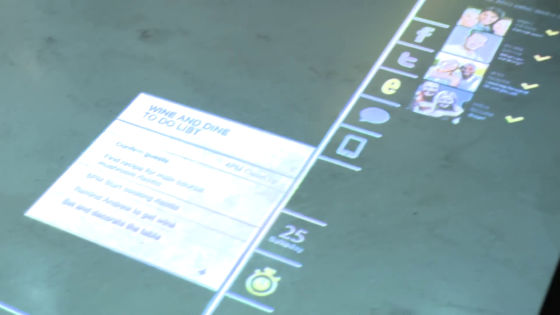 It is a kitchen that is easy to get rid of, but the Interactive Cooktop is completely flat when seen from the side. Cleaning seems to be as easy as possible.



I am making this innovative kitchenWhirlpoolA company. The Interactive Cooktop is a device that allows users to do what they want, even when they are standing in the kitchen, such as "I need a recipe" "I want to check mail". I study the recipe of dinner, exchanging messages with my family while cooking safely, and the concept that a person standing in the "kitchen" which is the heart of my family can truly move as I am thinking. Although the lives of people are becoming complicated by the evolution of technology, it is said that it realized a device that can be enjoyed simply, easy to use, by making it intuitive design.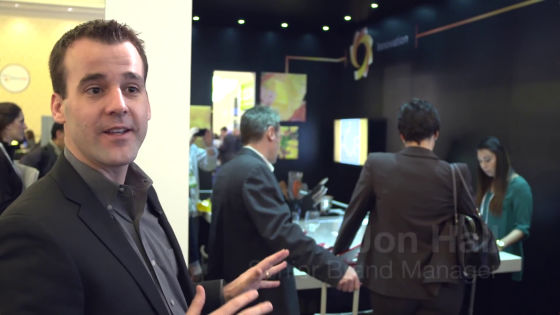 The price and release date are undecided at this time.

How about burning when you install a touch panel on a stove? I think, but already a stove called "The sensor senses the position of the pot and heats only the area where the pot is located" has been developed and released.

Thermador Freedom auto-sensing induction cooktop hands-on (video) | The Verge
http://www.theverge.com/2012/1/8/2693038/thermidor-freedom-auto-sensing-induction-cooktop-hands-on-video

ThermadorThe company's "Freedom" is the whole space heater, which senses the place where the pan is placed and heats only the place. When IH cooking heater is used, there are times when you put your hands in a place that you are carelessly hot and you burned, but with Freedom this kind of situation does not happen.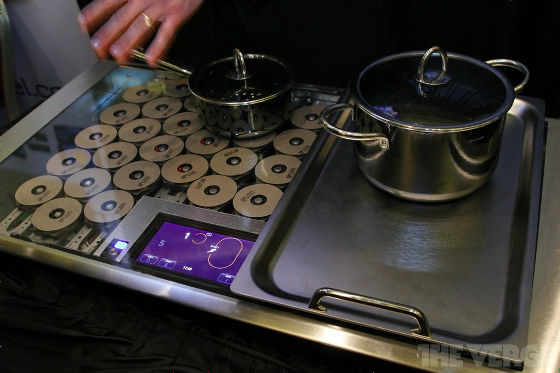 Actually using Freedom can be confirmed from the following movie.

Thermador Freedom Induction Cooktop hands-on - YouTube


This is Freedom. At first glance IH cooking heater is absolutely no choice.



Since the whole space is a heater, there is no fixed position, so it is possible to heat the pan anywhere you put it.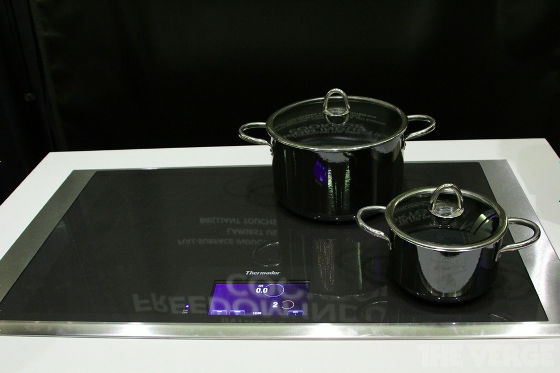 The panel shows how many pots, pots, and where they are placed.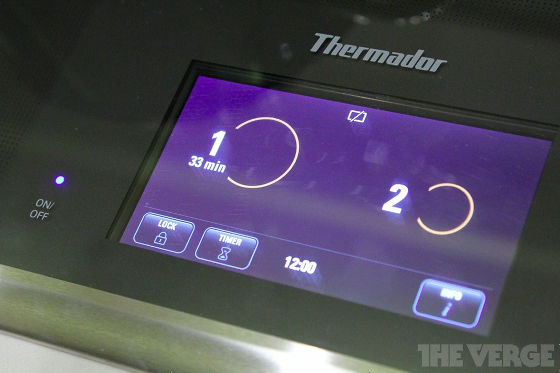 Operate the thermal power with the touch panel.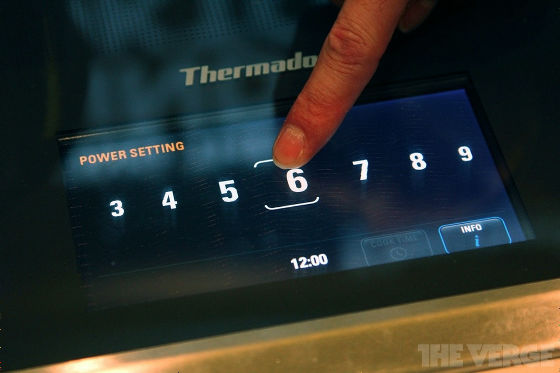 It is convenient with a timer function.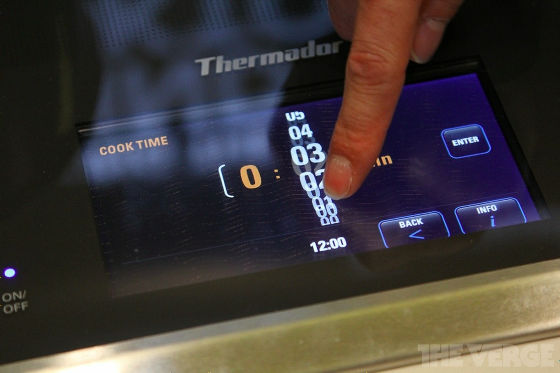 I do not know which part is hot with just looking at it.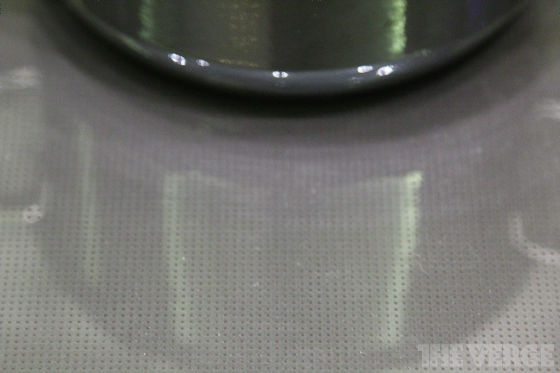 Since only the surroundings of the cookware are heated, it is safe because you will not burn yourself even if you touch other parts.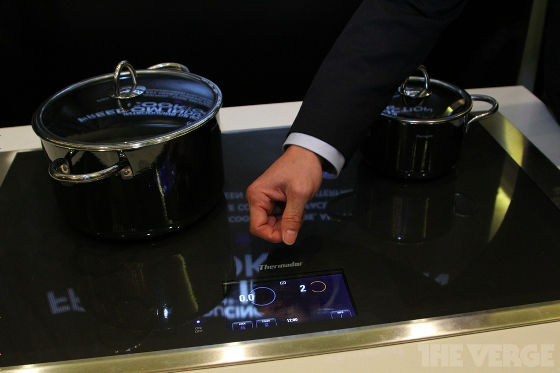 How does it work? It makes me feel like this by making it easier to understand inside.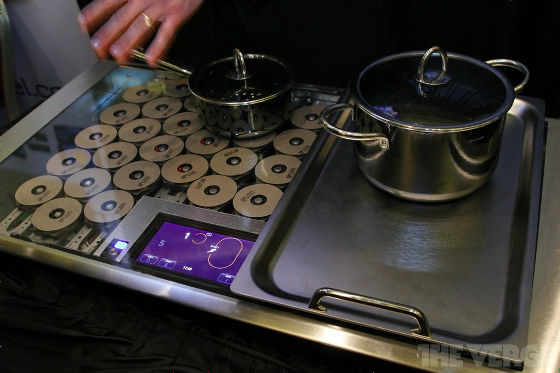 There are 48 sensors under the top plate so that you can accurately grasp the position of the pot. In addition, Freedom alreadyIt is sold, The suggested retail price is 4949 dollars (about 500,000 yen).