Nikon's first Wi-Fi / GPS compatible digital single lens reflex camera "D5300" will be released in mid-November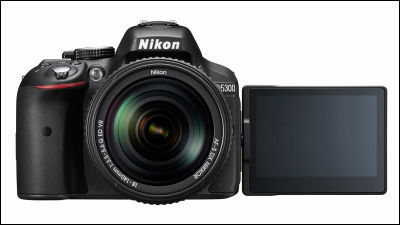 Nikon is the first Nikon digital single lens reflex camera to be equipped with Wi-Fi and GPS single-lens reflex camera "D5300We will release.

Nikon | News | Press Release: Nikon D5300, entry model equipped with Wi-Fi®, position information function (GPS) built-in Variedangle LCD monitor with Nikon digital single lens reflex camera
http://www.nikon.co.jp/news/2013/1017_d5300_01.htm

D5300 | Nikon Imaging
http://www.nikon-image.com/products/camera/slr/digital/d5300/

"D5300" is equipped with a newly developed Nikon DX format CMOS sensor with effective pixels of 24.16 million pixels, optimized for high-performance digital single lens reflex cameras, and is equipped with a new image processing engine "EXPEED 4" , Noise reduction (NR), auto white balance, color reproducibility, and gradation processing are greatly improved.

The size is about 125 mm in width, about 98 mm in height, about 76 mm in depth, about 530 g in mass.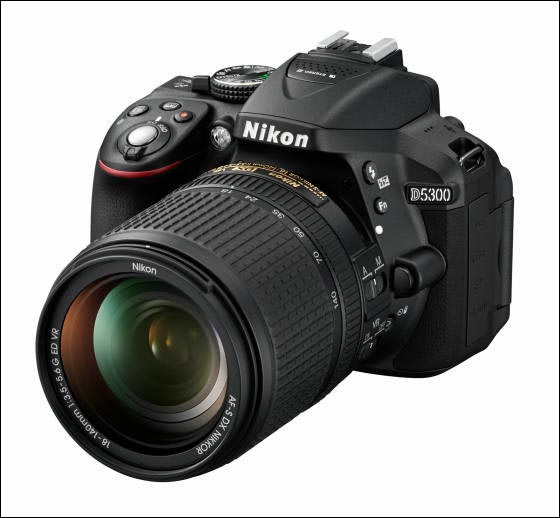 We adopted a new material using carbon fiber, further abolished the metal chassis inside the body, and realized high strength, small size and light weight by the monocoque structure which makes the cover composition into a box-like integral structure.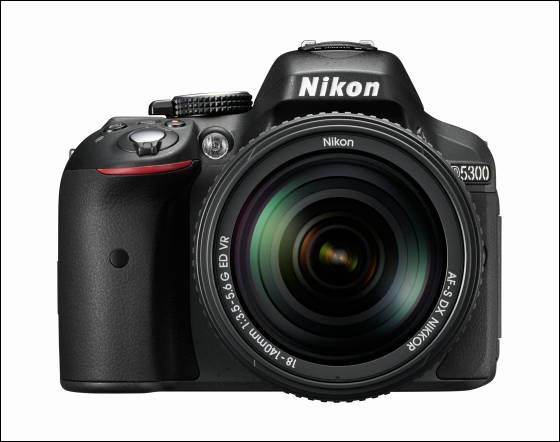 Also,Wi-Fi function is installed for the first time as a Nikon digital single lens reflex camera. Wirelessly transfer captured images and images stored in the memory card to smart device terminals such as smart phones that have installed the dedicated application "Wireless Mobile Utility", and have the function of collectively sending images when the communication environment improves doing. Furthermore, it is possible to display the live view of "D5300" on the screen of the smart device terminal, and to perform remote shooting while checking in real time.

A wide viewing angle wide 3.2-inch vari-angle LCD monitor with about 1.04 million dots, which can be easily taken with a free angle.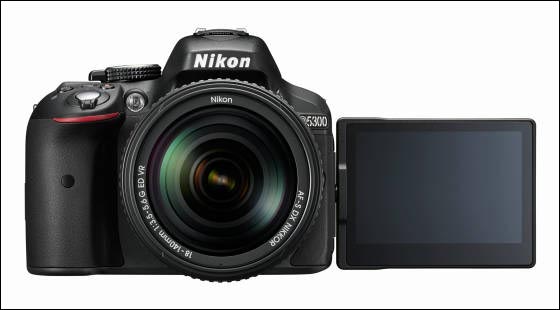 Horizontal Opening Variation Angle is movable 0 to 180 degrees to the left side, 90 degrees clockwise to rotate in the open state, 180 degrees counterclockwise, from the low angle to the high angle, self-shooting at an angle freely open and close You can shoot.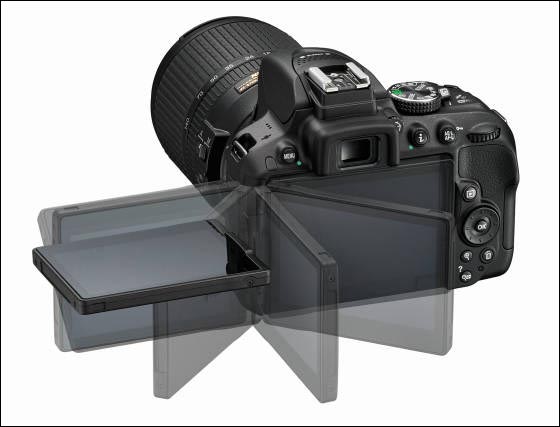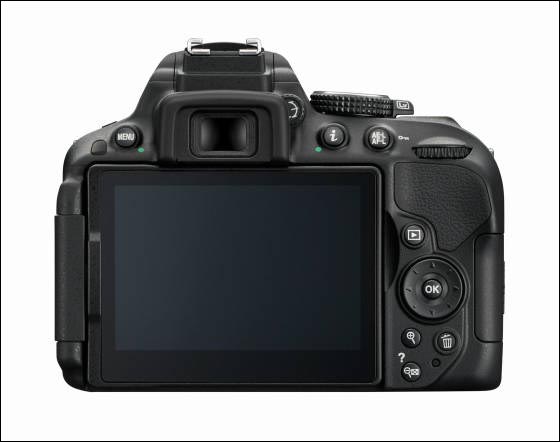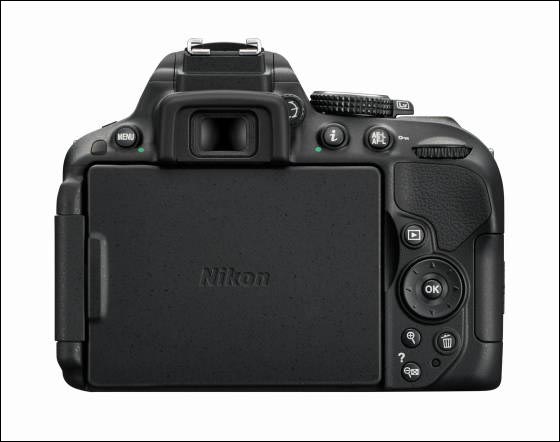 In addition, it has a GPS function to record the position information at the time of shooting and the travel route, Nikon's software "ViewNX 2", image sharing and storage service "NIKON IMAGE SPACE", in cooperation with marketing map software, It is possible to display location information on the map and share images with location information.

Moreover, it carries full HD movie shooting function "D movie", it corresponds to movie shooting of 1920 × 1080 (60p). With the new image processing engine "EXPEED 4", you can shoot high resolution images with noise, false colors, moiré suppressed, and have a focus tracking function for moving subjects.

The color variation develops three colors including black. This is a "red" model.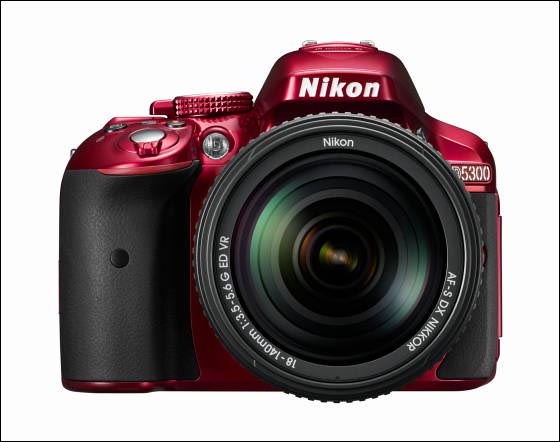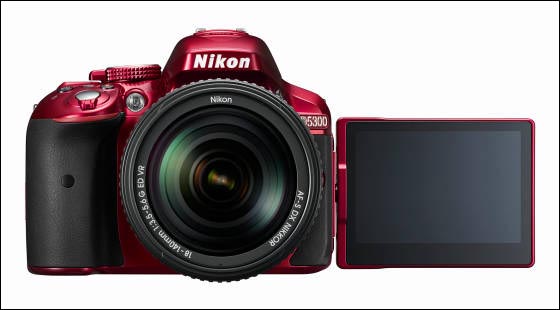 This is a "gray" model. Please note that the body only is released with black only.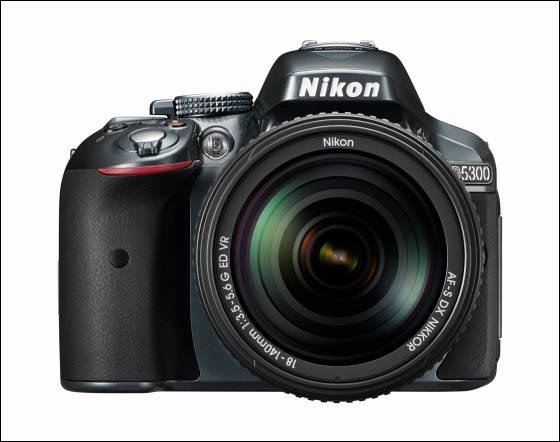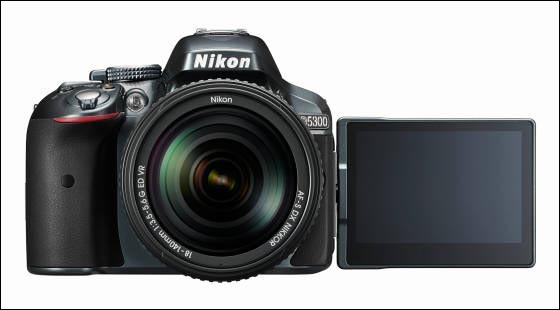 The Nikon Direct Limited Silicon Blower, Lexar SD Card (8 GB Platinum II 200 Hz SDHC UHS - 1 Card Class 10), Reversible Pouch, 10% Coupon, 3 Dimensions of the D5300 are scheduled to be released in the middle of November A new launch campaign with secure annual support is being held, "D5300 body (single body)"83,800 yen(Tax included), "D5300 18-140 VR Lens Kit"129,800 yen(Tax included) has become.

Enjoy photo life! D5300 New Release Campaign | NikonDirect - Nikon Direct
http://shop.nikon-image.com/campaign/d5300/index.html