Madoka ☆ Magika Movie releases "Ultimate Ticket" etc. by Eizumi Electric Railway in commemoration of the public release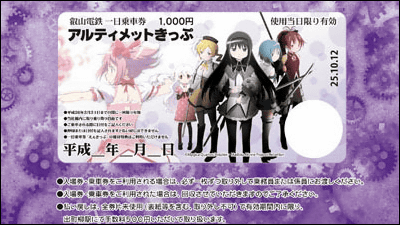 © Magica Quartet / Aniplex / Madoka Movie Project Rebellion

On October 26 "Magical Girl Madoka ☆ Magica [New Story] A Tale of RebellionTo celebrate the public release,Eiyama Electric RailwayWill pre-order the special ticket on October 12th and 13th. From the eleventh day before this day, a head mark adopting the character "Madoka ☆ Magica" will also be posted.

About the release of "The Movie Magical Girl Madoka ☆ Magica [New Story] Tale of Rebellion × Eizan Train Special Ticket" | Eizan Train - Sightseeing Tour to Kyoto · Rokuhi (Hiei, Kurama, Kibune)
http://eizandensha.co.jp/news/2601/

At Eizan Electric Railway, we operate a tourist train "Kirara", but since this will be linked to the manga magazine "Comic Time Kirara", we will collaborate with Yoshifuna since 2012. The collaboration with this Madoka ☆ Magica is also one of them.

Special ticket is "Admission ticket of Demachiyanagi station" "Ticket of Shogakuin station from Shimokitayanagi station" "Ticket of Yase __ie Yamaguchi station from Demachiyanagi station" "Ticket of Iwakura station from Demachiyanagi station" "Yease Hiei Yamaguchi Station There are seven types of train tickets at Toyachiyanagi Station, "Kurama Train Station from Iwakura Station" and "1 day ticket" Ultimate Ticket ", set of 2,500 yen. Prior sale will be held at the Eizan train booth at the "20th Railway Festival" held at Hibiya Park on October 12 and 13. The serial number can not be specified, and the number is sold at random. Purchase restrictions are undecided, but depending on the situation on that day there is a possibility of limiting the number of sets that can be purchased.

Mount of special tickets, front side. I am using key movies.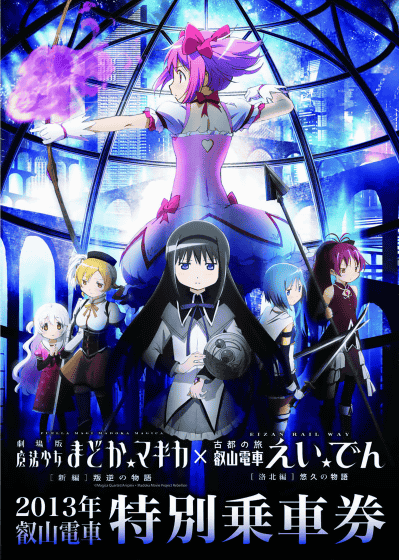 And behind. Because it is a structure where two cardboards are piled up, even if the ticket is cut out, it does not affect the picture on the front side. At the time of use, the ticket will be stamped on the surface of the ticket.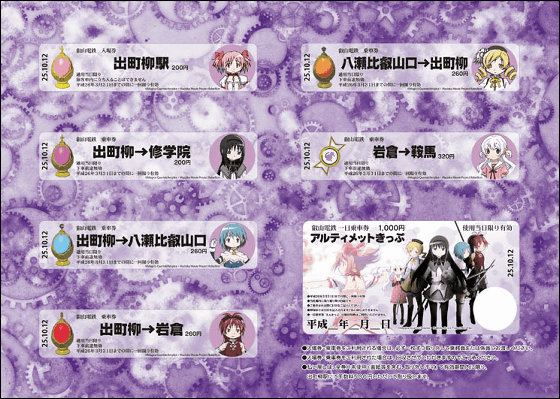 Prior to this advance sale, it is also decided to post original headmarks on two sets of 700 series vehicles from October 11. Operation is planned until the end of March 2014.

On the side of Mr. Kurama, Yase ___ HEIJI in 723, Madoka & Homura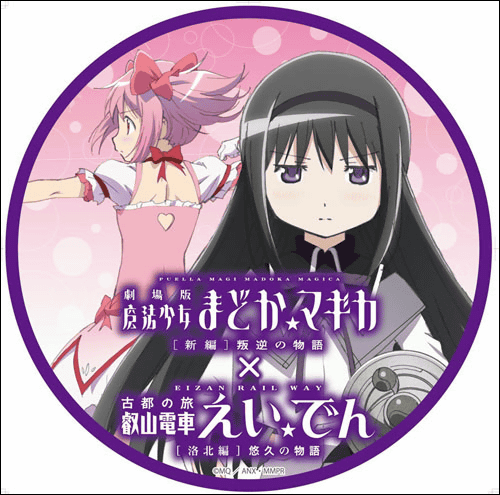 Nagisa & Mami is on the side of the side of 723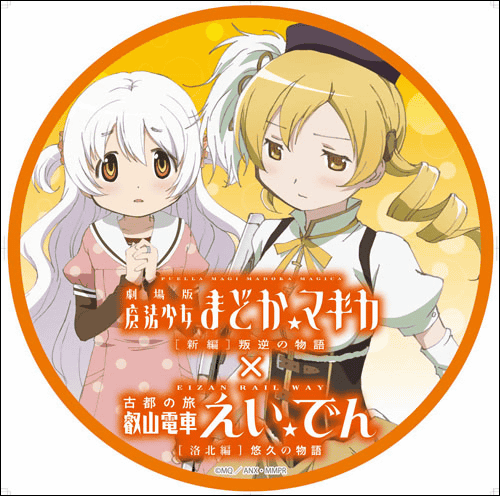 Kurako / Yase ___ Hii side of 724 car, Kyoko & Sayaka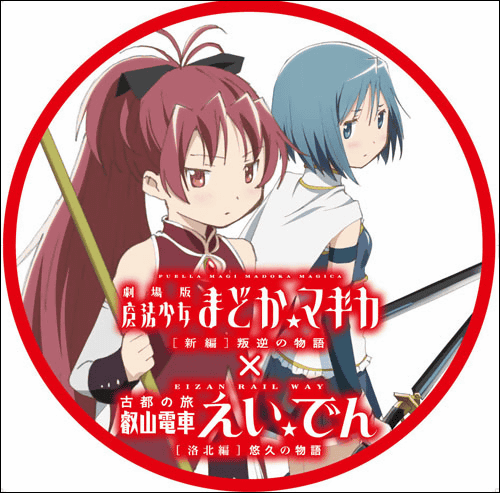 Kaiubei side of 724 th car.