Sales of "Hatsune Miku V3" which adopted singing voice synthesis technology VOCALOID 3 started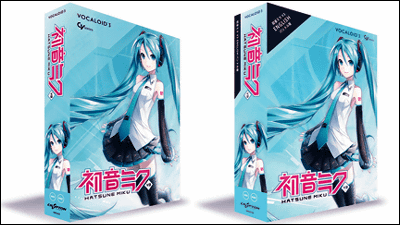 Krypton · Future · media will be on September 26 (Thurs) "Hatsune Miku V3We released the. By adopting Yamaha's singing voice synthesis technology "VOCALOID 3", it has realized a smooth singing voice, and at the same time, "Hatsune Miku V3 bundle" which recorded English version of the singing voice library is also on sale.

Hatsune Miku V3 (HATSUNE MIKU V3) | Krypton
http://www.crypton.co.jp/mikuv3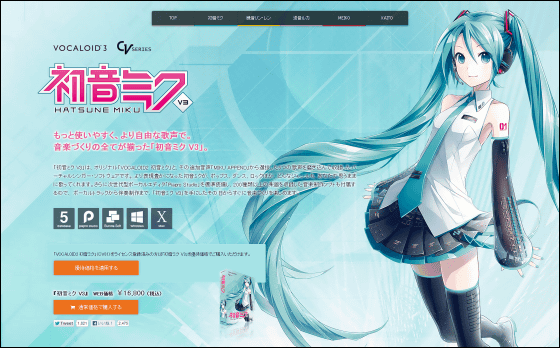 "Hatsune Miku" is a virtual singer software released on August 31, 2007, coupled with the character's affection, gained popularity in a wide range. Even though I have not used it as software, there are many people who know the character.

The singing voice library recorded in "Hatsune Miku V3" which was released this time, its specialty genre · good temper tempo · good points are as follows.

◆ 1: ORIGINAL
Neat and cute, Original Hatsune Miku
Specialty genres:Idol Pops / Dance Pops
Good tempo:70 to 150 BPM
Good range:A2 to E4

◆ 2: SWEET
Including a lot of breath components, a sweet whispered voice
Specialty genres:French Pop / Ballad, Electronica etc.
Good tempo:55 ~ 155 BPM
Good range:F2 to D4

◆ 3: DARK
Serenity, voice of slightly melancholy expression
Specialty genres:Ballad, jazz, fork, ambient etc
Good tempo:60 to 145 BPM
Good range:D2 to B3

◆ 4: SOFT
Generally gentleness soft, gentle voice
Specialty genres:Soft rock, ballad, fork, ambient etc
Good tempo:70 to 150 BPM
Good range:A2 to E4

◆ 5: SOLID
Voices stiff and tight, voices with tension
Specialty genres:Pops, rock, dance, electro etc.
Good tempo:65 to 160 BPM
Good range:D2 to C4

"Hatsune Miku V3" has been developed with emphasis on compatibility so that you do not lose voice quality images even if you play and edit songs created with "VOCALID 2 Hatsune Miku" or "MIKU APPEND" so far. Moreover, by including a lot of the sound number of Triphone (triphone) adopted by VOCALOID 3, it is said that the connection of smooth sound was realized.

In this "Hatsune Miku V3"English singing voice library"Hatsune Miku V3 bundle" was added.

◆ 6: ENGLISH
Glossy and calm, natural English voice
Specialty genres:House, techno, crossover, etc.
Good tempo:100 to 130 BPM
Good range:B2 to B3

Both of them are vocal editors of Krypton · Future · Media DevelopmentPiapro Studio"Included, more intuitive vocal part creation possible. A function that can read other VOCALOID 3 singing voice library products is under development and will be offered in the form of an update in mid-November. Also, although it was correspondence for Windows only for a long time, Piapro Studio also corresponded to the Macintosh in response to the fact that the VOCALOID API supported Macintosh. As a result, the corresponding OS is Windows 8 (32 / 64bit) · Windows 7 (32 / 64bit) · Windows Vista (32bit) · Windows XP (32bit) · OSX 10.7 · OS X 10.8.

Price is "Hatsune Miku V3" including tax 16,800 yen, "Hatsune Miku V3 bundle" tax included 21,000 yen. Both of them are eligible for sale for licensed users of "VOCALOID 2 Hatsune Miku" and "MIKU APPEND".