Personal news site "Kato House discontinuance" opened Declaration of the end of the news update on the 12 th anniversary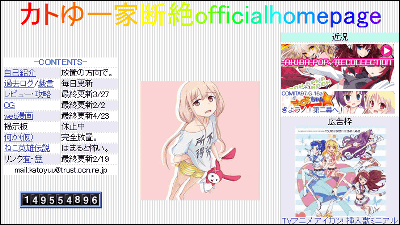 Under the link to the news article, the administrator introduces it to the reader with a short comment about one line, and it is expressed in the style "Luo series news site", and it is a style of personal news site "Katyuan house break"Celebrated its 12 th anniversary since its opening on July 15, and announced that it will close the update of the news with this.

Katyuan house break
http://www6.ocn.ne.jp/~katoyuu/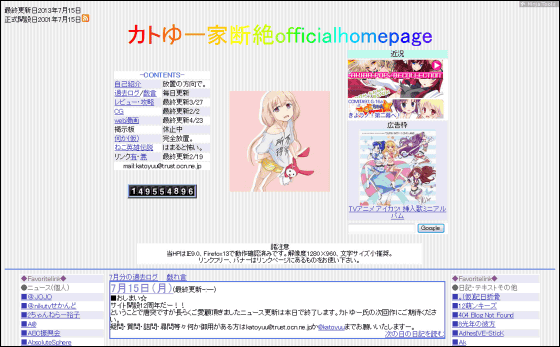 ■ Finished ☆
It's the 12th anniversary of site opening! It is!
Although it is a sudden thing to say, the update of news received for a long time has ended today. Please expect from Mr. Kato's next work.

"Kato Yuya Isolated" is a CG site / personal news site established in 2001, a site known for introducing to the reader if you find a huge number of news on the net. In the neighborhood of the personal news site, this "Kato family disconnection" and "Kaizu SP"Golgo 31It is sometimes expressed as "KKG" together, especially the popular site. As a style of a personal news site, there was a thing that pushes out the personality of the manager to the front and gathers the topic with that character, but Mr. Kato introduces a considerable number in a frantic way about news introduction It was.

According to Mr. Kato, the thing that was scheduled to quit on the 10th anniversary was a two-year "loss time" condition due to the Great East Japan Earthquake.

It was not here.https://t.co/BiBm2T6D5tWell, Really was going to quit on the tenth anniversary, but since the earthquake disappeared due to the earthquake disaster, it seems that the last two years was a loss time.

- Uncle Cure Atsuka (@ katoyuu)July 15, 2013

Moreover, it is stop of news update, and it seems that it will go on as a CG site after that.

Thank you very much for all the Mention ... I am sorry that you can not return one by one, thank you for borrowing this place. And the site itself is not closed! Up to now I've got a CG site and news site, but I just want to go back to the ordinary CG site!

- Uncle Cure Atsuka (@ katoyuu)July 15, 2013

By the way, the name "Kato Yuan break"Many candidatesMr. Kato himself selected from among. As he himself, he seemed to be in the direction not to put the word "Katyuu" in the site name, but that wish was passed through brilliantly.
in Note, Posted by logc_nt