The iPhone's name could be Telepod, iPad · Mobi · Tripod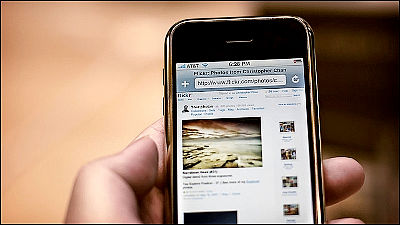 ByChristopher Chan

Ken Segall who worked with Steve Jobs for 12 years and made a marketing campaign Think Different and named "iMac", was named "iPhone's name"Telepod"Or"Mobi"Tripod"IPad"It was revealed that there was such thing as.

Apple considered calling iPhone the 'Telepod', 'Mobi', 'iPad', or 'Tripod', former Apple ad man reveals | 9to5Mac
http://9to5mac.com/2013/03/04/apple-considered-calling-iphone-the-telepod-mobi-ipad-or-tripod-former-apple-ad-man-reveals/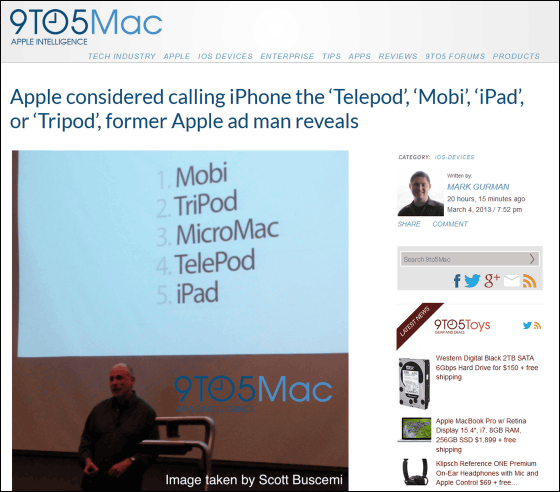 This is what Ken Segall told in the lecture of University of Arizona. Segall is a nominee for "iMac" and is also a party that later produced Apple's "i" series.

Telepod was the first candidate for a name. The reason is "It is a telephone of the near future atmosphere", the part of "Pod" used at that time was released later and was adopted for the iPod which will become popular It was. If Segall is an iPod initiatorTony FadellThinks iPod-phone project is the center of iOS developmentScott ForstallHe said that if he had overcome his plan, the possibility of being named Telepod was high.

"Mobi" is the name taken from the word "mobile" and Segall seems to like it as having a creative sound.

"Tripod" is a combination of the three features of phone, iPod, and Internet communication device, and although it was not chosen as the name of a new mobile phone, it has a considerable impact on Apple presentations and iPhone marketing places It was said that there was. In fact, Apple originally released iPhone as having the above-mentioned three features, but now "iPhone" has three or more functions and features.

"IPad" was also considered as the name of the iPhone. Even though today's iPad has the same function as the iPhone, this name can be said to be reasonable. But Steve Jobs said before, "There was a tablet plan before the iPhone, but eventually prioritized the iPhone," the iPad was to be carried over to the tablet.

Segall during the lecture.



In addition to "Telepod" "Mobi" "Tripod" "iPad", the name "MicroMac" is also displayed, but this was taken out to show the way of thinking in this lecture and is listed as a candidate It is said that it is not a name.

As iPhone was initially released the infringement of "IPHONE" trademark rightCisco SystemsAlthough it was fighting with, it finally resulted in both being able to use the name. After various ideas and conflicts, I have settled on the current "iPhone".

The state of the lecture can also be seen from the following movie.

Segall talks other iPhone name possibilities - YouTube

in Mobile, Posted by darkhorse_log