Accessories that sense the fate of human beings intertwining and the depth of work "SeldaOkutan"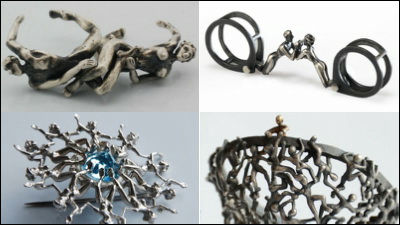 Events of this world have a fruit according to the futility of the previous life and it is the idea that everything is decided fatefully as "work", but lovers who do not reach reaching the people and hands of criminals, A meaningful accessory that you must feel business, such as those who are tangled with each other complicatedly,Selda Okutan"is.

Selda Okutan
http://www.seldaokutan.com/

SELDA OKUTAN by Selda Okutan on Etsy
http://www.etsy.com/shop/SeldaOkutan/

◆ 01.Prisoners of Love/ $ 167.00 (about 13,000 yen)
Two people who are caught, the hands reaching and they do not reach.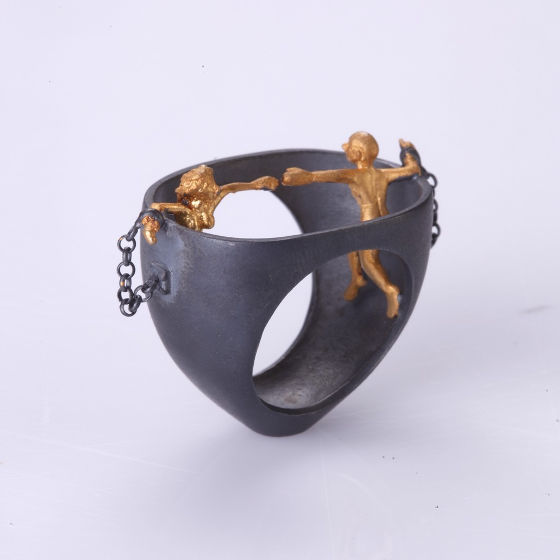 It is like this when attached to your finger.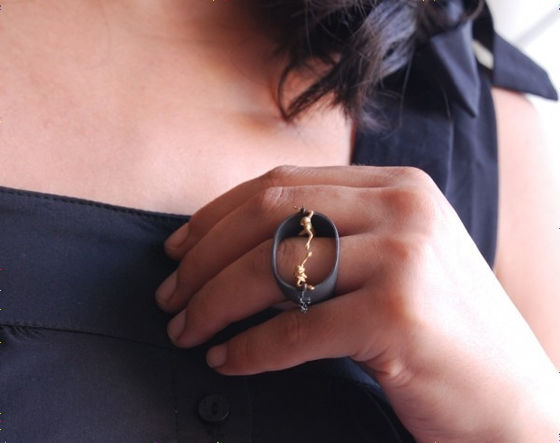 ◆ 02.For Love Ring Volume II/ $ 195.00 (approx. 16,000 yen)
A ring for two fingers which shaped two intertwined men and women. Women are silver, men are made of bronze.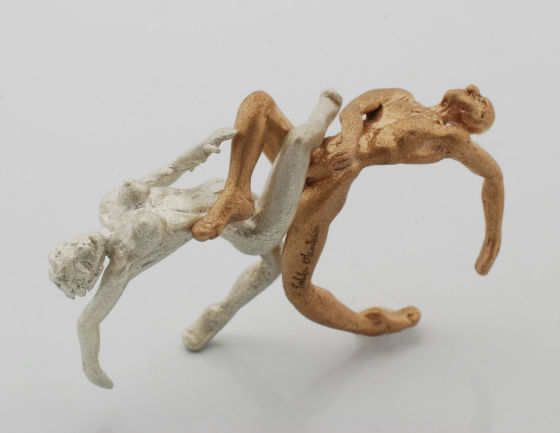 You can separate men and women and use them separately.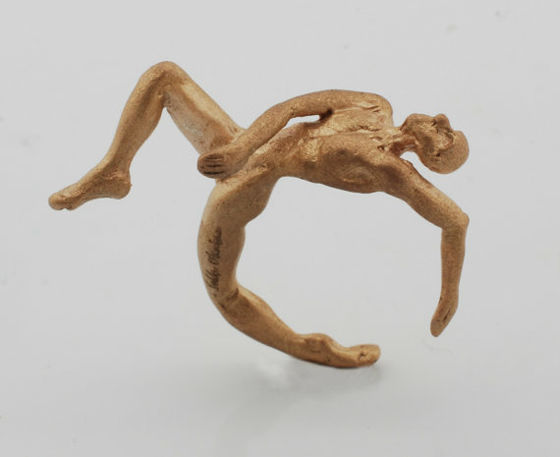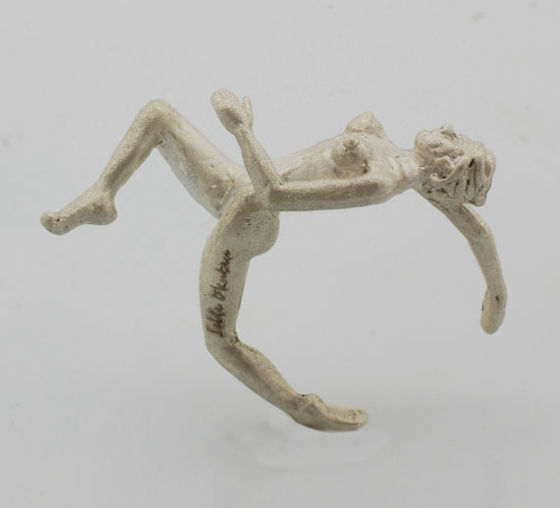 ◆ 03.Water Ballets Brooch/ $ 180.00 (approx. 14,000 yen)
Women surrounding Topaz in the center like the sun.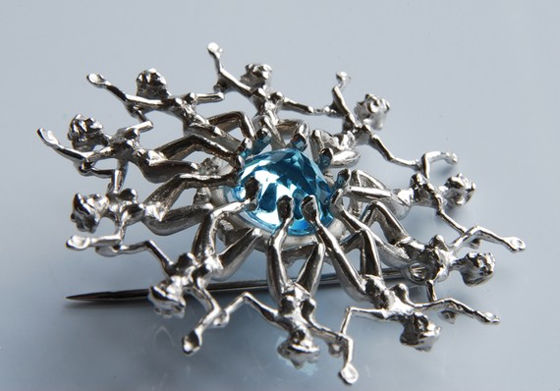 This is a brooch. Even if it is one point of a shawl, it is fashionable.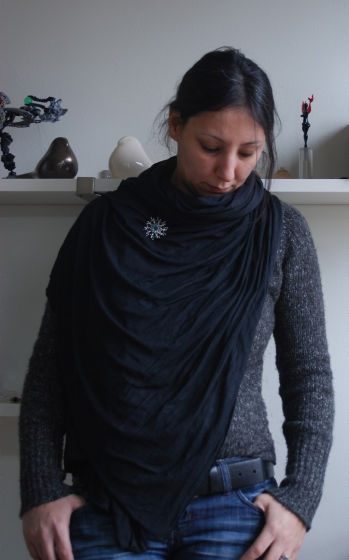 ◆ 04.Araf Ring Special Discount/ $ 865.00 (about 69,000 yen)
A dull silver figure coming up the ring and a golden person trying to repel it.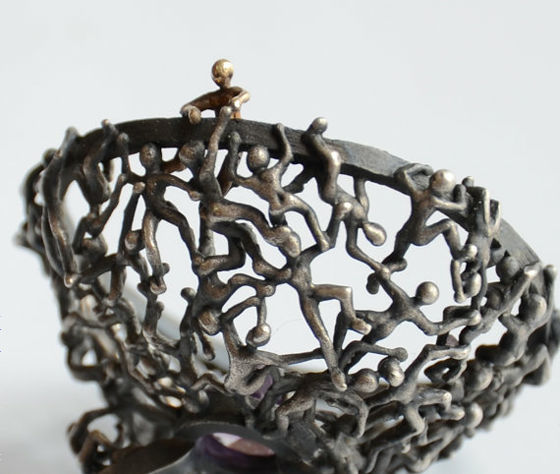 It is a ring with jewels in the middle.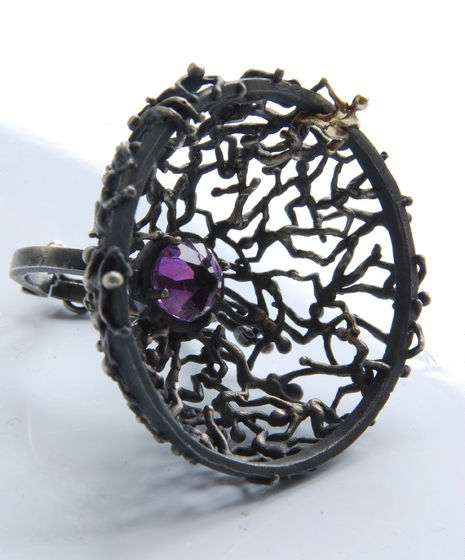 ◆ 05.Baby Tourmaline Ring/ 115.00 dollar (about 9200 yen)
Four colorful tourmalines and a ring with a baby.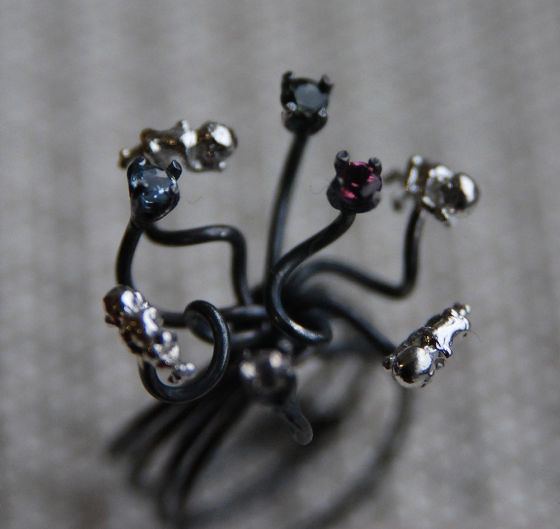 Annui weather is going well with you.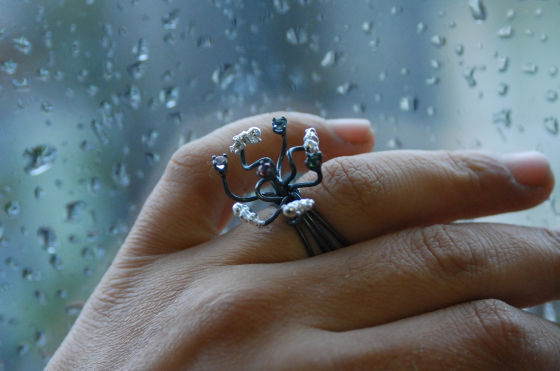 ◆ 06.Fantastic love Ring/ $ 148.00 (about 12,000 yen)
Men and women appearing to be struggling back to back.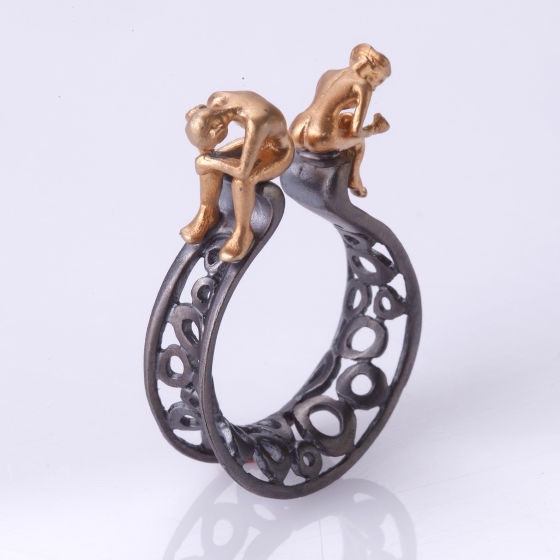 There are also rings of different colors.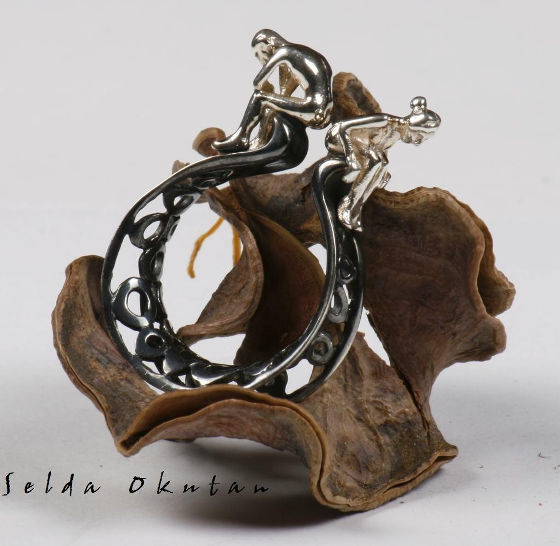 ◆ 07.Love in Rose Garden Ring special discounted/ $ 128.00 (about 10,000 yen)
Love is like a rose in the garden called life, so it is a thumbprinted ring.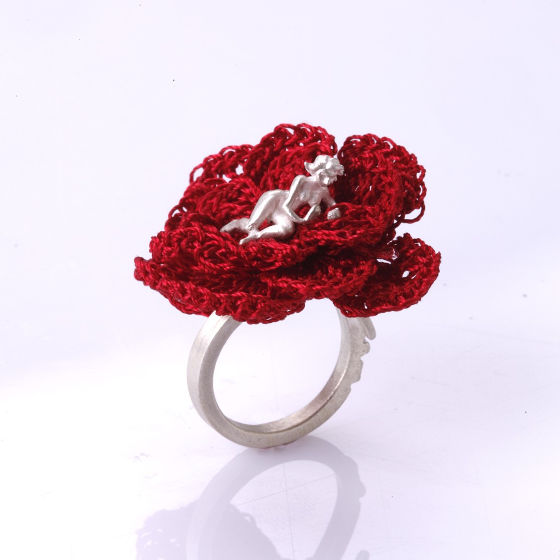 Looking back is like this.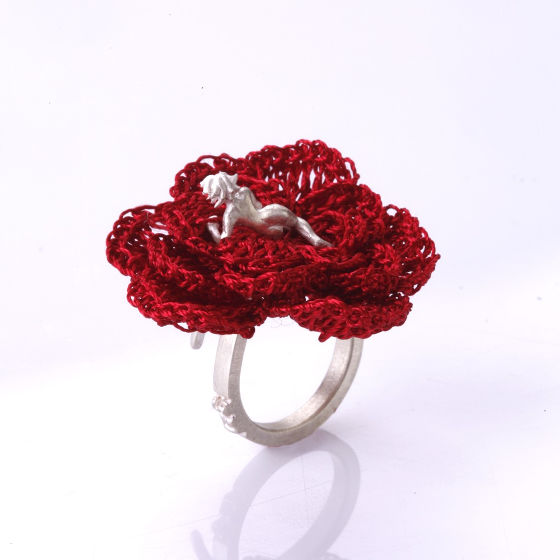 Brilliant roses are bloomingly blooming on your fingers when you install them.



◆ 08.Water Effect Ring/ $ 210.00 (about 17,000 yen)
Three people lying on half way into the ring.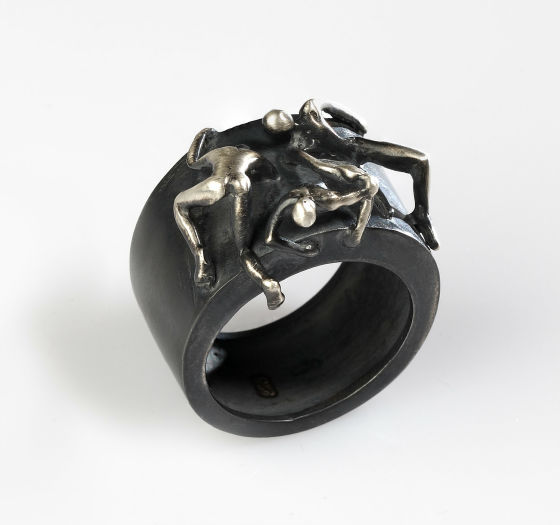 It seems like I am struggling to get out of the mire.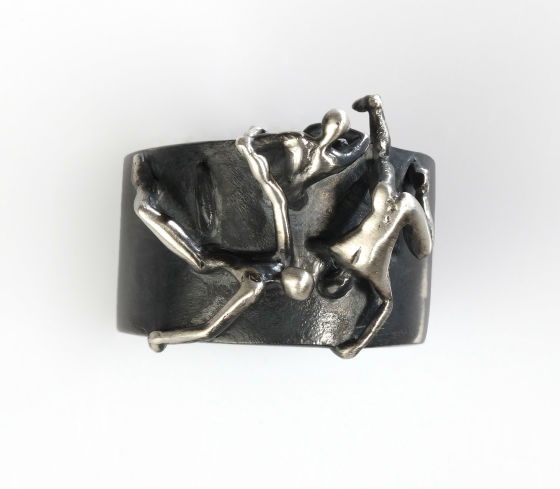 ◆ 09.Qu'est-ce que c'est/ $ 29.00 (approx. 23,000 yen)
Two people swearing that they will hold hands in hand and never leave.



You can move men and women by wearing them on your fingers, but you will never leave.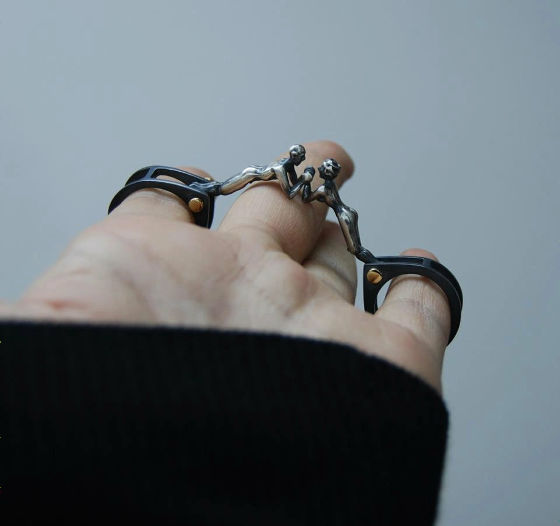 ◆ 10.Water Effect Necklace/ 455.00 dollars (about 36,000 yen)
Five necklaces sinking in the plate.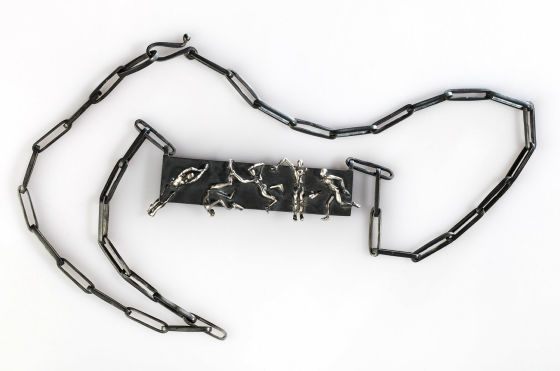 ◆ 11.Nobody Necklace (Bronze Version)/ 300.00 dollars (approx. 24,000 yen)
A necklace with a limb tied man hanging from his neck Part. This is made of bronze.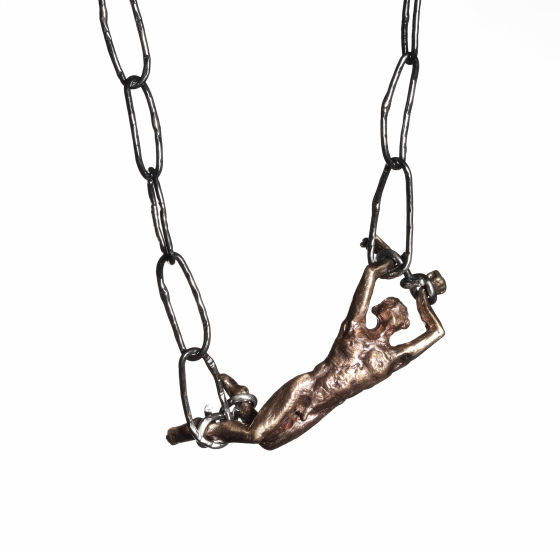 ◆ 12.Nobody Necklace (Silver Version)/ $ 380.00 (about 30,000 yen)
The necklace hanging from the neck with a limb tied male part 2 is made of sterling silver. The hands and feet that are wrapped round and round with finer chains than those made of bronze.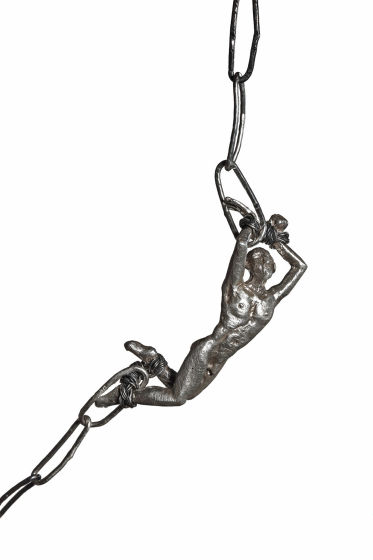 ◆ 13.Weight of Earth Ring/ 192.00 dollars (approx. 15,000 yen)
A ring shaped like two men and women supporting the earth. The earth is made of lava.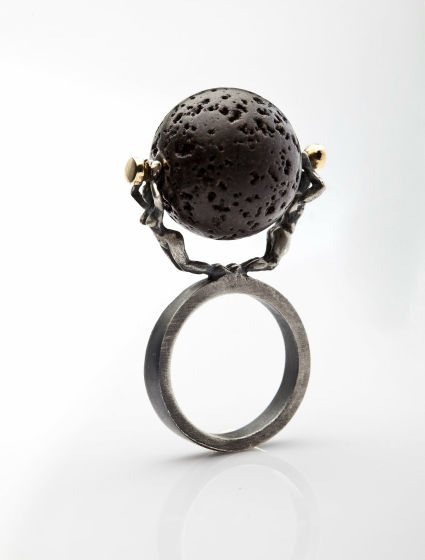 ◆ 14.Istanbul Ring/ 244.00 dollars (about 19,000 yen)
It is a chic hues ring made of oxidized silver.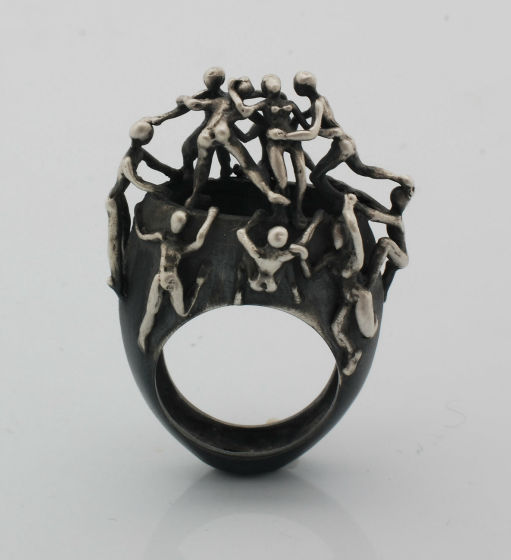 ◆ 15.Angel Ring (It is not innocent as its seen)/ 255.00 dollars (about 20,000 yen)
Men and women made of platinum to hold hands to cover the amethyst. Feathers are on the other side.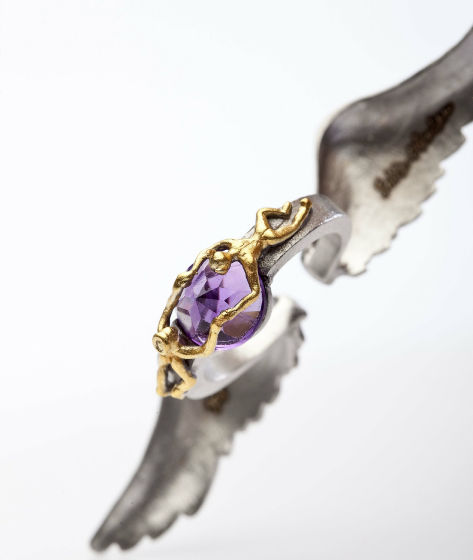 When installed it is like this. It is fashionable to bring either an amethyst or an angel's feather on.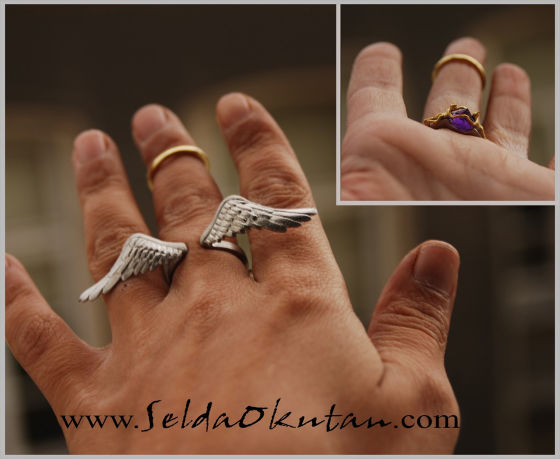 There is also a fallen angelish black feather version.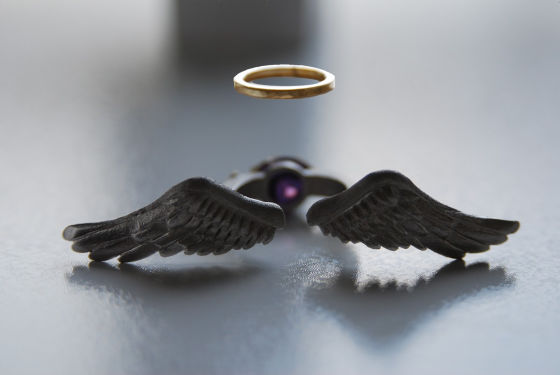 ◆ 16.Selection Wedding Ring/ $ 265.00 (about 21,000 yen)
Ring made of oxidized silver and gold, semi-precious stones.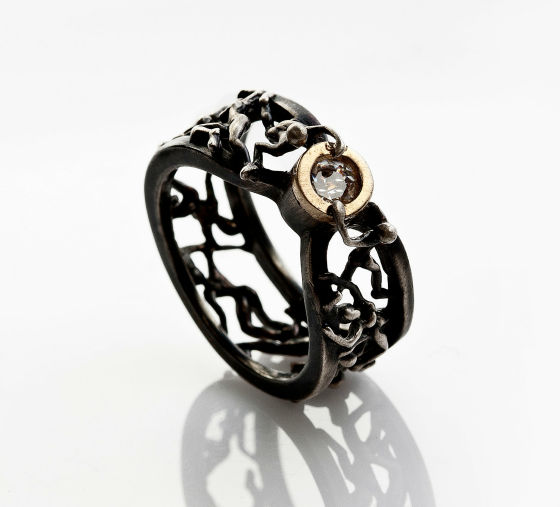 You can choose from three types of jewels: zircon, tourmaline, topaz.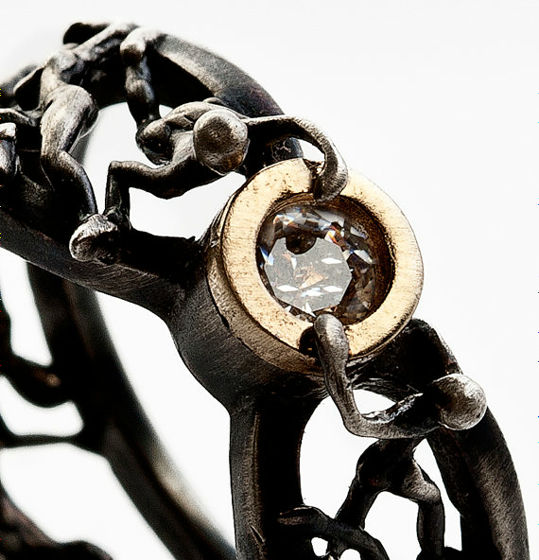 ◆ 17.Diamond Addiction/ 255.00 dollars (about 20,000 yen)
People climbing a mountain of diamonds. But if you arrive at the summit, it just falls upright.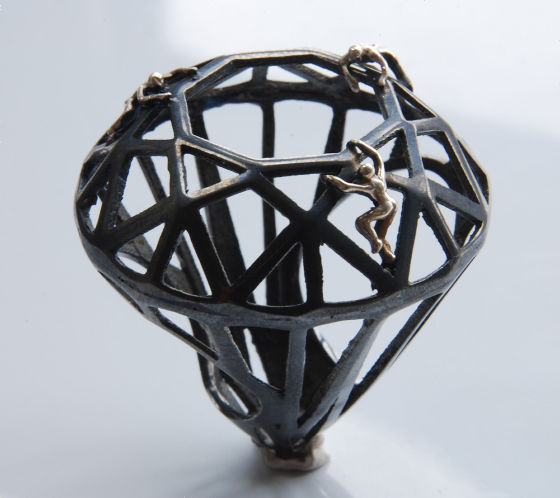 It has become a pretty three-dimensional ring.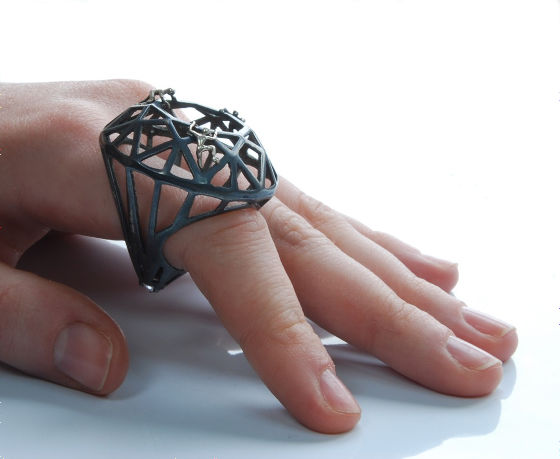 ◆ 18.Woman Ring/ $ 380.0 (about 30,000 yen)
Ring across women's fingers.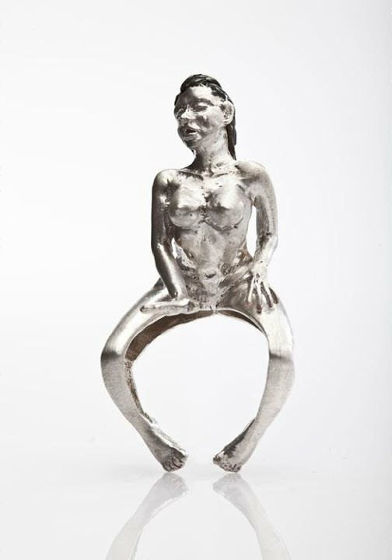 ◆ 19.Secret Ring/ 23.00 dollars (about 19,000 yen)
Two men and women who stare at each other and embrace each other.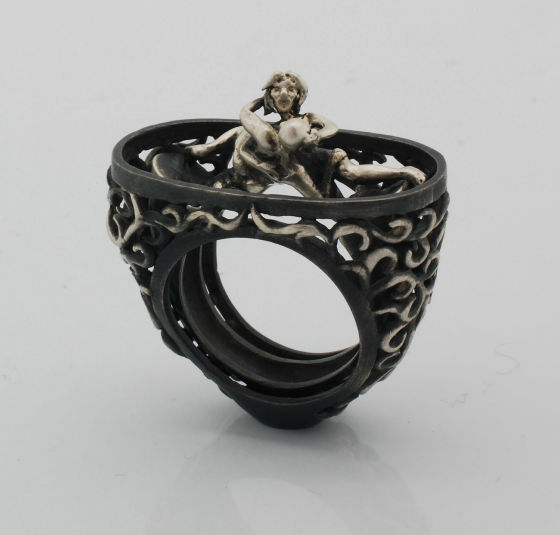 It can also be used as two rings separately.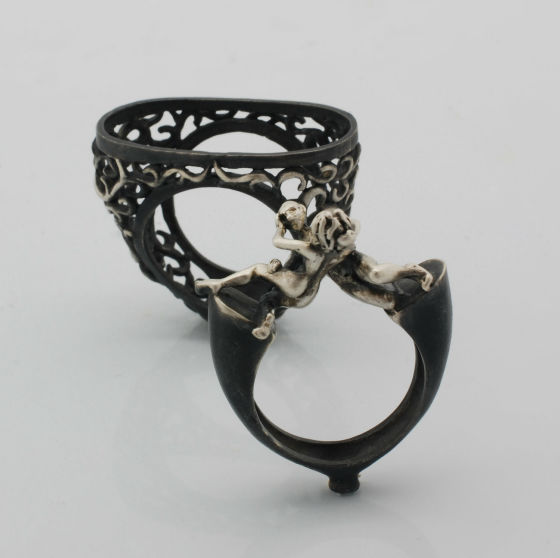 ◆ 20.For Love Ring Volume II/ $ 195.00 (approx. 16,000 yen)
Two people tangled up with each other.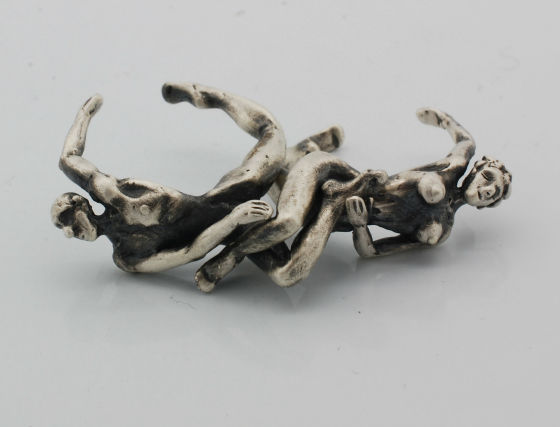 You can use it as two rings by pulling away two people like wisdom ring.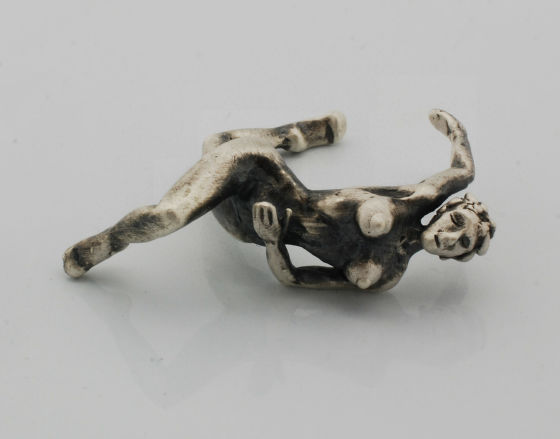 My arms are broken in a great direction ... ....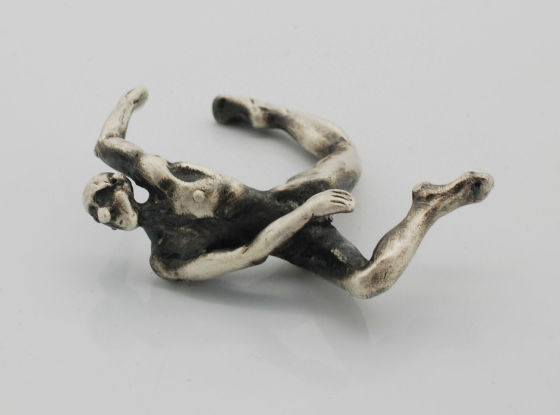 ◆ 21.Circle of Life Bracelet & Ring/ 815.00 dollar (about 65,000 yen)
A set of rings and bracelets. We use 14 gold and oxidized silver.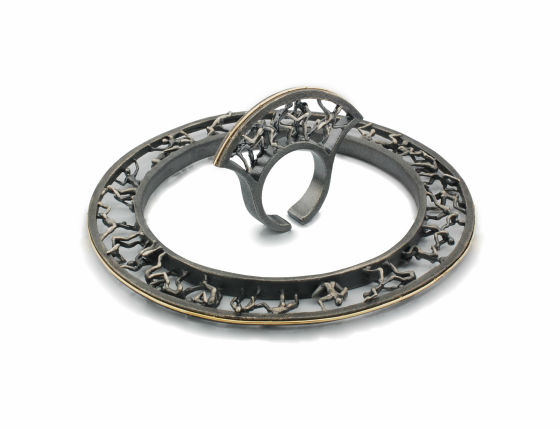 ◆ 22.Circle of Life Ring/ $ 250.00 (about 20,000 yen)
This is a ring only version.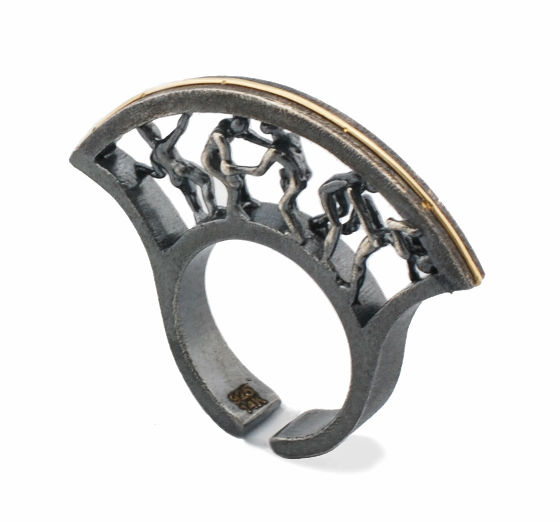 ♦ 23.Of Mice and Men Ring/ 424.00 dollars (about 34,000 yen)
John Steinbeckof"Two mice and a human being"Ring that was made motif.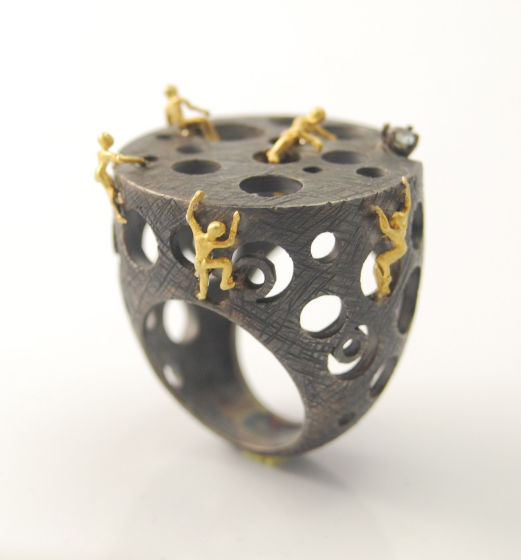 Everyone goes up the ring towards the topaz located in a place likely to fall off the ring.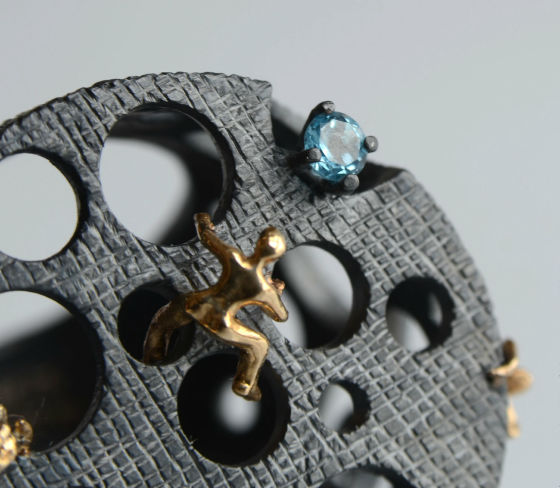 ◆ 24.Reaching a Woman/ 187.00 dollars (approx. 15,000 yen)
A man going up the wall to head to a woman he loves.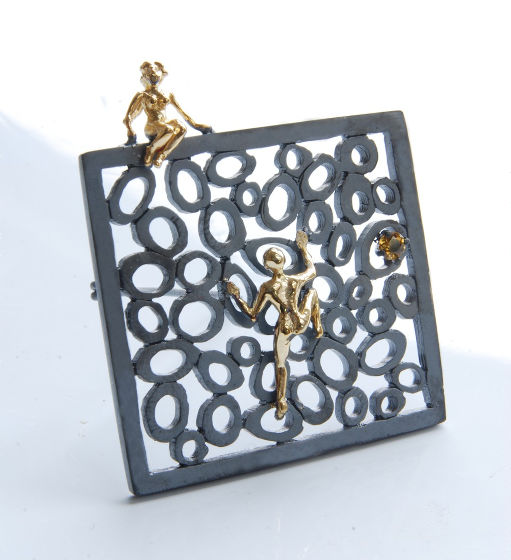 ◆ 25.Relax Ring/ $ 410.00 (about 33,000 yen)
A women's ring in relax mode in a bathtub.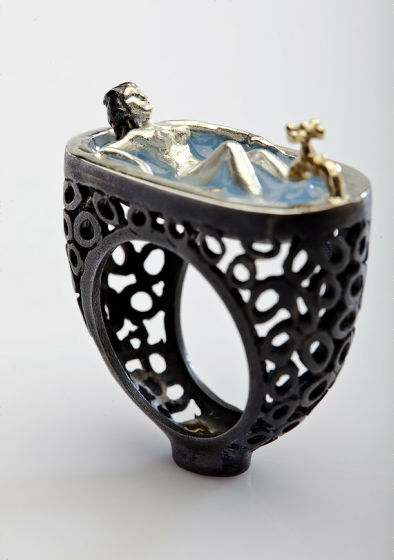 It is possible to see a bathing scene from the top. Blue enamel is poured in, and the faucet is made of 14 gold.